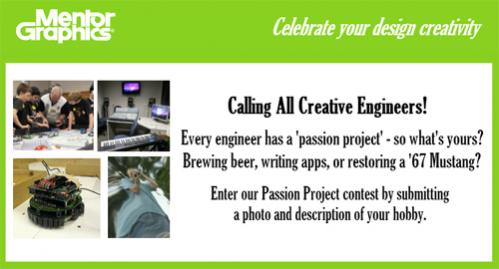 DAC is coming up in a month (OMG less than 4 weeks and we are so not ready I hear a hundred marketing people cry out). That gives you four weeks (and a couple of days) to tell Mentor what you do in your spare time that you are passionate about (spare time, I hear a hundred engineers cry out, what is that?) and you could win $300.
For DAC, Mentor has developed the "Passion Project", a fun contest to celebrate engineering design creativity. We all know engineers are extremely intelligent and creative in the workplace. How about outside of work? The Mentor Facebook contest is meant to encourage engineers to show what they love to do in their spare time. Mentor is asking them to share this passion with other engineers and those attending DAC. They can do this by submitting a photo and brief description (150 characters) of their hobby. It might be anything: building a log cabin, running a recording studio, building websites for non-profits, to pick up just three of the passions already entered in the contest.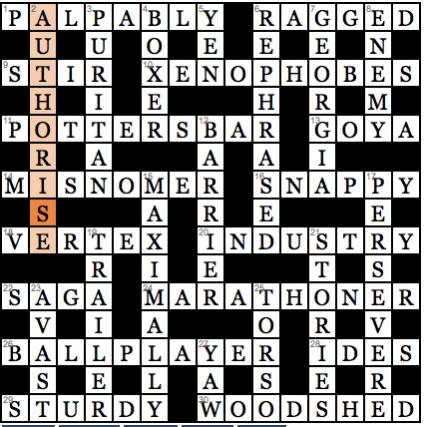 I'm not sure it really qualifies as a passion, more of a quirk, but I love doing cryptic crosswords. I do the (London) Times crossword almost every day. It comes online at midnight UK time which is 4pm in the afternoon in California so it is a nice way to unwind in the early evening. And a glass of wine goes really well with crosswords too.
So what is a cryptic crossword as opposed to the kind you get in the US where the clues are plain definitions. Each clue splits into two parts. One part is a definition (often called the literal) and the other part is another very convoluted way to get to the same answer (the wordplay). You don't know where the split is, and you don't know if the wordplay precedes or follows the literal. The surface reading of the clue (which is a bit like a newspaper headline) is often misleading too.
For example, today's Times crossword's first clue is:Two friends holding bachelor party, finally, in touching way (8 letters)

The answer is PALPABLY. The literal is "in a touching way" and the wordplay is two friends PAL PAL holding bachelor (B), party finally (Y). Yes, I know you have to be weird to enjoy solving these kinds of puzzles.
One more (10 across):Racists smashed phoneboxes (10 letters)

It is XENOPHOBES. Literal is "racists" and it is an anagram of phoneboxes (smashed is what is called the anagrind, that indicates an anagram, and "phoneboxes" is the anagrist, the letters to be rearranged).
The contest ends on June 3 at 11:59pm PST, and the winner, who will be chosen at random, will be awarded a $300 prize, on Wednesday of DAC, June 4 at 3:30 pm. at the Mentor booth #1733.
Once again, the contest Facebook page is here.

More articles by Paul McLellan…

Share this post via: