Although electronic systems design as a discipline has been around ever since electronics systems came into existence (and that was many decades ago), the design complexities involved and the demands and constraints placed on the systems have multiplied significantly since then. Recent research by LifeCycle Insights shows that 58% of all new design projects incur unexpected additional costs and time delays. And only one in four projects actually goes out on time and on budget.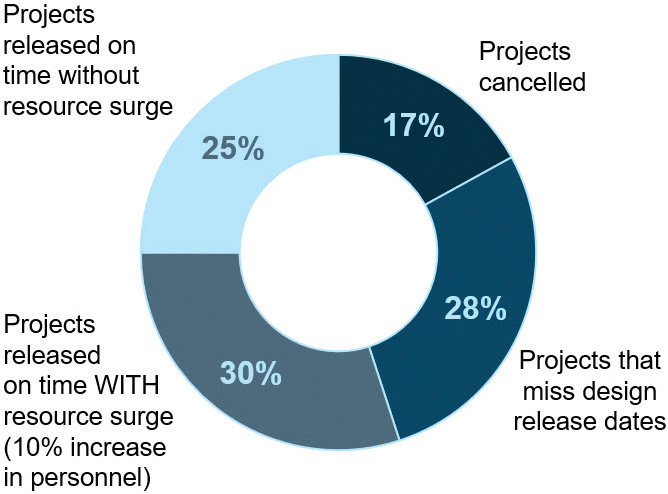 Source: LifeCycle Insights
When asked the question "what is the secret behind a successful and profitable product?", the typical answer is two words. Great design. As true as the answer is, this short answer hides all of the details of how it got there. Great design didn't happen by magic or happenstance. It involves very well thought-through methodologies and software tools to effectively and efficiently manage product, team and process complexities resulting in a great design. A recently posted whitepaper by David Wiens, product marketing manager at Siemens Digital Industries Software entitled "Raising the pillars of digital transformation for next-generation electronic systems design" walks you through those exact details.
I'll list some of the nuggets I gathered from reading the whitepaper.
The classic prototyping-dependent approach increases the risk of missing product launch schedules. Reason: With increasing complexities in designing systems, the design cycle duration is significantly longer and any problems we wait to learn through physical prototyping methods are too late and incur re-do of lengthy design cycle iterations.
The following diagram highlights the need for catching more errors earlier by integrating verification and validation throughout the design process which is significantly longer than the new production introduction (NPI) phase.

Source: Siemens Digital Industries Software
One way for teams to detect down-stream problems earlier is by performing simulations of prototype performance earlier in the design cycle. This calls for developing a virtual model to represent the intended final physical product. A virtual model of the final product that is being designed is called a digital-twin. The digital-twin allows teams to perform simulations and validations as early in the design cycle as possible.
A model-based system perspective allows teams to not only look at the electrical and functional trade-offs earlier in the design cycle but also product trade-offs that might impact weight, cost and availability of system components.
A digital-twin developed in the context of a model-based system engineering perspective allows for a digital-prototype driven verification, a Shift-Left testing at play. Over the course of a project, the digital-twin model evolves to allow more complex interactions including analysis, simulations and validations earlier in the design cycle. This enables teams to detect problems much earlier when they are easier and cheaper to fix with very little product launch schedule impact. This reduces the need for physical prototypes.
Digital-prototypes lend themselves well to automation technologies that eliminate manual reviews and increase productivity. And the benefits derived from this automation are multi-fold.
Next-generation electronic systems require a next-generation approach. David explains all the details by categorizing them into five transformational factors. He calls them the five essential pillars for consistently delivering profitable electronic designs and systems.
Digitally integrated and optimized multi-domain design
Model-based systems engineering (MBSE)
Digital-prototype driven verification
Capacity, performance, productivity and efficiency
Supplier strength and credibility
I only touched upon some aspects of a couple of the five pillars. Each and every pillar is critical to understand.
If you play any role within the electronic systems ecosystem, whether at the chip level or systems level, whether at the budget owner level or at an influencer level, I strongly recommend downloading and reading David's complete whitepaper. There is lot of objective and compelling details to help you evaluate your software tools and methodologies that are currently deployed and decide on making critical updates that will enable you and your customers to consistently turn out successful and profitable products.
Also Read:
Calibre DFM Adds Bidirectional DEF Integration
Automotive SoCs Need Reset Domain Crossing Checks
Share this post via: