Founders

The founder, Ghislain Kaiser, spent about 10 years at STMicroelectronics, mainly in multimedia groups and for the wireless market. At this time, he was a power expert and tasked with making the chips use less power. The first thing he did was to look at what tools existed on the market. They wanted to use off the shelf tools but unfortunately they couldn't find what they needed. He had a precise idea about what he wanted so he decided to leave ST and create his own company.


Ghislain Kaiser, CEO
The first inclination was to create a tool outside of ST. When Ghislain approached management about it, they tried to persuade him to create the tool within ST. The question he posed was, "What will happen during the next reorganization?"
The first guy to lose his job will be me because the purpose of the company is not to create tools. It is to design chips. He didn't think it would be the best environment in which to do this and so with the blessing of ST, the company was formed in 2006 with his brother, Sylvian as CTO.


Sylvian Kaiser, CTO
EDA Tools

Docea Poweris a Power and Thermal modeling and analysis company based in Moirans, France. Their Aceplorerproduct is a common XML-based description for capturing power behavior from informal requirements. It then generates power intents according to the UPF(Unified Power Format) description, enabling power intent specifications to be created and managed at any stage of the design flow. The AceThermalModeler is a tool to generate compact thermal models which can be used to run coupled power/thermal simulation and analysis.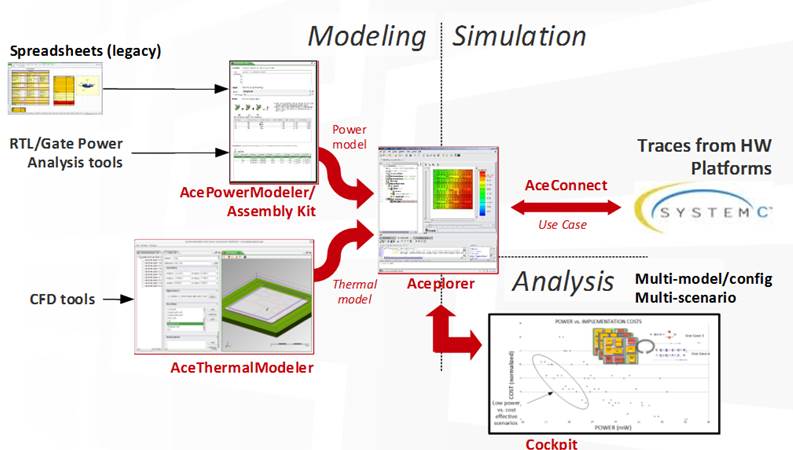 Q&A

So, you left ST. You were an engineer and then suddenly you are about to become the CEO of the company. How did you deal with that?

Ghislain: I have long had the entrepreneurial spirit so after about three years after starting at ST, I made the choice to go back to school and get an MBA. I didn't know if it would be useful or not, but there was something inside of me that was sure that I would find the opportunity to create something. So, I didn't have any experience managing a company, but I like challenge and I like learning new things. During the first year, when we were developing the tool, I had the opportunity to attend a one year course about how to manage a startup given by the best business school in France. They teach you how to raise funds, how to manage intellectual property etc. After that, you learn in the field.
You don't need the same skills at the beginning of a startup as you do when you have $3 or $4m in revenue, or $10M or approaching an IPO. At each stage you need different skills. So you either learn very quickly or you need someone else to help you get that experience.
What does the name Docea mean?
Ghislain: Docea comes from the Latin word "Docere" which means help, support, teach. Docere gave current words like "Doctor". We are like a specialist who treats power and thermal pains of electronic systems.
Did you try and get funding immediately or did you bootstrap for a while?

Ghislain: We decided at the beginning not to get funding. After one and half years I decided to look for some funds. When you start a company many people tell you to raise funds immediately. I was lucky to find a venture capitalist that was willing to invest in Docea. I had all of the term sheets in October of that year and the business plan showed that we needed funds by the end of the year. Three weeks later, the VC called me and told me that the business model for their seed fund has not been accepted by the bond holders. We would have been their first investment. So suddenly my source of funds disappeared. Luckily I had a plan B.
Plan B was to continue bootstrapping and to provide some services to finance the development of the tool. It worked. It may not work for everyone, but it worked for us. It allowed us to proceed without any funds for four years. In 2010 we decided to have first round of funding to deploy the tool worldwide. We had our first customer and the prospect of others. While I didn't really want to raise funds, we had no choice in order to do the expansion.
Did you get the funding from France?

Ghislain: Yes
Did they have a lot of knowledge about the EDA industry? Did you have to educate them?

Ghislain: That is not the right characterization of the situation. The VCs were very well informed about EDA. The problem is that the EDA business is not very good for VCs. In 2010 the answer was always the same. What is a good example of success in EDA? There is no good example. The good examples that do exist are old. But we did things differently. We presented the company not just as an EDA company, but as a green IT company. Green IT was a hot area for VCs, so that gave us a chance.
How easy is it to build an EDA company in France?

Ghislain: That is a question I have been asked before. It is an interesting topic. Let me ask you a question. How many EDA companies do you think there are in France, right now – today? The right answer is almost 20. The reason is that we have a good ecosystem created by a big semiconductor company – namely ST. That is not just the company itself, but the Universities, many good engineers, equipment manufacturers, research center, many of them in the Grenoble area. Out of 20, perhaps 15 are in Grenoble. So what is missing compared to Silicon Valley? Yes, the US is important, but Japan is also important and they need some ESL tools.
There is one thing that is missing and can only be found in the US and most of the time in Silicon Valley. That is the guys like you – the journalists. So, I moved to the US last year to be closer to these people. It is easier to be more visible. So, it is the place to be if you want to do good marketing.
Now we have customers in all of the major areas, US, Europe and Japan. The US is about 40% of our global available market. It is also easier to do partnerships here. It is not impossible elsewhere and our first partnership was Synopsys while we were still in France.
Is it just you in the US or are you building a team?

Ghislain: Yes, I am building a team. I want to hire people in the US for things like AEs because they understand the culture better.
I am sure you were happy to hear Gary Smith at DAC this year talking about the explosive growth in ESL this year. ESL has been hampered by models.

Ghislain: Yes. Models are the main barrier. Customers don't want to spend time creating models. If models do not exist then you have to provide service. And that is a different business model. But when the models are available you are able to become an EDA company. Now in the power area, there is no standard. I have no magic solution today. But we do everything we can to reduce the modeling time necessary. Our success is dependent on ESL. Five years ago we placed a bet not only on power but also on thermal effects. Back then it was not clear that thermal would become a very important factor as well, but we bet on the right horse.
I guess 3D IC will create the next level of problem here?

Ghislain: Exactly. So our success will come from ESL, from power and thermal, from 3D ICs. All of these rely on exploration. Sure you need sign off tools, but at the beginning of the design phase it is more important that you make the right decisions. In the first 20% of your design processes you have to make 80% of the choices for the rest of the design. So you need tools that will help a designer architect the solution and make the right choice. So, we don't tell you what solution will create the lowest power consumption, but we help you make the right tradeoff between power, cost and performance.
What is the biggest lesson you have learned or would want to pass onto another entrepreneur?

Ghislain: It is very important to have a good network. Not only for business development but to have people around you that you can learn from. You also have to work from your own experience. Don't listen too much without thinking about what makes sense for your situation. You have to develop good sense skills. For example what worked in 2000 would not have worked in 2006. The situation changed with the economy.
To summarize – listen, think and find the right path for you.
Who was your first customer?
Ghislain: It was STEricsson and they used the Aceplorer product starting in 2008.
lang: en_US
Share this post via: