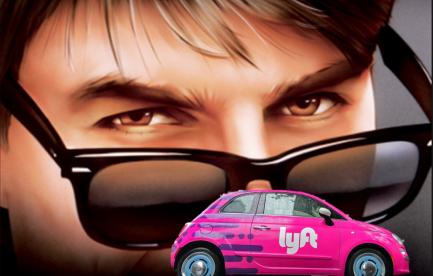 Lyft's S1 filing for its IPO is a sobering read, as such documents often are, requiring, as they do, the full disclosure of current financial circumstances and, everyone's favorite: risk factors. Lyft identifies 18 risk factors (below) which could interfere with the long-term success of the operation. I think there are more.
FORM S-1REGISTRATION STATEMENTLyft, Inc.

I arrived home to Washington Dulles International Airport last Friday afternoon and proceeded to summon a Lyft ride home. The app asked me, for the first time, to pick a door at which the driver would pick me up. Normally, it would send me to Door 4.
I picked a door and waited to see the type of car and license plate number of the responding driver. Nope. The app went back to the home screen. I walked through the process again and was again returned to the opening screen with no assigned driver.
Another odd note was the addition of a "Scooter" option on the app's home screen – which seemed odd to me as I was not likely to be taking a scooter home from the airport. Of course, there were no scooters anywhere nearby – so why offer the option?
Two important takeaways here:
[LIST=1]
Lyft's business is dependent on a sometimes-flaky app – which lately seems to be getting frequent revisions which can be disruptive to the critical user experience
Why am I using Lyft to get home from the airport at all? The airport is the one place where a passenger can reliably find a line of waiting taxis.

Okay, that was a minor matter. But I used Lyft to get home after dropping off a car for a repair over the weekend. This time the app functioned fine after a minor hiccup – where the screen at first shows no drivers nearby and then suddenly a driver appears very close.

This driver was very talkative, especially after I told him about the Lyft IPO. He knew nothing about it even though he said he had more than 4,000 Lyft rides under his (seat)belt after a couple years of driving.

Now 4,000 rides sounds like a lot, but it is well below the 10,000-ride threshold that some reports suggested might gain drivers access to some Lyft shares. No big deal, but you would have thought that all Lyft drivers would have been notified of such a big event as the company's.

But we got to talking about airport pickups – he avoids the airport and the wasted time waiting for rides that are often disappointedly short – and his 30-hour a week Lyft habit. He was on his third vehicle driving for Lyft – this one, he owned.

The car was not new but it was in good shape. He had had some trouble financing a previous vehicle when the used car reseller reviewed his bank records and noted that he was driving for Lyft. The reseller revoked the deal out of concern over the residual value of the vehicle being harmed by heavy Lyft-related use.

Note to all current and prospective Lyft drivers: Your livelihood may negatively impact your ability to finance your vehicle.

We got to talking about customers that indicate they want to go for long rides, maybe to neighboring cities, who refused to disclose in advance their destinations. This is a problem since these rides, which may entail hundreds of miles, might take a Lyft driver out of his regional service area. The customer often does not want to disclose the destination for fear the driver will reject the drive.

The discussion further revealed that Lyft drivers cannot operate outside of their designated geographic territory – i.e. a D.C. driver could not drive to Chicago and start picking up customers there. There is a three-month process to be authorized outside of the "home" territory, according to my driver.

The good news for Lyft is the fact that my driver had no complaints about getting paid appropriately and in a timely manner. He seemed quite comfortable with the overall Lyft (and Uber, he drives for both) arrangement.

For me, as a passenger, the flakiness of the app and the minor grumbling point to greater long-term concerns. Lyft can't promise me a ride whenever and wherever I want one and Lyft (and Uber and Gett and Yandex) can't guarantee the quality of the customer experience – whether that be the friendliness of the driver or the safety and cleanliness of the vehicle.

The entire experience is ad hoc and creates a scenario where both drivers and passengers are trying to game the system. Drivers want to know if passengers are only making a short, and therefore less rewarding, trip. Passengers don't want to disclose their destinations for fear of rejection.

Of course, some of the more serious concerns regarding the financial viability of Lyft – or any other loss-making ride hailing service provider – are clearly disclosed in the S1 including SG&A expenses well above the 5% industry norm including increases from 2017-2018 as follows:
$66M increase in legal fees and accruals – after a decrease of $20M in '16-'17.
$35.7M increase in consultant and advisory fees.
$34.6M in personnel costs.
$21.7M increase in claims admin fees.
Lyft and Uber and Yandex and all the rest represent a massive dumpster fire of investor cash. There is no hint of a plan to stanch the bleed – and investors should not delude themselves that autonomous Lyft vehicles are anything other than years away from market introduction – or that autonomous Lyft vehicles will economically compete with taxis.
Ride hailing operators are already losing business to the very scooters and bikes that they are desperately rushing to add to their platforms. It's not clear how drivers should feel about that, since the shorter trips served by scooters and bikes are unattractive anyway.
Lyft, Uber, Grab, Gett and Yandex are playing a numbers game where the numbers add up to interminable losses for investors and serious damage to existing ad hoc transportation alternatives. This is very risky business.
There is a temptation to impute massive value to understanding the movement of people to and from important destinations – more often than not involving public transportation. Could Lyft and Uber and Yandex be the automotive equivalent of Google and Bing? They could, except for the fact that many of these drivers are already using Waze to navigate – meaning this alternative source of value is already being offloaded to Google.
Lyft's IPO makes for great headlines but it doesn't alter the nature of the flawed business model and the negative impact on existing taxi operations and already congested cities. The amount of the raise, reported at $100M by some, seems trivial in the face of losses in the billions of dollars. Can we stop this insanity?
Risk factors – read them and weep, if you are an investor:
"Risk Factors Summary
"Our business is subject to numerous risks and uncertainties, including those highlighted in the section titled "Risk Factors" immediately following this prospectus summary. These risks include the following:
Our limited operating history and our evolving business makes it difficult to evaluate our future prospects;
We have a history of net losses and we may not be able to achieve or maintain profitability in the future;
We face intense competition and could lose market share to our competitors;
Our results of operations vary and are unpredictable from period-to-period;
The ridesharing market and the market for our other offerings, such as our network of shared bikes and scooters, are still in relatively early stages of growth;
Our business depends largely on our ability to cost-effectively attract and retain qualified drivers and increase utilization of our platform by existing drivers;
Our business depends largely on our ability to cost-effectively attract new riders and increase utilization of our platform by our existing riders;
Our insurance programs may not provide sufficient coverage for the needs of our business and our actual losses may exceed our insurance reserves;
We are subject to a wide range of laws and regulations, many of which are evolving, and failure to comply with such laws and regulations could harm our business, financial condition and results of operations;
If we are unable to efficiently develop our own autonomous vehicle technologies or develop partnerships with other companies to offer autonomous vehicle technologies on our platform in a timely manner, our business, financial condition and results of operations could be adversely affected;
Our reputation, brand and the network effects among the drivers and riders on our platform are important to our success, and if we are not able to continue developing our reputation, brand and network effects our business could be adversely affected;
Illegal, improper or otherwise inappropriate activity of users, whether or not occurring while utilizing our platform, could expose us to liability and harm our business, brand, financial condition and results of operations;
If the contractor classification of drivers that use our platform is challenged, there may be adverse business, financial, tax, legal and other consequences;
We rely on third-party background check providers to screen potential drivers, and if such providers fail to provide accurate information or we do not maintain business relationships with them, our business, financial condition and results of operations could be adversely affected;
We are regularly subject to claims, lawsuits, government investigations and other proceedings that may adversely affect our business, financial condition and results of operations;
Changes to our pricing could adversely affect our ability to attract or retain qualified drivers and riders;
Our business in part depends on our ability to efficiently grow and further develop our network of shared bikes and scooters, which may not grow as we expect or become profitable over time; and
The dual class structure of our common stock will have the effect of concentrating voting power with our Co-Founders, Logan Green and John Zimmer, who will hold % and %, respectively, of the voting power of our capital stock following the completion of this offering, which will limit your ability to influence corporate matters, including the election of directors, amendments of our organizational documents and any merger, consolidation, sale of all or substantially all of our assets or other major corporate transactions."
Roger C. Lanctot is Director, Automotive Connected Mobility in the Global Automotive Practice at Strategy Analytics. Roger will be chairing SHIFT Automotive event Feb. 6, and participating in the Future Networked Car Workshop, Feb. 7, at the Geneva Motor Show – https://www.itu.int/en/fnc/2019. More details about Strategy Analytics can be found here: https://www.strategyanalytics.com/access-services/automotive#.
Share this post via: