When it comes to autonomous mobility – things are changing awfully fast. A "deep dive" workshop at Michelin's Movin' On 2018 event in Montreal (concluding today) dug into the issue revealing hopes and anxieties shared by executives culled from a wide range of industry constituencies. The overall sense of the room was that autonomous technology is coming – perhaps sooner than some think but not as soon as some have claimed or desire. All agree there is work to be done on the technology and the regulations and maybe even on public education.

Executives from Keolis (Andreas Mai), Bestmile (Lissa Franklin) and SAE International (William Gouse) led the group-based discussion with the help of Jason Thompson from Jigsaw. The debate focused on three key issues:
Approval
Certification
Monitoring
Approval – Innovation or regulation?
50 states in the U.S. 10 provinces across Canada. A myriad of jurisdictions spanning Europe. And every one of these governments has an idea how autonomous vehicle features should be addressed and regulated.
What is the right balance? Too much regulation can stifle innovation. Too great a focus on full-speed-ahead-innovation can increased safety risks. The participants attempted to answer these questions:
Do we need an approval process to put vehicles on the road?
What are the most critical components of an approval process?
How do you balance "innovation" against "regulation?"
How do you address liability?
Should aftermarket autonomous driving gear require approvals?
Who should bear responsibility?
National strategy or provincial/state strategy?
(A sampling of the responses is pictured above the headline of this blog from Post-It notes.)

Certification – What's in the box?
Autonomous vehicles – whether commuter trains or SUVs require reams of data to test and improve algorithms. Companies in the space tend to be highly protective of algorithims and the datasets that populate them. One expert remarked that "I go to a lot of meetings with these companies, and when it's time to share information, the room gets awfully quiet.
"That said, certification is becoming increasingly important to heighten consumer trust, improve safety and define what an autonomous vehicle is and where it can drive.
Experts spent time describing scenarios that could accomplish the goal of certification. Chief among them was the need to test, in the same way that crash test dummies are used to test products today. Car companies don't want to share their specific details on enabling safety – what's important is to know it works.
To get attendees thinking about certification, the experts asked seven new questions:
How do you balance "innovation" against "regulation?"
How do you certify an always-learning black box?
Should "transparency" be required?
How do you create "trust" for certification?
How does certification apply for commercial vehicles?
What kind of testing should be required?
How do you pursue the Good Housekeeping Seal of Approval?
The audience was split on the idea of opening the black boxes of proprietary IP. Some felt that creating transparency was vital for safety. Others felt it would cause fewer companies to innovate and compete.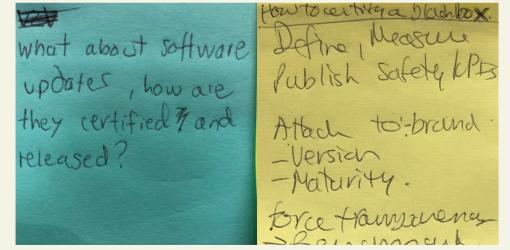 Monitoring – Worth the (privacy) trade off?

Earlier this year, an Uber driver in Arizona was involved in a fatal crash involving a pedestrian. Part of Uber's pilot program for autonomy, the driver was reviewing data on a tablet and hadn't looked at the road for more than six seconds.

How does Uber know this? There were cameras in the vehicle monitoring the driver. What they didn't do was warn the driver of the impending collision, or take action to avoid the problem. It appears the emergency braking was not engaged with the autonomous driving system.
How can monitoring – cameras, radar or thermal – make for a safe autonomous driving experience? Experts discussed the concept of monitoring in a broader context, expanding beyond driver monitoring to car monitoring or commercial vehicle monitoring. They asked what the role and value of monitoring – and touched on the trade off between safety and privacy.
Ultimately, the group identified a series of technologies and issues for the audience to discuss with these results: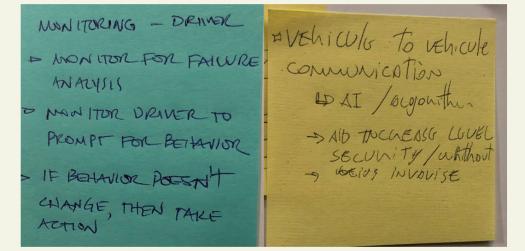 This exercise got audience members dreaming about the future – particularly when it came to the potential for 5G technology. Ideas flew fast and furious throughout expert and attendee exchanges, and if there was one shared thought, it was this – this is a rapidly moving industry that's thriving on big thinking, but at what cost and for what benefit?
Editor's note: Thanks to Jason Thompson of Jigsaw for his moderation and for sharing his detailed notes. And thanks to Michelin and the event sponsors, of course.
Share this post via: