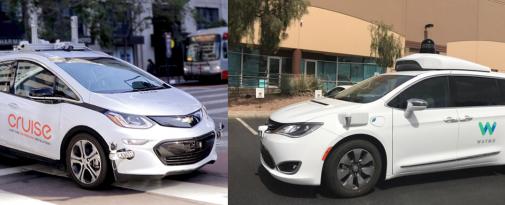 If there was a central takeaway to Nvidia's GTC event last week in San Jose it was this: autonomous vehicles are already operating or at least testing in virtual every corner of the planet including companies such as Tier IV and ZMP in Japan, and Pony.ai and Baidu in China. But two U.S. companies standout globally for the growing number of vehicles they have successfully and safely put into public road operation: Waymo and Cruise.
In the wake of Uber's fatal crash in Tempe one has to ask whether or how Uber can regain its public road testing privileges in Arizona and California and how Uber obtained those rights in the first place. And if an operator like Uber with estimable experts on board can, nevertheless, fail to deliver a safely operating system, what are the terms and conditions of certification or recertification for on-road testing.
Even taking into account the fact that the fatal Uber crash, according to a layman's assessment of the publicly released dashcam and in-car video, appears to be a basic comprehensive failure of the self-driving system, how does Uber and the relevant public authorities hit the reset button? Will self-driving car failures be a one-and-done proposition? Do we want Uber banned from future self driving car tests and operations?
It's clear that automating the driving process is no simple proposition and that solving this challenge requires extensive testing and – as was discussed at the Nvidia event – extensive simulation and modeling. The best way to accelerate the process is to increase the number of vehicles on the road to expand the data collection pipeline.
Residents of Tempe, Ariz. and San Francisco can attest to the frequent sightings of self-driving vehicles as testament to the fact that fleets of vehicles are essential to mastering self-driving operation. As such, Uber represents an ideal self-driving car development platform – especially since it is capable of combining data gathering with the provision of taxi services. Lyft, too, is seeking to act as a platform for multiple self-driving car development partners.
Companies such as Mapper.ai, for example, have sought to leverage the daily driving behavior of Uber drivers for map data gathering via aftermarket devices installed in their vehicles. Virtually every fleet operator in the world – from rental cars and taxis to delivery companies – is being sought out by mapping companies, traffic information companies and self-driving vehicle developers for the data gathering properties of their fleets.
Uber's failure (followed two weeks later by a crash of a Tesla Motors vehicle operating in "autopilot" mode), highlighted the development gap between Waymo and Cruise and the rest of the self-driving industry. It would be a shame, it seems, if Uber is unable to sort out its issues and get back in the self-driving business, but regulators, legislators and the transportation industry lacks a protocol for restoring faith and credabiity in an operator that has failed in the manner that Uber has.
The bottom line is that investigators from the National Transportation Safety Board are likely to conclude that the Uber vehicle simply failed to identify the pedestrian and the Uber safety driver simply wasn't paying attention. In fact, a similar conclusion will arise from the fatal Tesla crash, according to data already shared by Tesla, that the driver did not have his hands on the wheel for six seconds before the fatal crash. In both cases, driver inattention played a role.
Waymo and Cruise may be leading the race to automate driving, but that race is rapidly revealing itself to be a marathon. Scaling automated driving from warm, sunny climates to more variable environments is a years-long process. (Volvo will gain an edge from its testing operations in Sweden.) This is a process that will require fleets of vehicles to solve and Uber is an ideal candidate to lead if the company can sort out its technical and organizational challenges to the satisfaction of regulators. Whether that recovery involves new ownership remains to be seen.
The final takeaway highlights the impressive performance of yet another market player which has been plying the path of Level 2 autonomy: Cadillac and its Super Cruise. The Super Cruise system cleverly leverages a camera-based in-cabin driver monitoring system to scan the head and eyes of the driver to ensure attention is focused on the road in combination with a high-definition Lidar-scanned map of the roadway to offer what may be best described as enhanced cruise control.
Super Cruise was launched on the Cadillac CT6 more than six months ago and has been operating without a reported failure and without the creation of dozens of Youtube videos showing drivers sleeping, or with their feet out the window or in the backseat. By geo-fencing the feature (so that it is only available on 130,000 Lidar-scanned miles of controlled access highways) and monitoring the drivers, Cadillac has found a way to deliver an autopilot-like experience without ever claiming autopilot functionality. But it has done so safely without any reported crashes, injuries or fatalities.
It's a long way from Cadillac Super Cruise SAE Level 2 assisted driving to SAE Level 4 hands-free/eyes-free driving, but it's important to give credit where credit is due – including suppliers Seeing Machines and high definition map prover, Ushr. Most importantly of all, Super Cruise is offered on a production vehicle and, finally, it is by now clear that Cadillac customers using this system understand its limitations and, if they don't, the system will enforce those limitations by disengaging.
This driver monitoring and system disengagement is the beginning of a new relationship between car and driver. Cars have been helping humans drive since the onset of cruise control, electronic stability control, anti-lock breaks and all the rest of the various advanced driver assist technologies. But now we are launched on the path of removing our hands from the steering wheel while driving – yet keeping our eyes on the road. Maybe Uber will be able to rejoin the journey or maybe it won't. For the time being, Uber's driving privileges are only available in Pittsburgh. All eyes are now on Pittsburgh to discover what the next turn of the wheel will bring for Uber. Uber's clearly gone to the trouble of integrating an in-cabin camera to watch the driver. It may be time to integrate that driver monitor with the vehicle controls a la Cadillac's Super Cruise.
Share this post via: