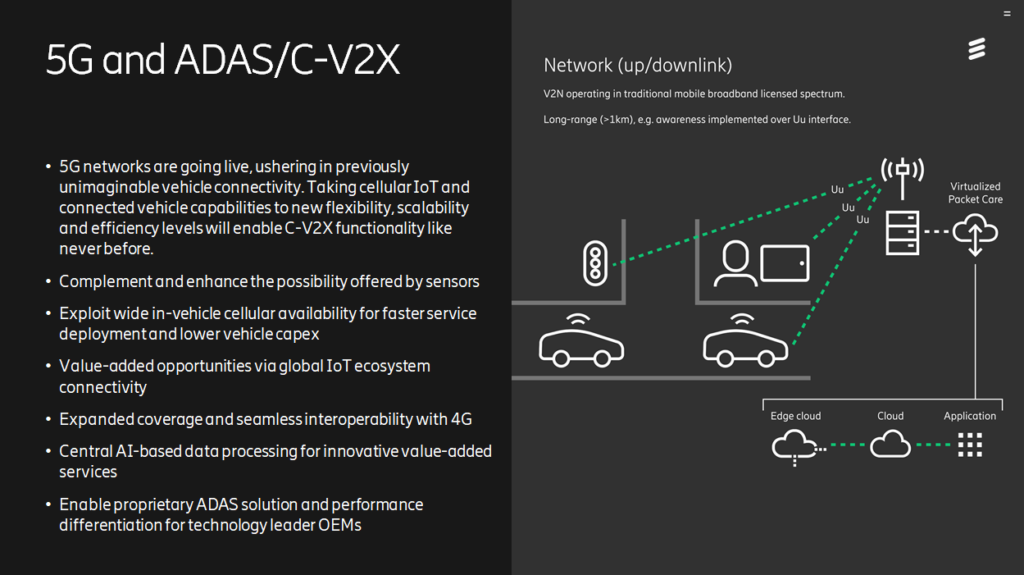 Rare is the auto maker today that views connectivity as an option when designing a car. Connectivity is essential even if it is not yet universally available.
Strategy Analytics interviewed a selection of automotive executives in connection with a white paper prepared for Ericsson to explore this proposition. ("Connected Vehicle Services: Benefits of Automotive Cloud" ) The findings suggest a growing opportunity for public cloud partnerships in the automotive industry.
This year was the first for which more than half of all cars manufactured globally shipped with built-in cellular wireless connections. It is a remarkable level of industry commitment given the demanding operating environment of a moving vehicle and the uneven quality of wireless connectivity globally.
The challenging operating condition of a wireless connectivity device in a car with power management, temperature, and vibration issues, paired with the varying quality of wireless reception is enough to give pause to even the boldest car makers. "Why am I doing this," one such car maker executive might ask. "It just seems like I am asking for trouble."
Add to this complex connectivity decision-making matrix the ambivalence with which car buyers greet connectivity and car makers are in a real pickle. The need for a wireless connection to the car today is manifest, the reality is expensive and complicated, the consumer is ambivalent or perhaps even hostile.
For many car buyers, connectivity means privacy violations and cybersecurity threats. And most auto makers – seeking an immediate return on their investment – are charging the consumer with a monthly or annual fee for the privilege of having an on-board wireless connection.
Oddly enough, consumers around the world surveyed by Strategy Analytics say they are in fact interested in connectivity – though they may not want to pay for it. In spite of the cost and complexity, car makers have become quite enthusiastic.
For auto makers, connectivity is a gateway to greater customer retention and advanced product life cycle management – including software updates and enhanced feature deployment – to say nothing of the fact that car connectivity is expected to rewrite the rules of insurance underwriting. Car makers may not want to part with their legacy of selling cars and more or less forgetting about them, but in a world of increasingly connected things the value proposition inherent in a connected car is tantalizing.
The need for vehicle connectivity has translated into a need to understand, in advance, the quality of vehicle connections in real-time. This need has introduced the concept of predictive quality of service (PQOS). For embedded connectivity systems to function properly they must be able to anticipate, in real-time, the availability and quality of wireless car connections.
The onset of 5G networks has further stimulated car maker interest in connectivity as the prospect of wireless enabled collision avoidance and automated driving enter the conversation – to say nothing of teleoperation. The connected car has now become part of the Internet of Things communicating with other cars, infrastructure, and pedestrians.
Car makers have been suddenly thrust into the world of big data and cloud computing. Cars that, today, exchange maybe a 1Gb or two of data per month will soon be exchanging 8Gb of data a day.
Car makers are being forced to come to terms with the need for increased cloud storage and data processing capability linking the disparate worlds of enterprise, manufacturing, distribution, and vehicle ownership. It is the cloud computing associated with connected cars, though, that offers the greatest opportunity for value creation and cost savings – if car makers can overcome their resistance to adding public cloud partnerships.
The small sample survey of automotive executives carried out by Strategy Analytics reveals the overwhelming need for cloud-based computing resources and the lingering resistance to reach out to external resources. The easiest justification for acquiring external relationships and capabilities is the correlated cost savings versus a reliance on internal systems and expertise.
Strategy Analytics' executive surveys reveal a turbulent decision-making environment sweeping the automotive industry related to cloud computing. Car makers are increasingly turning to multiple cloud partners for different application and development scenarios.
Moreover, agreements are signed and deals broken on a routine basis as needs change or as complex implementations overwhelm development teams. The dynamic automotive cloud computing market is already testing the resilience and patience of both car makers and suppliers.
Key to surviving and thriving in the current competitive environment will be a keen understanding of the means to overcome connectivity challenges in an unforgiving operating environment. With connectivity becoming an essential element associated with the safe operation of vehicles, car makers will be looking for partners with expertise in measuring and managing connectivity.
Ericsson has pioneered the concept of predictive quality of service which has been more or less codified by the 5GAA. Multiple organizations are working on standards and requirements. ("Making 5G Proactive and Predictive for the Automotive Industry"
The 5GAA identified nine factors involved in proactively predicting the quality of service at a particular time for a particular car driving along a particular route.
SOURCE: 5GAA
The onset of both C-V2X cellular connectivity and 5G in cars will introduce the prospect of multiple simultaneous vehicle connections which, in turn, will introduce the need for triaging vehicle data exchanges based on the nature and urgency of different applications.
While the future may bring streaming audio and video content to vehicle "drivers" and passengers, navigation systems enhanced by real-time roadway and weather conditions, and built-in digital assistants awaiting customer commands, the real revolution in vehicle connectivity lies in safety and collision avoidance. Car makers are looking for cloud and edge solutions to reduce traffic congestion and vehicle emissions and improve the efficiency of vehicle operations. With the help of PQOS, C-V2X and 5G technologies will help deliver on these promised benefits of connectivity within a few short years.  Car makers will be able to save lives and enhance customer retention with cloud-enhanced car connectivity.
Share this post via: