You may have seen a recent announcement from Mentor, a Siemens business, regarding the use of their Tessent DFT software by Ambarella for automotive applications. The announcement is a good example of how Mentor works with their customers to assure design success. On the surface the announcement comes across as a nice block and tackle success. However, digging deeper there is a more interesting story to tell.
Ambarella designs vision processors for AI edge applications, among these are automotive systems. This brings ISO 26262 into play to ensure that the reliability of the systems is commensurate with the risk associated with a potential failure. Ambarella used Mentor's Tessent LogicBIST, MemoryBIST and MissionMode products to develop the DFT features in their CV22FS and CV2F automotive camera system-on-chips (SoCs).
Digging deeper into the story behind the announcement, I had a conversation with Mentor's Lee Harrison about how Ambarella worked with Mentor to develop a unique test solution that helps Ambarella get the most flexibility as they design new SoCs. Ambarella wanted to build a modular approach into their blocks so that the test functionality of each block is self-contained.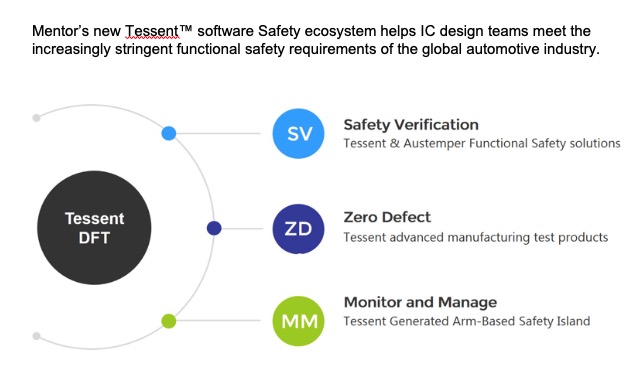 For in-system test, typically each chip will have a top level MissionMode controller that connects to the MBIST and LBIST in each block. This top-level test controller will have ROM for the patterns or rely on CPU control. Ambarella went with the approach of having each block use a MissionMode controller and having RAM at the top level for the test data that is downloaded at start up. The MissonMode controller RAM is loaded using a DMA feature in the MissionMode Controller.
Lee explained that even though there is a slight start-up time penalty for loading the local RAM from the top-level ROM, Ambarella benefits from having each block signed off for DFT before the chip is assembled. This offers them huge benefits in terms of IP reuse and simplification of the top-level integration.
I have written recently about how Mentor works with customers to develop key new features of their DFT products. While this is a little different, it offers an example of customer cooperation that works to everyone's benefit. The architectural advantages of Tessent are evident from the results obtained in this example.
Lee also mentioned that the work with Ambarella predated the development of Tessent Observation Scan. If this were added to their flow, it would save more time because of the reduction in the number of patterns. The two-fold benefit would be that the data transfer at start up would take less time and the actual test runs would be faster as well.
In the automotive market in-system test is essential to provide test functionality at start-up, during system operation and after the system has "powered off." Mentor's MissionMode controller enables each of these operations. There are numerous white papers and videos on the Mentor website that discuss their automotive test solutions. In particular, if you are interested in reading the Ambarella release, it is available there as well.
Share this post via: