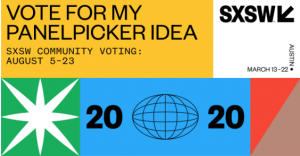 Creating engaging, though not distracting, in-vehicle experiences that enhance driving and maximize safety represents an intimidating and inspiring opportunity for automotive designers – who have already made great strides. The widespread adoption of connectivity means that artificial intelligence in the form of increasingly sophisticated digital assistants are transforming that experience.
Nuance, Affectiva, and Strategy Analytics have proposed a SXSW panel discussion on this topic focused on the revolutionary impact of AI on in-vehicle experiences. We'd like your vote in favor of our presentation proposal.
On Monday, August 5, all ideas received during the open Panel Picker application process for the 2020 SXSW event were posted for the online community to vote on.
Community votes make up 30% of the final decision of what makes the stage at SXSW. Input from SXSW Staff (30%) and the SXSW Advisory Board (40%) is also part of the decision making process and helps ensure that lesser-known voices have as much of a chance of being selected as individuals with large online followings. Together, these percentages help determine the final programming lineup.  
How to Vote
To participate in the voting process, visit panelpicker.sxsw.com/vote and login or create an account. Each voter can vote once per proposal – selecting "arrow up" for yes or "arrow down" for no.
Nuance, Affectiva, and Strategy Analytics' session can be found here: https://panelpicker.sxsw.com/vote/104568
Thank you, in advance, for your interest and support. The goal is to make driving safer, more pleasant, more intelligent, and more human.
Share this post via: