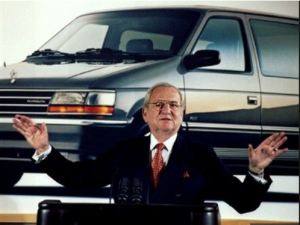 The automotive industry is a funny business. It is simultaneously ruled by ego driven "visionaries" and penny-pinching bean counters. (Don't believe me? Just ask Bob Lutz.) This id-superego tension plays out in business section headlines every day most recently including the death of FCA's Sergio Marchione who passed nearly a year ago and today's news of the demise of legendary Chrysler Chairman Lee Iacocca.
At a time when two former CEOs, Martin Winterkorn of Volkswagen and Carlos Ghosn of Renault-Nissan, are facing criminal charges, it's worth considering the absence of product-focused industry leadership from the C-level of most car companies. General Motors' CEO Mary Barra's brief pre-CEO flirtation with maverick behavior ("No more crappy cars!") evaporated after her appointment and the resulting shift in emphasis to financial concerns.
Today's CEO's are universally focused on financial issues and meeting or battling regulatory requirements while the actual engagement with consumer desires and the marketplace is left to the marketing and advertising team. It's no surprise, then, that Ford, FCA, and GM are all abandoning key passenger car segments now dominated by import marks. Bigger cars promise fatter margins and safer, bigger customer bull's-eyes.
Iacocca's passing closes the books on bold product-oriented statements emanating from the CEO's office. The closest the automotive industry comes, today, to a CEO-driven approach to the market resides entirely with Tesla Motors CEO Elon Musk – whose company coincidentally defied all skeptics by shipping a record number of Tesla EV's in its latest quarter reported yesterday.
Still, Musk isn't making cars for the masses just yet. Iacocca and Chrysler, in his day, were delivering a wide range of cars – including convertibles! – to a very wide audience indeed. At a time when the bean counters increasingly rule the industry it is refreshing to recall the Iacocca of old, circa 1984.
Listening to Iacocca is a nearly incomprehensible blast from the past. Take a listen to his turn as a Chrysler spokesperson in a 1984 television advertisement: https://tinyurl.com/yxaqsssy – Youtube
Here is the transcript – no surprise he was considered a potential presidential candidate at the time.
"A lot of people think America can't cut the mustard anymore, that quality counts for nothing, and hard work for even less, and commitment, that went out with the hula hoop.
"Well, when you've been kicked in the head like we have, you'll learn pretty quick to put first things first. And in the car business product comes first, and product is what brought us back to prosperity; high mileage, front wheel drive, quality products.
"By the way, with the best safety recall record over the last two full model years of any American cars. Convertibles, they said, nobody wanted, but everybody copied. Sports cars and luxury cars and turbo, so powerful, so efficient, you'll never go back to V8 again. And a wagon, so versatile, so right for America today, we can't build enough of them. Not bad for a company that had one foot in the grave.
"Today every man and woman at Chrysler has a commitment, to build cars that will take on the best.
"We will build two sedans this fall, LeBaron GTS and Dodge Lancer that will challenge BMW, Audi, even Mercedes, for thousands less. And next year we will build a small car right here in America with quality that we're determined will beat the Japanese at their own game and we will build the best backed American cars with five-year or 50,000 mile protection.
"Quality, hard work, commitment, the stuff America was made of. Without them there is no future. I have one and only one ambition for Chrysler, to be the best. What else is there?"
Two car companies do stand out for the innovative products already on the road or in their development pipelines: Volkswagen and Renault. It is notable that Volkswagen is talking of an alliance with Ford Motor Company and FCA has talked of aligning with Renault. Both conversations could open up the North American market to a stream of innovative and unique small cars – including electrified models – that will lead to further erosion of Detroit dominance of the U.S. market.
We miss you, Lee. We miss your vision, your gumption and your tagline: "If you can find a better car, buy it!"
Share this post via: