Our smart phone driven semiconductor economy consumes a lot of IP blocks to enable quick product development cycles, often annually updating with new models to choose from. So where do you find all of the best semiconductor IP, verification IP and embedded software? Well, one place is at the 2nd annual REUSE conference, scheduled for December 14th in Santa Clara at the Convention Center where you'll be able to explore what 35 companies have to offer. Here's the list to pique your curiosity a bit:
arm
Achronix
Amphion
Andes Technology
Archband
Avery Design Systems
CAST
Certus Semiconductor
City Semiconductor
Corigine
efabless
flexlogix Technologies, Inc.
Intel
Intrinsic ID
menta
mixel
Mobile Semiconductor
mobiveil
Moortec
NSCore
nvm engines
Open Silicon
QuickLogic
Samsung
SiFive
Silicon Creations
Silvaco
SiNTEGRA
Sofics
Sonics
surecore
SmartFlow
Semi IP Systems
True Circuit Inc
Uniquify

It's refreshing to see such a wide span of vendors at this conference, from small start-ups to behemoths like arm, Intel and Samsung. Even at the first annual REUSE conference last year there were some 34 companies from 11 countries signed up, and 400 attendees registered, pretty impressive for an inaugural event.
I contacted Warren Savage of Silvacoto find out more about REUSE because he was one of the founders of this new conference. Online Warren has been making YouTube videos for several years under the tagline of Take Five with Warren where he interviews key people in the semiconductor IP industry. Each video plays in about 5 to 7 minutes, so don't get hung up on the literal 5 minute moniker.
Warren started out in 1979 as a design engineer at Fairchild Semiconductor, then moved into management with Tandem for 13 years. He started in the IP business with Synopsys from 1995 to 2003, then became President and CEO of IPextreme for the next 12 years. Last year in June his company IPextreme was acquired by Silvaco, where Warren is now the General Manager of the IP division.
Q&A
What type of engineer would be interested in attending?
Anyone that uses IP will probably find something interesting there. It's a great venue to come and check out companies that you may not have had a chance to see at DAC or other shows, which are so much more expensive for nascent IP companies to attend.
What does an engineer get out of attending in terms of benefit, ideas, skills, awareness, etc?
As I mentioned, one of the principles is that we don't have a committee that tells people what they can and cannot talk about. We let companies talk about anything they like, and usually they pick something that they think would be interesting to someone. Whether its applicable to a design engineer or a product manager, we don't know. They can read the agenda and find something interesting, I'm sure.

Are there speakers at the event?
Yes, a really nice selection of IP companies, big and small. Plus some nice keynotes from Smartflow on IP piracy and from Samsung on what IP means to foundries. Plus, Intel is giving a talk on what they expect from IP suppliers.

Ted Miracco, CEO, SmartFlow Compliance Solutions
Heather Monigan Program Director & Technology Strategist, Intel
Hong Hao, Sr. VP Foundry Business, Samsung
Meredith Lucky, VP of Sales, CAST
Tony Kazaczuk, Director, Flex Logix
Warren Savage, GM, Silvaco
John Heinlein, Ph. D., VP, Arm
Timothy Saxe, Ph. D., VP and CTO, QuickLogic
Stephen Fairbanks, Co-Director, Certus Semiconductor
Brian Gardner, VP of Business Development, True Circuits, Inc.
Steve Mensor, VP of Marketing, Achronix Semiconductor
Mike Noonen, Silego Technology
Dr. Naveed Sherwani, President & CEO, SiFive
John Blyler, JB Systems
Michael, Wishart, CEO, efabless
Andrew Cole, VP, Silicon Creations
Jim Bruister, Director, Silvaco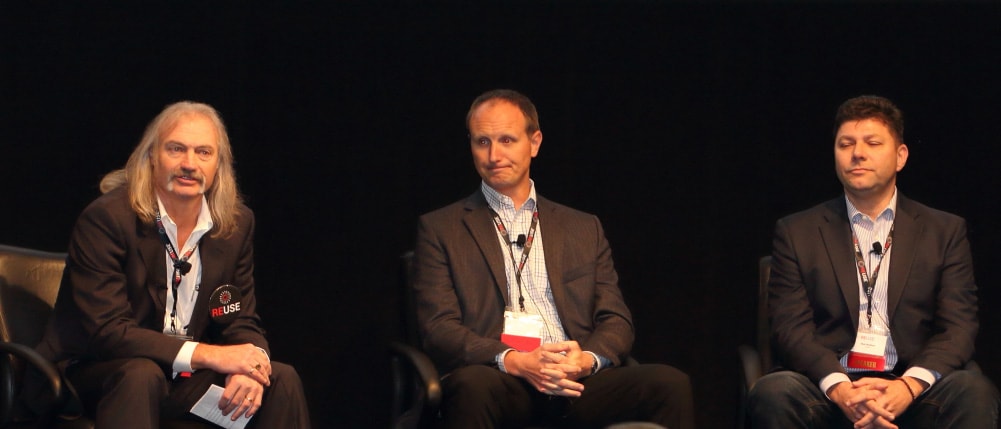 What is happening in the IP industry these days?
I think that attendees can get a very good sense of the dynamics of the industry by attending, listening to the talks and visiting with suppliers and other attendees. My sense is that the IP industry is as strong as ever and we continues to morph into new areas.
Is the event expensive to attend?
No, it's free this year to attend.
How many people do you expect this year?
I expect between 500-600 people this year.

Registration
Even though this conference is free, you must register online to reserve your spot and receive a lanyard at the event.

REUSE 2017will again bring the global IP community together, this time at the Santa Clara Convention Center in the center of Silicon Valley. Here an even greater diversity of suppliers will be promoting their products in a fair and balanced showcase. REUSE will also provide an open forum for communication and networking within our industry.
Share this post via: