Founded back in 1984, Silvaco has been in business for some 29 years now, focusing on the TCAD and EDA markets.

Browsing their Home page at www.silvaco.com we find four social media links in the footer: Facebook, Twitter, YouTube and LinkedIn.


Facebook
This page has 241 likes and most of the posts have technical articles on TCAD and EDA. I see about 2 to 5 posts per month. About half of the posts are for articles of interest to the industry and link to non-Silvaco sites like EE Times and SemiWiki. Their Facebook page was setup on April 16, 2012.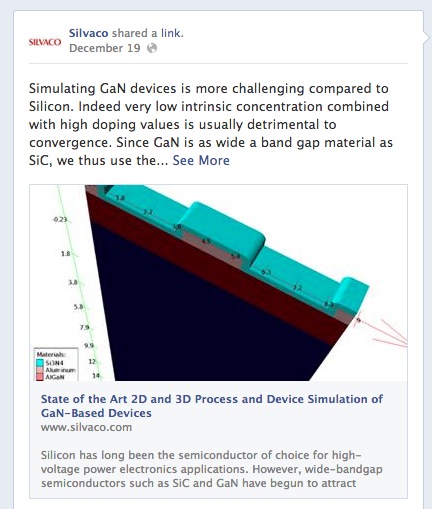 Twitter
This corporate account was also setup in 2012 and has 21 followers, and you can expect a handful of tweets per month.

The most popular hashtags are: #Silvaco #TCAD. The most frequent links go to articles at www.planetanalog.com and www.silvaco.com/examples/.
YouTube
Starting in November 2011 a YouTube channel was started and you can find 13 videos with up to 1,255 views. Here's the most popular video so far:
Other popular videos include:
Silvaco: Setting up your SFLM
Install for Linux NV
Silvaco at IEDM 2012
Victory Process Beam Deposition
LinkedIn
The most active social media site for Silvaco is LinkedIn with some 448 followers. I see a few updates per week in their status.

On the Products page you'll find:
SmartSpice (SPICE simulator)
Victory Process (3D process simulator)
Athena (Process simulation framework)
Quest (3D RF passive device modeling)
Gateway (Schematic editor)
Expert and ExpertViews (IC Layout editor and viewer)
Spider (IC Place and route)
Harmony (Analog/Mixed-signal simulator)
AccuCore (Block characterization, modeling and STA)
AccuCell (Cell characterization and modeling)
Silos (Verilog Simulator)
HyperFault (Mixed-level fault simulator)
Spayn (Statistical parameter and yield analysis)
Stellar (3D physics-based RC extractor)
Utmost IV (Device characterization and modeling)
Guardian (DRC, LVS verification)
Exact (Full chip LPE rule file generator)
There's a Group called Silvaco TCAD Tools with 333 members, started back in 2009.
SemiWiki
Paul McLellan and I have been blogging about Silvaco since September and have written a few articles:
Summary
Silvaco is most active on social media sites LinkedIn, Facebook and SemiWiki. Pick your favorite channel and join in the conversation.
lang: en_US

Share this post via: