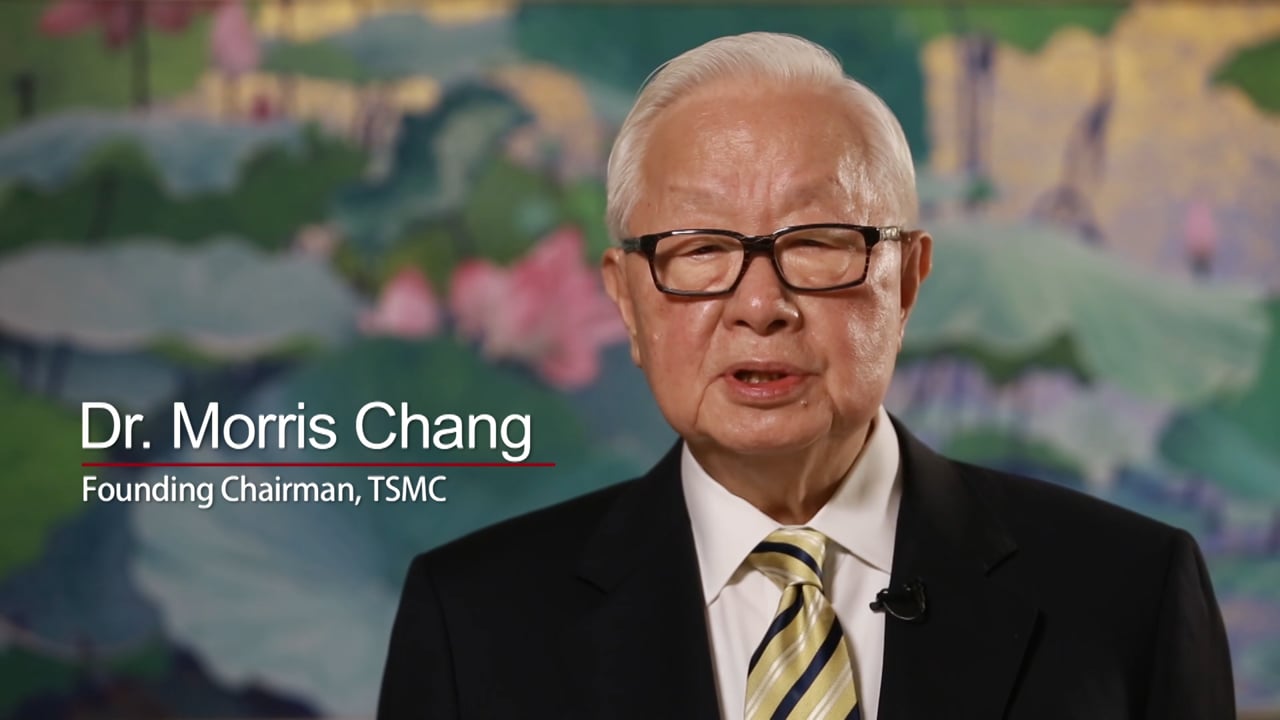 Dell changed the way personal computers are manufactured and sold. Starbucks changed the amount we would pay for a cup of coffee. eBay took the yard sale out of our yards. TSMC took the semiconductor manufacturing costs off our balance sheets and out of our capital investments.
It's hard to overstate the impact that Dr. Morris Chang, Founder, Chairman, and until-recently CEO of TSMC, has had on the industry. He has been influential as a leader in business model innovation, and has earned his company roughly 50% of the foundry market share.
Chang left his native China in 1949, moving to the US to attend Harvard University. He soon transferred to MIT as he followed his interest in technology. After earning his MS in 1953 from MIT's mechanical engineering graduate school, Morris went directly into the semiconductor industry at the process level with Sylvania Semiconductor and was quickly moved to management.
Chang moved to Texas Instruments in 1958, where he stayed for 25 years, rising to VP of the worldwide semiconductor business (and also earned a PhD in electrical engineering from Stanford in 1964). At TI, he worked on a four transistor project in which the manufacturing was done by IBM, thus engaging in one of the early semiconductor-foundry relationships. Also at TI, Chang developed a new model of semiconductor pricing that sacrificed early profits to gain market share and to achieve manufacturing yields that would lead to higher long-term profits.
Chang left TI in 1983 and did a short stint at General Instrument Corporation. He then moved to Taiwan to head the Industrial Technology Research Institute (ITRI), which led to the founding of TSMC.
Chang noticed in the early 1980s, while at TI and GI, that top engineers were leaving and forming their own semiconductor companies. Unfortunately, the heavy capital requirement of semiconductor manufacturing was a gating factor. The cost back then was $5-10 million to start a semiconductor company without manufacturing and $50-100 million to start a semiconductor company with manufacturing. Some of these start-ups used excess capacity from IDMs but were subjected to uncertainties in foundry capacity and sometimes had to buy wafers from a competitor. Around this time, 1985, the first truly fabless startups, like Xilinx and Chips and Technologies, were launched and doing well.
It was in 1987, within this nascent fabless environment, that Chang started TSMC. Although TSMC started two process nodes behind where semiconductor manufacturers (IDMs) were at the time, they had the advantage of being a pure-play foundry, not a competitor. Their focus was on their customers.
Morris Chang made the first TSMC sales calls with a single brochure: TSMC Core Values: Integrity, Commitment, Innovation, Partnership. Four or five years later, TSMC was only behind by one process node and the orders started pouring in. In 10 years, TSMC caught up with IDMs (except for Intel) and the fabless semiconductor industry blossomed, enabling a whole new era of semiconductor design and manufacturing. In the last 20 years, and still today, even the remaining IDMs are being forced to go fabless or fab-lite at 28 nm and below due to high costs and daunting technical challenges.
Dr. Morris Chang turned 82 on July 10th, 2013. He is still running TSMC full time as the founding Chairman. He works from 8:30 am to 6:30 pm like most TSMC employees and says that a successful company life cycle is: rapid expansion, a period of consolidation, and maturity. The same could be said about Chang himself.
In 2017 the TSMC Museum of Innovation opened Under Fab 12 in Hsinchu Taiwan. It not only commemorates the history of semiconductors and TSMC but also the life of Dr. Morris Chang. Morris Chang's wife Sophie was actively involved in this project:
The TSMC Museum of Innovation encompasses three exhibition galleries: "A World of Innovation," "Unleashing Innovation," and "Dr. Morris Chang, TSMC Founder." Through interactive technology, digital content, and historical documents we will learn about the pervasiveness of ICs in our daily lives and about their continued advancement. In addition, we will learn how ICs are making our lives more fulfilling and how they are driving technology beyond our imagination. We will also learn how TSMC contributes to global IC innovation and to Taiwan's economy.
In 2018 Dr. Morris Chang retired from TSMC for the second and final time:
TSMC Dr. Morris Chang Announces Retirement in June 2018. Future Dual Leadership Will Be Mark Liu as Chairman And C.C. Wei as CEO
Issued by: TSMC Issued on: 2017/10/02
Hsinchu, Taiwan, R.O.C. – Oct. 2, 2017 – TSMC Chairman Morris Chang today announces: "I will retire from the Company immediately after the Annual Shareholders Meeting in early June, 2018. I will not be a director in the next term of the board of directors. Nor will I participate in any TSMC management activities after the Annual Shareholders Meeting in early June, 2018. From early June, 2018 on, TSMC will be under the dual leadership of Dr. Mark Liu and Dr. C.C. Wei. Dr. Mark Liu will be the Chairman of the Board, and Dr. C.C. Wei will be the Chief Executive Officer. All present directors of the board have agreed to be nominated, and if elected, serve as directors of the board during the next term. They have also agreed to support the aforementioned dual leadership of the Company under Drs. Liu and Wei. Chairman Morris Chang further said, "The past 30-odd years, during which I founded and devoted myself to TSMC, have been an extraordinarily exciting and happy phase of my life. Now, I want to reserve my remaining years for myself and my family. Mark and CC have been Co-CEO's of the Company since 2013 and have performed outstandingly. After my retirement, with the continued supervision and support of an essentially unchanged board, and under the dual leadership of Mark and CC, I am confident that TSMC will continue to perform exceptionally."
Reference:
Fabless: The Transformation of the Semiconductor Industry 2019 Edition

Share this post via: