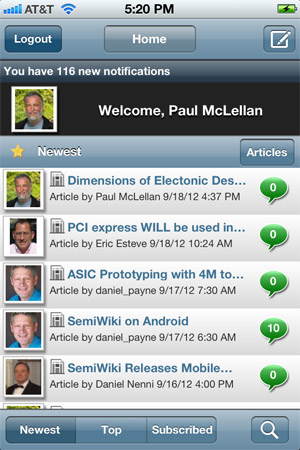 The iPhone version of the SemiWiki App is now available. Download it from the iTunes store, it's free. The App allows you to look at similar things to the website but much more conveniently adapted to fit the small screen. When you first start up the App you can log in (assuming you are a SemiWiki registered user and why would you not be).
For example, here is the front page of Semiwiki, with all the articles in order. You can, of course, scroll to get to the more articles below. And if you tap on any particular article you get to read it, formatted for the small screen.
It only went live today so I'm not going to claim that I've had extensive experience of playing with it, but it certainly seems easy to use and everything seemed to work as you would expect.
Daniel Payne did a more detailed explanation of how to navigate within the App here. He was actually discussing the Android version of the App but since they area essentially the same (once you've got the App installed) you can read his blog entry and it all applies just the same on iPhone except that to get to the "8 choice" top menu you tap on the "home" button in the middle of the top row. That will get you to here: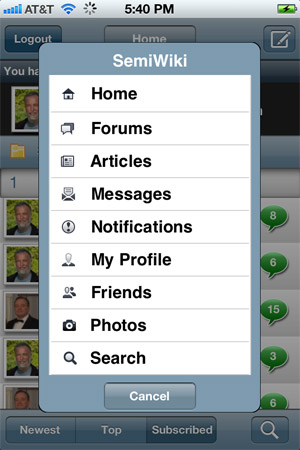 The App is a big advance on just trying to run SemiWiki's regular website in Safari (or any other browser) where everything is always the wrong size, and it takes more clicks that you would like to navigate around.
It's on the App Store here.
Share this post via: