The tremendous growth in edge devices has focused the spotlight on Edge-AI processing for low latency, low power and low-DDR bandwidth compute needs. Many of these Edge-AI applications depend on effective and efficient processing of image and video streams which in turn relies on computer vision technology. In early September, VeriSilicon announced the launch of AI-ISP, an innovative AI image enhancement technology that the company claims that it can surpass what traditional computer vision technologies offer. The company credited its Glass to Glass (from camera-in to display-out) intelligent pixel processing IP portfolio and its innovative FLEXA™ IP interconnection technology for this achievement. This blog will look into the nuts and bolts behind that claim.
About VeriSilicon
Many may already be familiar with VeriSilicon but a refresher will serve well as a backdrop for this blog. From more than two decades ago when the company started as a design service and a turnkey service provider, VeriSilicon has expanded and evolved a lot as well. The company is committed to providing customers one-stop custom silicon solutions through its silicon services and IP licensing services of in-house semiconductor IP. Customers benefit from its "Silicon Platform as a Service (SiPaaS®) model that enables design efficiencies and higher quality while lowering product risk and development costs. VeriSilicon can create custom silicon products from definition to test and package within short cycle times.
The company has delivered a variety of custom silicon solutions supporting applications such as high-definition audio, video, high-end processing, video surveillance, IoT connectivity, smart wearable, and many others. It leverages an in-house IP portfolio of more than 1,400 analog and mixed-signal IPs and RF IPs along with processor IPs. Its processor IPs fall into the following main types: GPU, NPU, VPU, DSP, ISP and Display Processor, plus VeriSilicon FLEXA™ IP fusion technology.
AI-ISP Technology
Under its platform model, VeriSilicon continues to fuse multiple technologies to address the industry challenges by breaking the limit of the traditional approaches. The VeriSilicon AI-ISP technology is a result of such a push to support the Edge-AI processing domain. The technology combines VeriSilicon's Neural Network Processing (NPU) technology with its Image Signal Processing (ISP) technology to deliver innovative image quality enhancement for computer vision. The AI-ISP is built on an intelligent workload balancing architecture that optimizes power consumption and memory access. It is built for applications that demand ultra-low power consumption under near-zero illuminance conditions. VeriSilicon's AI-ISP can be leveraged to benefit smartphones, automotive electronics, surveillance camera systems, and Industrial Internet of Things (IIoT) among many other applications.
AI-ISP Leverages Already Proven Technologies
VeriSilicon develops its various IPs with the SiPaaS model in mind. Its various IP technologies support each other to deliver enhanced results. For example, its Image Signal Processing (ISP) IP focuses the target area to obtain a clearer image and set things up for its Network Processing Unit (NPU) to perform detection and recognition functions. On the other hand, its NPU is capable of performing dark light, noise reduction during the ISP processing, for further enhancement of image quality. Following are the underlying technologies that the AI-ISP offering leverages.
VeriSilicon FLEXA™
VeriSilicon's FLEXA™ is an innovative, low-power and low latency interface communication technology that allows ISPs to read, write and access data directly from the NPU. The FLEXA API is built around a hardware and software protocol that enables efficient data communication between multiple pixel processing IP blocks. Systems built with FLEXA compliant IPs can leverage the API to run AI applications to reduce DDR traffic and achieve low pixel processing latencies.
Image Signal Processing (ISP) Technology
VeriSilicon's ISP technology is already market proven through customer adoption of various cores from its ISP product portfolio.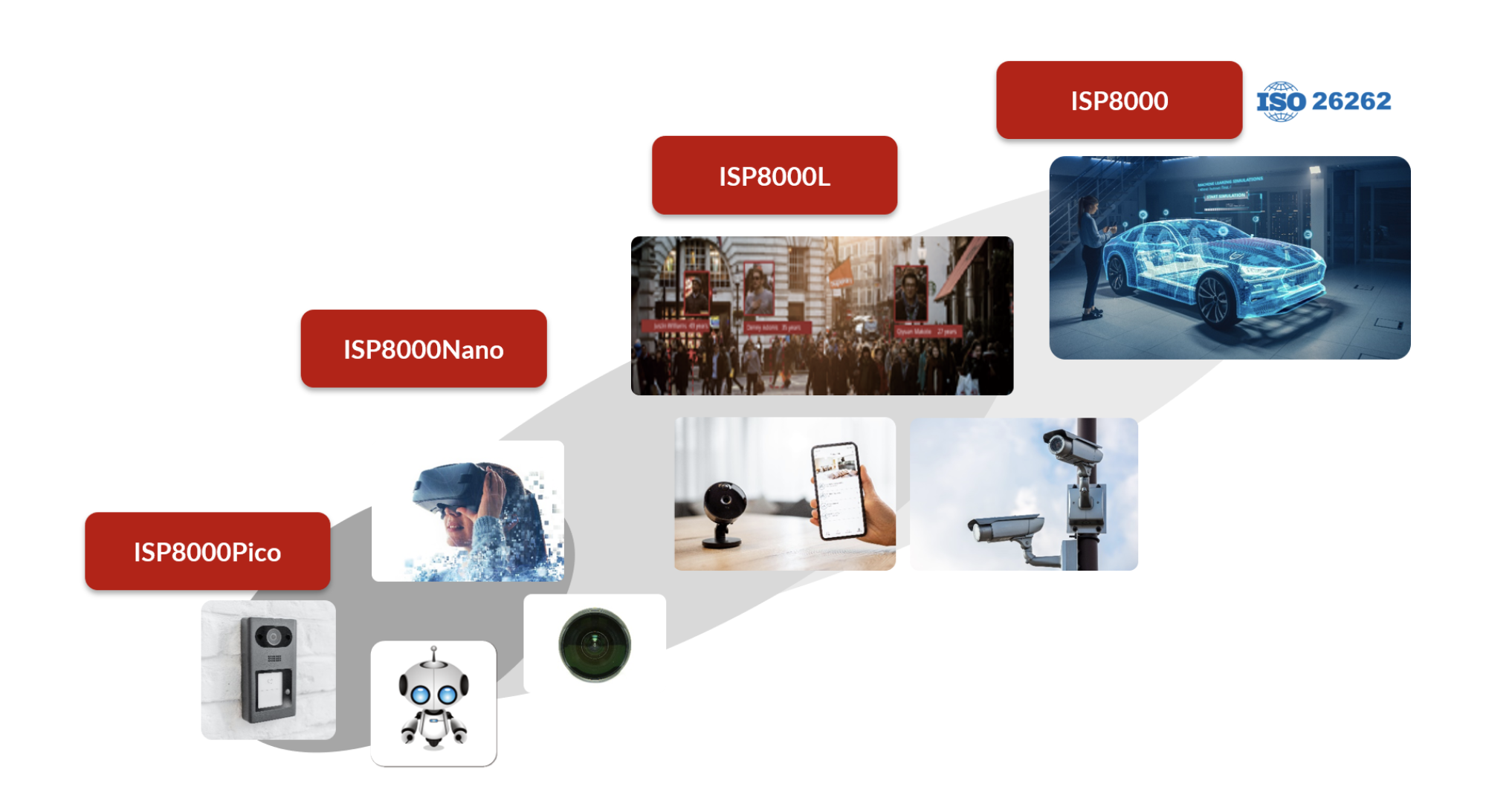 It's worth mentioning that VeriSilicon's ISP8000L-FS V5.0.0 has achieved both ISO 26262 and IEC 61508 functional safety standards, which is the company's first IP that aligns with dual international functional safety standards. The ISP8000L-FS V5.0.0 is designed for advanced and high-performance camera-based applications, which supports dual cameras with single 4K@60fps or dual 4K@30fps video capturing. It also integrates HDR (High Dynamic Range) processing, 2D/3D noise reduction technologies, and built-in functional safety mechanisms. The ISP8000L-FS V5.0.0 has been certified by both ISO 26262 and IEC 61508 functional safety standards, which marks a significant milestone in VeriSilicon's expansion of its functional safety IP portfolio. Adopting the certified ISP IP will help customers accelerate their product development process with reduced risk of systematic failures and random hardware failures in safety-critical automotive and industrial applications.
To read the press announcement, go here.
Neural Network Processor (NPU) Technology
VeriSilicon's NPU technology is already market proven through customer adoption of various cores from its NPU product portfolio. It incorporates self-adaptive resolution calculation and multi-frame fusion function, as well as excellent noise reduction performance even in low light conditions. The technology comes with a complete software stack and software development kit (SDK) that supports deep learning frameworks including Tensorflow, PyTorch, ONNX, TVM, and IREE. For the specific cores that support various applications from IoT and Wearables to Automotive and Data Centers, refer to the Figure below.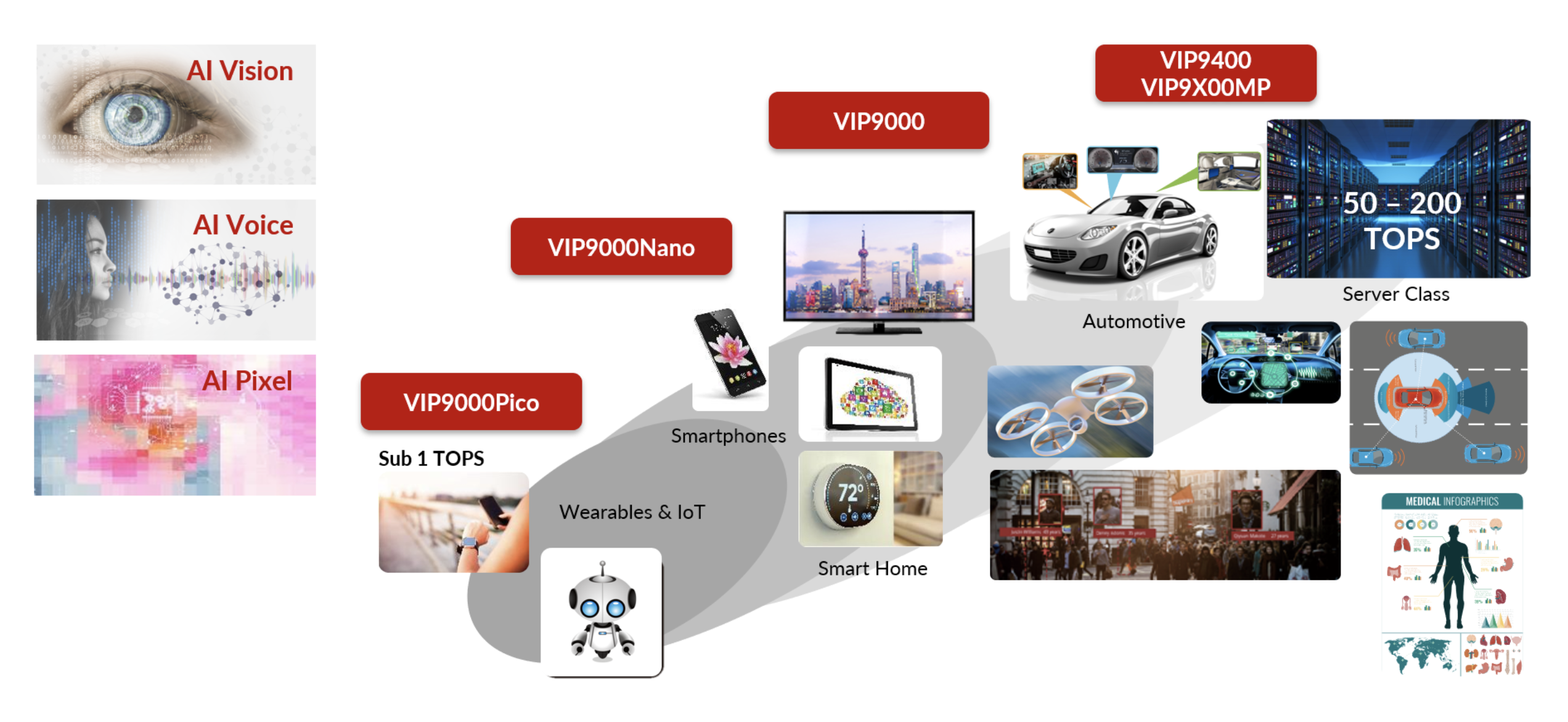 Summary
As a SiPaaS company, VeriSilicon continues to bring valuable IP cores and integration services to benefit its customer base. Customers are enabled to implement efficient, low-power integrated solutions that can perform beyond the limitations of traditional approaches. Its customer base covers consumer electronics, automotive, computer and peripheral, data processing, IoT and other applications.
To learn more about VeriSilicon, visit their website.
To read the press announcement about AI-ISP, go here.
Share this post via: