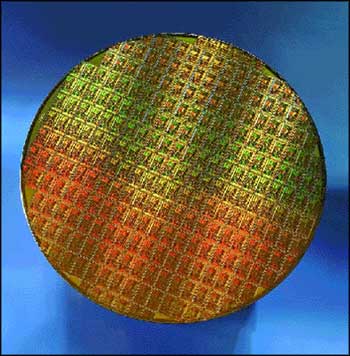 Even though most of us have witnessed the emergence of the fabless semiconductor industry it is still good to go back and remember how we got to where we are today, to realize that the semiconductors that you now hold in your hand were enabled by the rise of the fabless semiconductor business model. This is the first in a series of blogs I will do on this topic.
When I arrived in Silicon Valley in the early 1980's the semiconductor industry was vertically segregated. Semiconductor IDM's (integrated device manufacturers) owned and operated their own manufacturing facilities (Fabs). I worked for Data General, a computer manufacturer, at their fab on Mathidla Avenue in Sunnyvale, California. DG manufactured CPU's and other chips for their line of Mini-Computers made famous by the Pulitzer Prize winning book "The Soul of a New Machine" by Tracy Kidder.
In order to manage excess capacity and increase the ROI of the capital intensive semiconductor manufacturing process, IDMs started offering smaller firms design, manufacturing, and packaging services. This was the start of the outsourcing revolution that we now call the Fabless Semiconductor Industry.
Dr. Morris Chang worked for one of the aforementioned IDMs (Texas Instruments) and went on to found Taiwan Semiconductor Manufacturing Corporation (TSMC). At TI, Morris Chang worked on a four transistor project where manufacturing was done by IBM. This was one of the early foundry relationships. At the same time Morris pioneered the then controversial idea of pricing semiconductors ahead on the cost curve, sacrificing early profits to gain market share to achieve manufacturing yields that would result in greater long-term profits. Morris also noticed in the early 80's at TI that top engineers were leaving and forming their own semiconductor companies. Unfortunately the heavy capital requirement of semiconductor manufacturing was a gating factor. The cost back then was $5-10M to start a semiconductor company without manufacturing and $50-100M to start a semiconductor company with manufacturing. Some of these engineers went to the IDMs to get wafers from excess capacity but this was not a customer friendly process and sometimes they were getting wafers from a competitor.
In 1987 TSMC started the foundry business 2 process nodes behind current semiconductor manufacturers (IDMs). 4-5 years later TSMC was only behind 1 node and the orders started pouring in. In 10 years TSMC caught up with IDMs and the fabless semiconductor industry blossomed enabling a whole new era of semiconductor design and manufacturing. In the last 25 years and still today the remaining IDMs are being forced to go fabless or fab-lite at 28nm and below due to cost and daunting technical challenges.
If you look at the most recent ranking from iSuppli it is interesting to see that IDMs Renases, AMD, Infineon, Sony, Freescale, NXP, and Fujitsu are going or already have gone fabless. Also, Fabless companies Qualcomm, Broadcom, NVIDIA, Marvell, and MediaTek are climbing the charts. In ten years how many of these companies (other than the memory companies) will still have fabs?
[TABLE]
|-
! class="blocksubhead" ! Rank
2011
! class="blocksubhead" ! Rank
2010
! class="blocksubhead" ! Company
! class="blocksubhead" ! Country of origin
! class="blocksubhead" ! Revenue
(million
$ USD)
! class="blocksubhead" ! 2011/2010 changes
! class="blocksubhead" ! Market share
|-
| 1
| 1
| Intel Corporation(1)
| USA
| 49 685
| +23.0%
| 15.9%
|-
| 2
| 2
| Samsung Electronics
| South Korea
| 29 242
| +3.0%
| 9.3%
|-
| 3
| 4
| Texas Instruments(2)
| USA
| 14 081
| +8.4%
| 4.5%
|-
| 4
| 3
| Toshiba Semiconductor
| Japan
| 13 362
| +2.7%
| 4.3%
|-
| 5
| 5
| Renesas Electronics
| Japan
| 11 153
| -6.2%
| 3.6%
|-
| 6
| 9
| Qualcomm(3)
| USA
| 10 080
| +39.9%
| 3.2%
|-
| 7
| 7
| STMicroelectronics
| FranceItaly
| 9 792
| -5.4%
| 3.1%
|-
| 8
| 6
| Hynix
| South Korea
| 8 911
| -14.2%
| 2.8%
|-
| 9
| 8
| Micron Technology
| USA
| 7 344
| -17.3%
| 2.3%
|-
| 10
| 10
| Broadcom
| USA
| 7 153
| +7.0%
| 2.3%
|-
| 11
| 12
| AMD
| USA
| 6 483
| +2.2%
| 2.1%
|-
| 12
| 13
| Infineon Technologies
| Germany
| 5 403
| -14.5%
| 1.7%
|-
| 13
| 14
| Sony
| Japan
| 5 153
| -1.4%
| 1.6%
|-
| 14
| 16
| Freescale Semiconductor
| USA
| 4 465
| +2.5%
| 1.4%
|-
| 15
| 11
| Elpida Memory
| Japan
| 3 854
| -40.2%
| 1.2%
|-
| 16
| 17
| NXP
| Netherlands
| 3 838
| -4.7%
| 1.2%
|-
| 17
| 20
| NVIDIA
| USA
| 3 672
| +14.9%
| 1.2%
|-
| 18
| 18
| Marvell Technology Group
| USA
| 3 448
| -4.4%
| 1.1%
|-
| 19
| 26
| ON Semiconductor(4)
| USA
| 3 423
| +49.4%
| 1.1%
|-
| 20
| 15
| Panasonic
| Japan
| 3 365
| -32.0%
| 1.1%
|-
| 21
| 21
| Rohm Semiconductor
| Japan
| 3 187
| +2.2%
| 1.0%
|-
| 22
| 19
| MediaTek
| Taiwan
| 2 952
| -16.9%
| 0.9%
|-
| 23
| 28
| Nichia
| Japan
| 2 936
| +34.1%
| 0.9%
|-
| 24
| 23
| Analog Devices
| USA
| 2 846
| -0.6%
| 0.9%
|-
| 25
| 22
| Fujitsu Semiconductors
| Japan
| 2 742
| -0.5%
| 0.9%
|-
| colspan="4″ | All Other companies
| 95 610
| -0.5%
| 30.7%
|-
| colspan="4″ | TOTAL
| 311 360
| 1.3%
| 100.0%
|-

A Brief History of Semiconductors
A Brief History of ASICs
A Brief History of Programmable Devices
A Brief History of the Fabless Semiconductor Industry
A Brief History of TSMC
A Brief History of EDA
A Brief History of Semiconductor IP
A Brief History of SoCs

Share this post via: