Podcast EP67: Corigine Combines Emulation and Prototyping
Dan is joined by Jeff Critten, VP of sales at Corigine. They discuss the unique capabilities of Corigine that allows support of both emulation and prototyping in one platform.
Jeff Critten has been in the EDA industy for over 25yrs.  He started with Cadence as a verification AE in 1997 and moved into a sales role where he was promoted to a Sales Director running Major Accounts like Intel, Broadcom, Marvell and numerous others.  He left Cadence to try a Cloud start up and that gamble didn't bear fruit.  He recently went to Corigine in Q4 to become their VP of Sales for their new Mimic Product line which unifies the functions of an emulator and a prototyping board into a single unifed platform that is priced like a prototyping board.   Jeff has a MSc. from the University of Waterloo and his BSc from the University of British Columbia.
The views, thoughts, and opinions expressed in these podcasts belong solely to the speaker, and not to the speaker's employer, organization, committee or any other group or individual.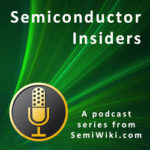 Share this post via:
---