Podcast EP189: A Look at the Q2 Electronic Design Market Data Report Results with Wally Rhines
Dan is joined by Dr. Walden Rhines. Wally is a lot of things, CEO of Cornami, board member, advisor to many and friend to all. For this discussion he is the Executive Sponsor of the SEMI Electronic Design Market Data report.
Dan explores the Q2 results summarized in the report with Wally. Overall growth was around 5%, a much lower number than prior quarters. Digging into the data a bit Wally points out that the EDA segment of the market continues to show very strong growth. What is different this quarter is a lower growth for IP. Wally believes this is due to a re-classification of revenue that will normalize in subsequent quarters.
Dan explores more detailed analysis of the data from around the world with Wally, including some very interesting regional trends in this informative discussion.
The views, thoughts, and opinions expressed in these podcasts belong solely to the speaker, and not to the speaker's employer, organization, committee or any other group or individual.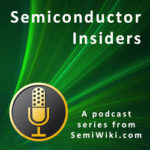 Share this post via:
---