Podcast EP1: Why are Semiconductors so Sexy?
The goal of this Podcast Series is to bring semiconductor experts together to get to the truth about the matter at hand. We'll get right to the point and not exceed 30 minutes of your time. If you have a topic you would like us to cover please post it on SemiWiki.com and we will get right to it.
After introductions from Daniel Nenni and his podcast partner Mike Gianfagna, Dan and Mike discuss the high profile semiconductors enjoy today. This bright spotlight is a relatively recent phenomenon.  How the semiconductor market began and what forces shaped the current climate are discussed. Many of these topics will be the subject of future episodes.
The views, thoughts, and opinions expressed in these podcasts belong solely to the speaker, and not to the speaker's employer, organization, committee or any other group or individual.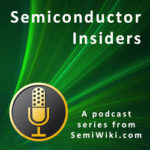 Share this post via:
---