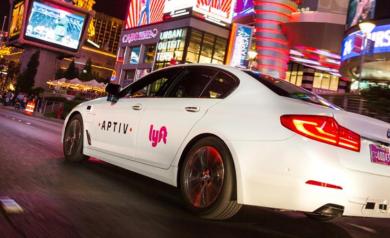 The often pedantic debate over how cars will directly communicate with other cars and infrastructure will culminate suitably at CES 2019 with multiple C-V2X announcements and demonstrations. Foremost among those demonstrations will be parking lot drive-arounds at the Rio Resort Hotel put on by Ford Motor Company, Audi of America and Qualcomm.
C-V2X cellular technology takes advantage of a new air interface, called PC-5, which enables direct device communications at low enough latency to support crash avoidance applications for cars. More importantly, the direct interface works with or without network connectivity.
The participation of Audi in the demos at CES 2019 is notable given parent company Volkswagen's determined commitment to dedicated short rage communication (DSRC) technology – instead of C-V2X – for vehicle-to-vehicle communications. Cellular-based C-V2X achieves the same outcome in the same wireless frequencies using existing LTE standards – and will also be available as part of 5G standards.
DSRC technology is already in limited deployment in some U.S. and European cities (China has notably taken a pass on DSRC in favor of C-V2X) such as Las Vegas for both roadside units and in traffic lights for communicating their signal phase and timing. The 35 Lyft-Aptiv "driverless" cars currently plying Las Vegas streets are already making use of DSRC technology to determine traffic light timings.
The Las Vegas roadside units were supplied by Commsignia, which will use CES 2019 to announce the introduction of dual mode DSRC/C-V2X modules. Like competing suppliers Auto-talks, Cohda Wireless and Savari, Commsignia has recognized the need to adopt and integrate the cellular alternative along with its DSRC solution in keeping with the spirit of Transportation Secretary Elaine Chao's agnostic position regarding inter-vehicle communications.
Ford is waving the C-V2X flag particularly high announcing at CES 2019 its intention to deploy C-V2X technology across its entire vehicle product line by 2022. The announcement from Ford is as significant as Audi's demo participation given that Ford was one of the founding members – with General Motors – of the Collision Avoidance Metrics Project (CAMP).
CAMP was founded nearly 20 years ago to develop the protocols necessary to support collision avoidance using 802.11p Wi-Fi technology. CAMP observers say the organization has recently come to recognize and accept that C-V2X is a formidable and acceptable alternative to DSRC – though there is no doubt that a lot of testing will have to be done.
By 2020, all Ford cars will be equipped with built-in cellular wireless connectivity from AT&T (in the U.S.; Vodafone in Europe; and China Unicom in China). Ford says the initial systems will enable over the air updating of the TCUs and vehicle infotainment systems with a broader strategy kicking in beyond 2020 by which time Ford will likely be deploying eUICC wireless technology allowing for re-provisioning of the wireless connection for use by different carriers in different regions.
The use of DSRC technology by the local Las Vegas Lyft-Aptiv self-driving cars is an indication that one of the most important applications for vehicle-to-vehicle and vehicle-to-infrastructure technology will be to better manage four-way intersections and to "see around corners" as some describe the technology. Regardless of which tech – DSRC or C-V2X – is used, CES 2019 will mark the mass market onset of V2X technology which might one day mean something to consumers who today are more or less scratching their heads. It's worth noting that C-V2X technology will even offer the advantage of communicating directly with mobile phones – thereby enabling a pedestrian avoidance capability. With pedestrian fatalities on the rise in the U.S., that is very good news.
Share this post via: