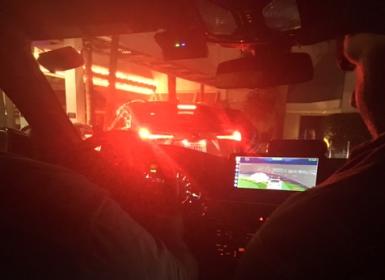 Attendees of CES 2019 arriving at Las Vegas McCarran International Airport next week will have four options for getting to their hotels: a shuttle offering two rides for the price of one (out and back for about $15); a taxi offering one ride for the price of two (about $30), a Lyft or Uber offering one ride for the price of one ride (about $15), or a rental car.
Las Vegas is a microcosm of the transportation challenges facing cities all over the world with the addition of tourists and inebriated pedestrians and minus rail-based public transit. As such it is no stranger to traffic jams – especially during major events. So the local authorities are doing their best to test new innovative solutions to optimize travel on the available roads.
Micro transit is a popular option in the area, with airport shuttles representing a prominent example. Most cities are vying to pry drivers out of individual vehicles and into shared ride, multi-passenger minibuses and shuttles.
Las Vegas has a wide variety of large and small buses plying the strip and downtown. The CES show will bring its own subset of inter-venue busses supplied by the organizers along with various limousines, vans and shuttles operated by attendees and exhibitors.
Las Vegas even has driverless shuttles from Navya operating downtown, albeit at very low speeds. Most recently added to the mix have been 35 driverless Lyft vehicles enabled by technology provided by Aptiv. (The picture – above – was taken from the backseat of a Lyft-Aptiv "driverless" car.)
The Lyft-Aptiv effort is an example of the impending arrival of "robotaxis," an expression popularized by Nvidia at its GTC event in Munich two years ago. At the time, Nvidia was touting its dominance of the world of robotaxis noting that of the then 225 partners developing autonomous driving technology on the Nvidia Drive PX platform, 25 were robotaxis.
Notably, Uber was and is one of those Drive PX partners. In 2018, an inattentive Uber safety driver and a flawed Uber autonomous set-up resulted in a fatal crash in Phoenix. So 2018 ended with Uber sputtering to restart its robotaxi efforts – while headlines appeared in newspapers across the country describing Phoenix residents hurling rocks at driverless vehicles…from Waymo!
The Lyft-Aptiv "driverless" effort prominently features two drivers – a safety driver and co-pilot – and you can easily "hail" one of these vehicles using the Lyft app after opting in to accept the "driverless" option. Ironically, the driverless Lyft-Aptiv has two "drivers."
Don't expect to get a Lyft-Aptiv vehicle running from the airport to downtown or the strip and back. The Lyft-Aptiv test vehicles are only operating within the city – presumably to better apprehend urban vehicle-human-infrastructure interactions. In fact, the vehicles will not operate on private property – i.e. the driveways etc. surrounding hotels – so the "driverless" experience is actually quite limited.
Still the presence of these "driverless" vehicles in Las Vegas highlights the tension between adding more individual passenger transportation alternatives vs. truly shared, multi-passenger propositions. There are many options in Las Vegas.
The Deuce and the Monorail are just two examples of multi-passenger transportation options that operate daily. The Deuce bus on the strip stops at every casino, but only a small proportion of CES attendees are likely to use the bus or are even aware it exists. Fares are $6 for a two-hour pass, $8 for a 24-hour pass and $20 for a three-day pass. The Monorail is $5 for a single ticket, $13 for a 24-hour pass and $29 for a three-day pass.
(For those of you renting cars in Las Vegas there may be some surprises. You can still drink for free in Las Vegas IF you are gambling – and you can still smoke in the casinos – but a free parking spot is becoming increasingly rare.)
Interesting and promising though robotaxis may be, the more immediate opportunity in 2019 lies in micro transit and the market participants are lining up. Micro transit leaders include Scoop, Chariot, Ridecell, Vulog, Bestmile, Moia, May Mobility and many others.
For cities, the goal is clear: more passengers inside fewer vehicles. Las Vegas is the perfect example of circumstances running in the opposite direction: more individual passengers in more vehicles.
For years, Las Vegas cab drivers would crab and complain about the growing number of taxi medallions authorized by the city making it that much more difficult for cabbies to make a living. Then along came Uber and Lyft and now it seems that everyone is a cab driver.
The democratization of professional driving contributes to the dubious quality of Vegas driving – but business is booming. There's so much business to go around that cab drivers don't even bother complaining.
Still, look for micro transit to take a bigger bite out of transportation in 2019. Your first glimpse of this emerging new reality will be on display at CES 2019 in Las Vegas. See you there.
Roger C. Lanctot is Director, Automotive Connected Mobility in the Global Automotive Practice at Strategy Analytics. Roger will keynote the Consumer Telematics Show on January 7 at Planet Hollywood. More details about Strategy Analytics can be found here:
https://www.strategyanalytics.com/access-services/automotive#.VuGdXfkrKUk
Share this post via: