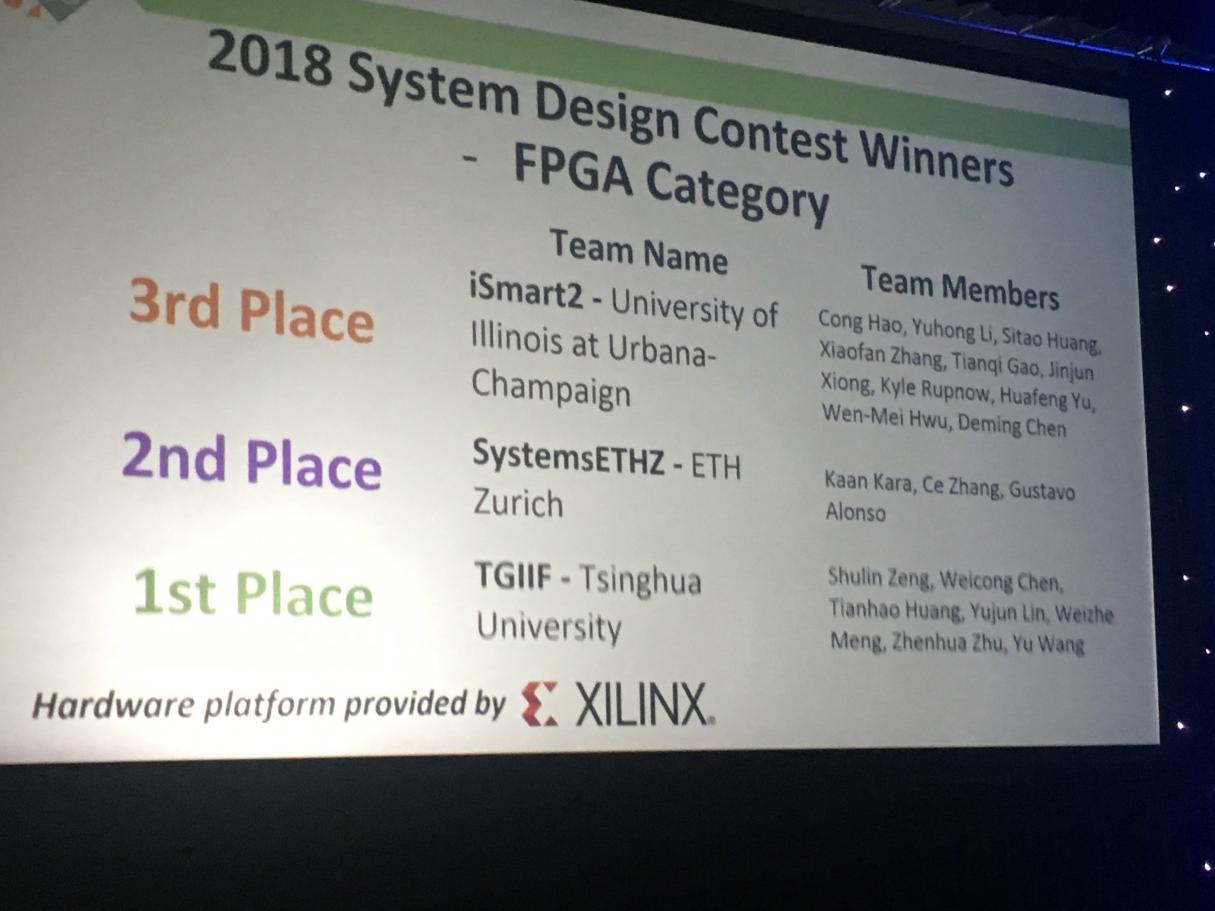 Interested in showing off your talent in developing deep learning algorithms on embedded hardware platforms for solving real-world problems? Join the second System Design Contest (SDC) at the 56[SUP]th[/SUP] Design Automation Conference in 2019!

In 2018, DAC held its inaugural system design contest. The 2018 SDC featured a low-power object detection challenge (LPODC) on designing and implementing novel algorithms based object detection in images taken from unmanned aerial vehicles (UAV). Contestants compete in two different embedded hardware categories: FPGA (Xilinx PYNQ Z-1 board) and GPU (Nvidia Jetson TX2), provided by premier platform sponsors, Xilinx and Nvidia, respectively. Datasets consisting of video clips captured in a UAV view and with different points of view are provided by industry sponsor DJI.
Contestants use the provided training dataset to train their networks, and a hidden dataset is used to evaluate the performance of the designs in terms of accuracy, throughput and energy. Over 110 teams from both academia and industry of 11 different countries participated in the contest. Three winning teams were selected from each hardware category and received cash prizes sponsored by Nvidia and Xilinx. Winning teams listed below.
An even more exciting and competitive SDC will take place at the 56[SUP]th[/SUP] DAC to be held in Las Vegas, NV on June 2-6, 2019. The same datasets and hardware platforms as the SDC'18 contest will be used. Expect that higher quality solutions will be submitted by participating teams. The organizers of SDC'19 are:
Jingtong Hu (University of Pittsburgh),
Jeff Goeders (Brigham Young University),
Philip Brisk (University of California, Riverside),
Yanzhi Wang (Northeastern University),
Guojie Luo (Peking University),
Chris Rowen (Cognite Ventures),
Bei Yu (Chinese University of Hong Kong)
Naveen Purushotham (Xilinx)
The schedule for SDC'19 contest are as follows:
November 30: Registration deadline
December 10: Host webinars to share resources available
February – May: Teams submit their solutions and update ranking list
June: Invited talks and demos at DAC, June 2-6, 2019
Visit the System Design Contest 2019 web page for more details and registration information.
The spots are limited and boards are provided as first come first served. So, make sure to register early!
2018 System Design Contest organizers and winning teams:
The 2018 SDC at the 55[SUP]th[/SUP] DAC was organized and managed by:
Yiyu Shi (University of Notre Dame),
Jingtong Hu (University of Pittsburgh),
Chris Rowen (Cognite Ventures),
Bei Yu (Chinese University of Hong Kong),
Cong Zhao (DJI),
Naveen Purushotham (Xilinx),
Amit Goel (Nvidia)
2018 Winning Teams:
FPGA CATEGORY
First Place – TGIIF –Shulin Zeng, Weicong Chen, Tianhao Huang, Yujun Lin, Weizhe Meng, Zhenhua Zhu, Yu Wang – Tsinghua University
Second Place –SystemsETHZ –Kaan Kara, Ce Zhang, Gustavo Alonso –
ETH Zurich
Third Place – iSmart2–Cong Hao, Yuhong Li, Sitao Huang, Xiaofan Zhang, Tianqi Gao, Jinjun Xiong, Kyle Rupnow, Haufeng Yu, Wen-Mei Hwu, Deming Chen–University of Illinois at Urbana-Champaign
GPU CATEGORY
First Place – ICT-Jeejio –Hao Lu, Xuyi Cai, Xiandong Zhao, Ying Wang – Institute of Computing Technology, Chinese Academy of Science
Second Place – DeepZ–Jianing Deng, Cheng Zhuo – Zhejiang University
Third Place – SDU-Legend–Chuanqi Zang, Jie Liu, Yueming Hao, Shiqing Li, Miao Yu, Yango Zhao, Mingyi Li, Pengfei Xue, Xiaoyu Qin, Lei Ju, Xin Li, Mengying Zhao, Hongjun Dai – Shandong University
Share this post via: