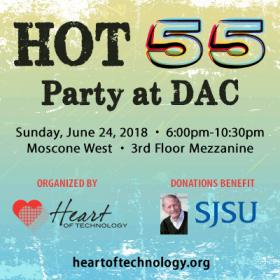 The Design Automation Conference (DAC), now in its 55[SUP]th[/SUP] year, always offers a lively mix of activities. For EDA vendors and their customers, the focus is on the exhibit floor and in booth suites where the latest technology is on display. For R&D engineers and academics, the technical sessions dig deeply into an increasingly wide range of topics. For every attendee, DAC offers plenty of time for networking and catching up with colleagues from all around the world.
This year's show in San Francisco offers a unique opportunity for everyone to meet, party, and support a great cause at the same time. The traditional Sunday evening DAC kick-off reception has been combined with the "HOT" party to benefit Heart of Technology and the Gary Smith Memorial Scholarship Endowment at San Jose State University. That one sentence contains multiple hints why this will be one of the hottest EDA events this year; here are some details.
For a start, Sunday evening receptions have been kicking off DAC for many years. Industry luminaries offer their thoughts on the past year and predictions for the next, all accompanied by generous food and beverage service. Do you know what the "DAC glance" is? That's when you greet a friend or colleague at the reception and immediately look down at his or her badge to check current employment status. Changes from the previous year are not uncommon in EDA.
Over the last few years, a new DAC tradition began with the parties hosted by Heart of Technology (HOT), a philanthropic organization founded by Silicon Valley venture capitalist Jim Hogan. Based in San Jose, HOT rallies the high-tech industry to aid charities throughout the Bay Area in their fundraising efforts. To date, the organization has netted approximately $185,000 to benefit local charities in need.
Last year's HOT party at DAC in Austin was a benefit for the Gary Smith Memorial Scholarship Endowment and this year we will again support this very worthy cause. Gary Smith was one of the luminaries of EDA, the industry's most followed analyst, and one heck of a nice guy. He defined market segments, tracked market share, offered revenue projections, published detailed research reports, and served as a tireless advocate for EDA.
There is no better way to celebrate Gary's extraordinary life than to support the endowment, which offers an award to one undergraduate student annually participating in the San Jose State University Educational Opportunity Program's Guardian Scholars Program. This program serves youth emancipated from foster care, Wards of the Court, and certified homeless individuals who are highly self-motivated to complete their college education at SJSU.
So now you know the backstory and can appreciate why this combined event at DAC is so significant. The evening starts at 6:00 p.m. on Sunday, June 24th, with the DAC Welcome Reception, including the presentation "EDA Industry Observations and Outlook" from Richard F. Valera, Managing Director, Equity Research at Needham & Company at 7:00 p.m. This is followed immediately by the "HOT 55" party, which will run until 10:30 p.m.
All this happens at Moscone West in San Francisco on the Third Floor Mezzanine. Back by popular demand, Vista Roads Band will provide the entertainment with special guests Methodics Ensemble. There is no ticket or pre-registration required. All DAC attendees and sponsored guests are welcome to the party at no charge, though HOT and the 18 co-sponsoring companies and organizations ask that you donate what you can to the Gary Smith Memorial Scholarship Endowment.
We are certainly looking forward to attending and hope that you can be there as well!
Share this post via: