One of the other increasingly successful channels (besides Semiwiki of course) for EDA, IP and semiconductor companies to reach potential customers is John Cooley's DeepChip. Every year he puts a lot of effort into trying to find out who is exhibiting what at DAC and which stuff seems like it is new and maybe important, and he produces a long guide (a couple of dozen pages). He even lists by name the most appropriate contact person at each company for the product that he is talking about. Sure, they are mostly marketing guys, but they are the marketing guys who specialize in that product, not just generic contacts at the company.
Print it out and read it on the plane to Austin and you'll have a much better idea of what stuff is worth your time. Of course it is his opinion yours may differ. But I'll bet you've not put as much thought into the entire spectrum of what is being show at DAC
This years guide is now out just a couple of days before DAC.
Gary Smith's what to see @ DAC 2013 List is here.

SemiWiki Top Ten Must See @ #50DAC List is here.
I have no idea if this is accurate, but apparently word is Wally Rhines, Lip-bu Tan, Kathryn Kranen, JL Grey, Gary Smith, Joe Costello, Suk Lee, Richard Goering, Raul Camposano, Dean Drako all donated to charity to be at Jim Hogan's Hot Zone VIP party at 8:00 to 1:00 on DAC Monday at Austin City Limits. I donated too so go ahead and donate yourself and I'll see you there.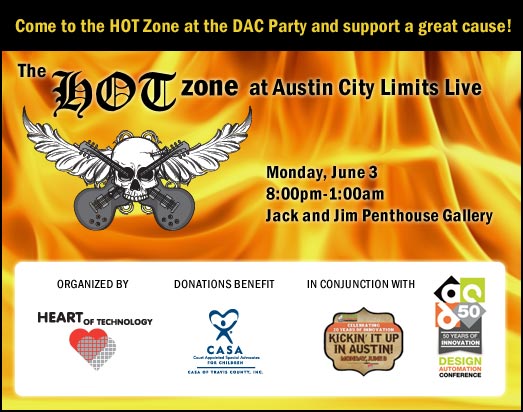 The Semiconductor Wiki Project, the premier semiconductor collaboration site, is a growing online community of professionals involved with the semiconductor design and manufacturing ecosystem. Since going online January 1st, 2011 more than 600,000 unique visitors have been recorded at www.SemiWiki.com viewing more than 5M pages of blogs, wikis, and forum posts.
Gary Smith EDA (GSEDA) is the leading provider of market intelligence and advisory services for the global Electronic Design Automation (EDA), Electronic System Level (ESL) design, and related technology markets.
DeepChip.com is a 20 year old clearinghouse where semiconductor chip designers contribute data-intensive papers and articles of first-hand evaluations and production benchmarks of commercial EDA tools.
Share this post via: