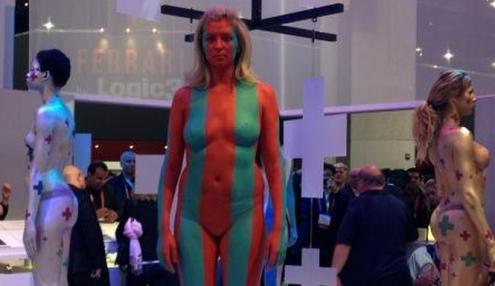 Like any other event, the Consumer Electronics Show in Las Vegas is not immune to unethical and inappropriate behavior. Unfortunately one of digital media's finest got caught this year doing what most publications have done since the beginning of time. CNET bowed to pressure from above and changed the outcome of the annual CNET CES Awards. The other more entertaining scandal was the topless "booth babes" one vendor used to attract a crowd, which it certainly did.
Per Wikipedia: CNET(stylized as c|net) is a tech media website that publishes reviews, news, articles, blogs, and podcasts on technology and consumer electronics. Originally founded in 1994 by Halsey Minor and Shelby Bonnie, it was the flagship brand of CNET Networks and became a brand of CBS Interactive through CNET Networks' acquisition in 2008…[SUP].[/SUP]
According to the current press, CNET's parent company CBS is in a legal battle with Dish Network. When CBS executives heard that the new Dish DVR (Slingbox Hopper) was on top of the list for the Best of CES Awards they requested it be removed. Here is the official spin from CNET:
"The Dish Hopper with Sling was removed from consideration due to active litigation involving our parent company CBS Corp. We will no longer be reviewing products manufactured by companies with which we are in litigation with respect to such product.
Does that make anybody feel better? And here is the Dish response:
"We are saddened that CNET's staff is being denied its editorial independence because of CBS' heavy-handed tactics. This action has nothing to do with the merits of our new product. Hopper with Sling is all about consumer choice and control over the TV experience. That CBS, which owns CNET.com, would censor that message is insulting to consumers."
Personally I don't like the DVR Comcast rents to me for an exorbitant monthly fee. It is clumsy and unreliable so I'm waiting for either Apple or Google to do TV right, but in the meantime I'm looking at Tivo and other DVR options. I imagine millions of others feel the same as I do so this is probably a big deal. CNET staffers are scrambling, jumping ship, and probably wondering how many millions of readers will abandon them.
Unfortunately this type of "scandal" is routine in both print and digital media, even in our small semiconductor ecosystem. Publications and websites need to make money and money can corrupt content simple as that. Look for full sponsorship and advertiser disclosures at the footer of the website. If it's not there then you should take ALL of the content with a big fat grain of salt. If they have nothing to hide then why are they hiding it?
You can see more pictures of the topless spray painted CES models on Instagram HERE. I posted the one picture for journalistic integrity. I have no problem with this type of marketing so if you want a topless picture of me posted just say so. The company who spray painted these ladies sells hard drives which is kind of funny, or not. This sure does make our DAC cheerleader scandal of 2012 look kind of silly. No worries, this "scandal" will be replaced by something else and at CES 2014 we will be "shocked" in another way. Just my opinion of course.
Join the CES 2013 discussion HERE.

Share this post via: