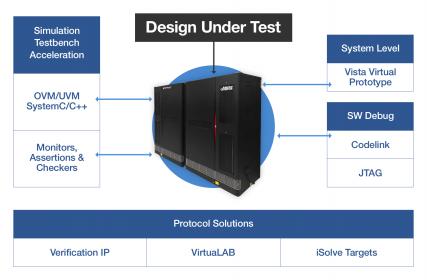 Emulation is a hotly contested EDA market segment (which is being won by Mentor) and EDA in the Cloud is a trending topic so putting the two together is a very big deal, absolutely.
The following is a quick email Q&A with Jean-Marie Brunet, Director of Marketing, Emulation Division, Mentor, a Siemens Business. If you have other questions for Jean-Marie let me know and I will get them answered. It has been an honor to work with the Mentor emulation team on our ebook and other topics and I can tell you from personal experience that they are consummate emulation professionals.
Mentor introduced Veloce Strato last year, and earlier this spring announced expanded footprint choices and configuration options. How does today's news of Veloce as first hardware emulation available in the cloud fit into your larger strategy for this product line?
When we launched the Veloce Strato platform in 2017, we focused on customers' current and future needs for greater capacity. Those needs for more capacity drive the Veloce roadmap to stay a step ahead of the size of designs our customers are building. We also began to communicate a strategy to deliver the best cost of ownership available. The Veloce StratoT family is about capacity scaling and options. So the announcement of Veloce on the Cloud is an extension to our strategy to add another option to our portfolio of offerings. Customers are asking for capacity on the cloud to be available. They really do not care what precise HW configuration is made available. They care about capacity, uptime, latency and use models. We will decide to put whatever Veloce HW is required to enable and grow the Veloce on the cloud business.
Why emulation on the cloud? What kind of demand do you see, and what about it do you think will be attractive to customers?
If we are able to put an emulator on the cloud, we can put pretty much anything on the cloud! We started with the emulator because logistically it is by far the most difficult piece of equipment to put on the cloud. The demand is currently limited to companies that do not have IT infrastructure access, so we are essentially at the early stages. The cloud-based access to Veloce capacity is eliminating a big barrier of entry related to infrastructure challenges. The attractive aspect is the scalable access to capacity on demand.
Why Amazon Web Services?
We started with AWS because of the scale of their deployment. Their Latency zone aspect was key to this enablement. The main thing to consider for an emulator to be on the cloud is that the design database should not be too far from the box, otherwise you are crippled by the latency challenge. Working in partnership with AWS we addressed this very efficiently.
Security is a major concern for any customer looking at cloud services, and this seems especially true with the sensitive nature of hardware emulation. What measures have you taken to address security?
It was our concern as well when we started this adventure over a year ago. We spent a considerable amount of time on this topic. I recommend that customers meet with AWS and look at the security measures they take. It is very impressive. Another way to look at this is by understanding what companies are already using AWS. Just the names of current AWS customers makes it obvious that security is handled seriously. And, as is always the case with security, everyone should do their own homework…
Is there anything specific or inherent to Veloce that makes it particularly amenable to a cloud use models?
Emulation on the cloud is all about virtualization. Using emulation in a virtual mode opens the door to the creation of many different emulator use models, or Apps, where each App targets very specific verification challenges. Apps are growing the emulation user community by simply bringing more challenges and the associated engineers to the list of tasks emulation can accomplish. This expanding user base for emulation, outside the traditional use model of simulation acceleration, means increased reliance on emulation resources. The Veloce emulator is the clear leader in virtualization use models so being on the cloud is a perfect fit for our technology.
Mentor Veloce hardware emulation platform now available on Amazon Web Services
Share this post via: