For the first time in DAC history there is an automotive track. Being a car person myself this is exciting news. I had a quick chat with Anne Cirkel, Vice Chair of DAC, and she sent me the following information to get us prepared for our week in San Francisco. The weather is going to be great so plan accordingly!

Ever increasing feature content enabled by electronics and software and the associated complexity has made development of automotive electronics and software amongst the largest challenges for the automotive industry. Today, the functionality, efficiency, time-to-market, cost, quality, safety, and security of a new vehicle are determined more by embedded systems and software than by any other factor. The Automotive Track is a new, unique forum addressing design automation and design methodologies to enable automotive designers and integrators to meet their unprecedented challenges.
3 new major initiatives at DAC: Automotive, IP, SecurityAutomotive
The idea to look at automotive was born at the strategy committee meeting when Soha Hassoun was Vice Chair of DAC. When you think about it, automotive electronics design is a perfect field for design automation – and DAC is THE design automation conference. Just a few data points from Wally's visionary talk at DAC last year in Austin: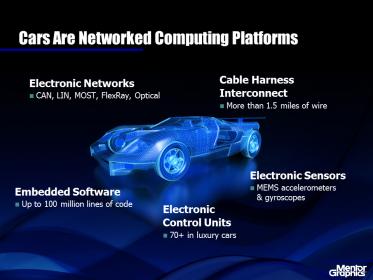 The DAC EC learned over the last couple of years that if you have a new initiative and want it to work from a program perspective you need the right people on board to drive it. We invited two industry specialists onto the Executive Committee for DAC and we now have an exciting program with two tracks on Tuesday and Wednesday. The two people on the committee are Samarjit Chakraborty from TU Munich and Tony Cooprider from Ford.

Tuesday Keynote:
Delivering smart Automobiles through Electronics and Software – Dual Keynote by Jim Tung from the Mathworks, and James Buczkowski from Ford Motor Company

SKY talks:
Managing Multi-Scale, Multi-Physics Challenges in the new generation of automotive systems by Walid Abu-Habda from ANSYS
Securing the Internet of Cars by Dave Kleidermacher from Green Hills Software

Pavilion Fireside Chat:
Automotive Engineers love Design Automation – Wally Rhines and James Buczkowski

Exhibit Floor:
Automotive Village with ANSYS, Dassault Systems, MathWorks, Mentor, Simuquest, Synopsys and Wrightspeed who will bring in their flatbed truck with their plug-and-play repower kit:

Wrightspeed is a powertrain company; we do not manufacture vehicles. We like to make things go, and we like doing it well. Built on a tradition of quality systems engineering, Wrightspeed's powertrains are the next step in the evolution of vehicle propulsion. Located in the heart of Silicon Valley, Wrightspeed's engineering team has particular strengths in control systems, high-reliability software, and high-power analog electronics…

Free Drinks!
There is also a networking reception in the automotive village on Monday from 5:00 to 6:00 pm.
Monday tutorials about our initiatives:
Security: Introduction to Hardware Security
Automotive Embedded Systems – A quick introduction and the Road ahaed
Overall conference analytics:
787 paper submissions, 174 were accepted which is a 22% acceptance rate
EDA 484, ESS 185, Security 74 and Automotive 44
5 keynotes, 4 Visionary talks
More Articles by Daniel Nenni…..
lang: en_US

Share this post via: