EDAC announced that EDA industry revenue increased 6.3% for Q1 2012 to $1536.9M compared to a year ago. Sequentially it declined, as it normally does from Q4 to Q1, by 9.6%. Every category except services increased revenue and every region increased revenue except for Japan. The full report is available by subscription, of course.
Here are a few highlights:
CAE up 6.5% to $564.8M
IC Physical Design and Verification up 10.2% to $350.9M
PCB up 5.1% to $147.5M
IP up 5.4% to $391.3M
Services, the only down segment, dropped 3.8% to $82.4M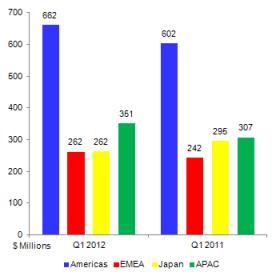 The EDAC press release is here (pdf).

Share this post via: