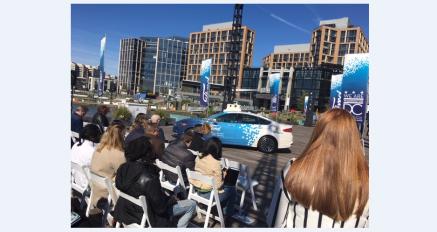 When cities put on a press event to announce they are welcoming a company to town to test autonomous vehicles within the city limits the news is greeted with polite interest and some trepidation – as it was yesterday in Washington, D.C. There is an "oo-ah awesome" high-tech buzz immediately tempered by a "Why?" buzzkill.
In the case of Ford's announcement in Washington, the spinmeisters got directly to the point. The introduction of autonomous Ford vehicles – 5-10 at first early next year in advance of a full on rideshare service fleet in 2021 – is intended to create jobs and re-training opportunities throughout the District's eight Wards.
The press event included substantial representation and participation from the DC Infrastructure Academy which provides employment opportunities and job training for infrastructure-related jobs. DC Infrastructure Academy will help Ford's effort by training vehicle operators and technicians. Additionally, Ford will open an autonomous vehicle terminal in Ward five and the company says it will work to train residents for auto technician careers that could involve self-driving vehicles in the future.
According to Ford, the training will be through courses developed by Excel Automotive in Ward 7 and Ford's Automotive Career Exploration program with support from local dealers Chesapeake Ford Truck, DARCARS and Sheehy Ford of Marlow Heights. The involvement of dealers was an especially nice touch by Ford.
By emphasizing job creation, Ford and the DC leadership short-circuited the knee-jerk job-killing conversation associated with robo-cars. Better still for Ford, it diverted attention from the fact that the announcement will do nothing in the short-term to ease the traffic congestion in the city.
In essence, Ford is announcing that it is commencing its data gathering activities to prepare for autonomous operation in the city. The Ford vehicles will be nothing more than surveyors/mappers of the city – an operation already begun by Ford's Argo team. It means that in the short-term Ford vehicles will be adding to the general glut of DC traffic.
Ford arrives in the wake of a report published by the National Capitol Region Transportation Planning Board – "Visualize 2045" – which anticipates a 46% increase in congestion in the Washington, DC area by 2045 and offers a $291B plan to mitigate the impact of that demand.
Quicker solutions are being sought by the DC Council, according to reporting by WAMU. The Council is considering:
Banning vehicle right turns on red at more than 100 intersections in the downtown business district and near school zones and cycle tracks within the next 18 months;
Eliminating areas where two lanes of traffic can turn left at the same time. The city has got rid of 15 of those intersections and plans four more by the end of 2018;
Doubling protected bike lanes from 10 to 20 miles and accelerating the construction of a dozen of those projects in the next three years;
Adding "hardened" medians to slow vehicles turning left, especially at intersections with a lage number of vehicles and pedestrians;
Expanding the District Department of Transportation's pick-up and drop-off zones for ride-hailing vehicles and delivery to help reduce the amount of stopping in bike lanes and crosswalks. Five new zones will be added in places like the Wharf and 14th street.
Reducing speed limits in the city from 25 miles per hour to 20.
Robo cars from Ford (with safety drivers) on DC streets will join a panoply of transportation options which includes scooter and bike share operators (Bird, Lime, Skip, Jump, Spin and, the latest entrant, Lyft), along with car share companies: Maven, Car2Go, ReachNow and ZipCar. (Enterprise RideShare departed DC earlier this year.) DC can already boast several transportation-related firsts, not all good.
DC claims to be the first city to offer Starship delivery bots.
DC claims to have had the first shared scooter fatality in the U.S. – resulting from a crash with an SUV.
DC claims to be the first city to get Lyft's shared scooter offering. (Lyft acquired Capitol BikeShare earlier this year.)
DC is the second city to get autonomous Fords, following Miami. Ford's autonomous vehicles are also operating in Detroit and Pittsburgh.
Ford and DC are taking advantage of the lack of autonomous vehicle regulations in the District or the country. Washington, D.C, essentially stole a march on neighboring states Maryland and Virginia, both of which are angling for autonomous testers, but DC is first in the area to put such vehicles on public roads.
One would have thought the lack of autonomous vehicle regulations might have stimulated some safety advocate outrage at the open-air press conference held on the Wharf in Southwest DC. The Insurance Institute for Highway Safety is based just across the river in Arlington, Va., and the headquarters of the U.S. Department of Transportation along with the offices of a host of lobbyists were within walking distance of the event. Resistance to driverless cars was not represented. Perhaps resistance is futile when city representatives are seeking any and all solutions to a monumental traffic congestion problem increasingly framed by increasing fatalities.
DC traffic is unique thanks to the architect of its streetscape, Pierre Charles L'Enfant, who gave the city 22 traffic circles creating some unusual traffic management challenges. Of late, traffic fatalities involving pedestrians, bicyclists and buses, in particular, have been on the rise.
In sum, kudos to the Ford team for dodging the job-killer robocar angle and avoiding the dangerous driverless cars protesters. Treating the onset of robocars as a job creation and retraining opportunity is a novel and admirable approach – and one likely to be replicated elsewhere. Echoes of Uber's fatal crash in Phoenix, earlier this year, were faint on the Wharf in Washington.
Share this post via: