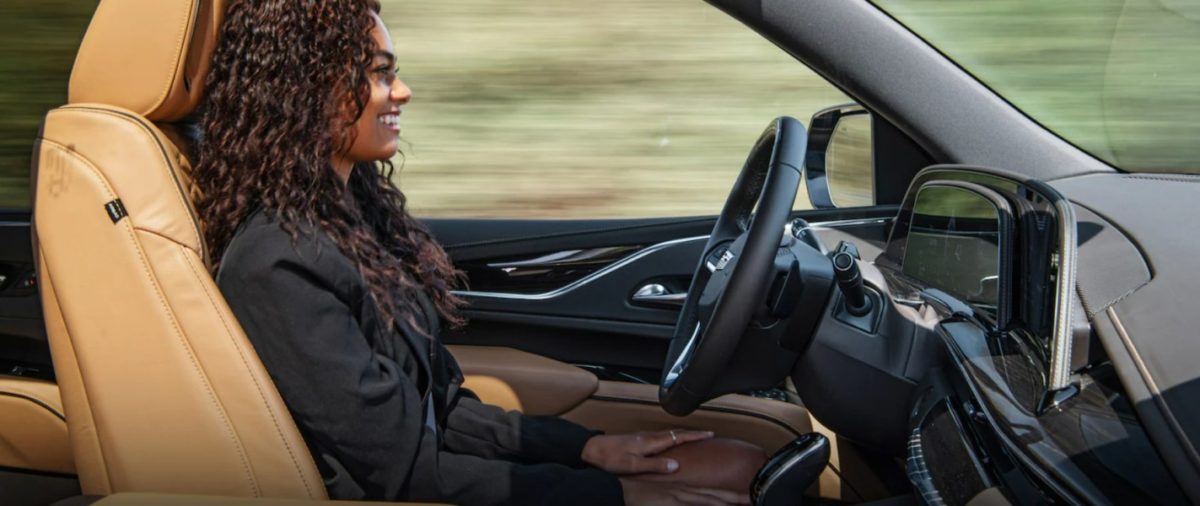 It's one thing to lead an industry. It's another to anticipate and meet a new challenge well ahead of competitors in an industry. It's another thing, still, to solve a long-standing problem and receive barely a hint of credit.
Such is the case with General Motors' semi-autonomous hands-free Super Cruise feature. While many of us are by now familiar with the hands free aspect of this novel solution, widely seen in Super Bowl commercials, fewer are aware of an entirely new capability that the system introduced to the market.
With the introduction of Super Cruise, GM has taken the lead in delivering what is described in the industry as a minimum risk maneuver (MRM) + stop in lane function. In other words, a driver using an active Super Cruise system will be saved from a crash by the system's ability to detect inattentiveness and slow to a stop in its existing travel lane.
Interestingly, this Super Cruise side gig doesn't appear to have a separate name and has yet to be called out or highlighted by GM. But a GM vehicle operating in Super Cruise mode will in fact slow down to a stop in its lane in the event of the driver's incapacitation or willful inattention to the driving task.
The function is perfectly suited to the needs of drivers that may experience a medical emergency such as a seizure or heart attack. Car companies around the world have long sought solutions for detecting driver inattention or medical emergencies in the interest of automatically slowing and removing the car from the roadway – preventing any resulting death or injury from single- or multi-vehicle crashes.
This kind of safe, emergency functionality calls attention to two ongoing National Highway Traffic Safety Administration investigations of Tesla and Honda for unintended braking – attributable to either software glitches or sensor-related false positives. Teslas and Hondas are under investigation for stopping unexpectedly, sometimes at highway speeds, with a fully attentive driver at the wheel.
The irony of Tesla's unintended braking – which has been widely noted for years prior to NHTSA stepping in – is the near impossibility of slowing or stopping a Tesla in the event of an unresponsive Tesla driver. On one or more occasions, police officers seeking to stop such a vehicle have had to position their cruisers in front of and around the offending Tesla in order to slow it to a stop by triggering its sensors.
GM's attention to this particular application is reminiscent of the company's Stolen Vehicle Slowdown function enabled by OnStar connectivity. OnStar, in collaboration with local law enforcement, can slow and stop a properly equipped stolen GM vehicle remotely as long as the vehicle is within eyesight of cooperating police officers.
The MRM + stop in lane functionality of Super Cruise is a harbinger of future semi-autonomous vehicle functionality tuned to the needs of an aging driving population. At least one company, Merlin Mobility, is seeking to bring such an aftermarket solution to the market while also extending its capabilities.
While the Super Cruise application is intended to slow and stop a vehicle in its existing travel lane, Merlin Mobility is seeking to deliver an aftermarket solution capable of pulling a car with an incapacitated driver out of the travel lane while also summoning emergency assistance.
Super Cruise, too, summons emergency assistance via its OnStar connection. According to Cadillac's consumer-facing online messaging, the application works in the following manner:
FIRST ALERT
"If the system detects that you may not be paying attention to the road ahead, the steering-wheel light bar flashes green to prompt you to return your attention to the road."
SECOND ALERT
"If the steering-wheel light bar flashes green for too long and the system determines continued lack of attention to the road ahead, the steering-wheel light bar flashes red to notify you to look at the road and steer the vehicle manually. Also, beeps will sound or the Safety Alert Seat will vibrate."
THIRD ALERT
"If the steering-wheel light bar flashes red for too long, a voice prompt will be heard. You should take over steering immediately; otherwise, the vehicle will slow in your lane of travel and eventually brake to a stop, as well as prompt an Emergency-Certified OnStar Advisor to call into the vehicle to check on you. Super Cruise and Adaptive Cruise Control will disengage."
The Merlin Mobility system operates in a similar fashion to GM's Super Cruise except that Merlin Mobility claims that its system will call 911 operators (in the U.S.) directly and, as previously noted, will take over driving in the event of an emergency.
Merlin Mobility, which has yet to announce availability or pricing for its system, says it is based on a device installed on the inside of a vehicle's windshield and is compatible with 100 vehicle models for aftermarket installation. Originally leveraging technology from Comma.ai, Merlin Mobility executives now hint that they have developed their own solution organically.
Both the GM and Merlin Mobility solutions point to potentially life-saving applications for semi-autonomous vehicle systems. Both demonstrate the creation of value from autonomous vehicle technology development that can be and is being realized in the market immediately. Now all GM has to do is give its application a name. Merlin Mobility's system is called Copilot.
Also read:
Emergency Response Getting Sexy
Waymo Collides with Transparency
Share this post via: