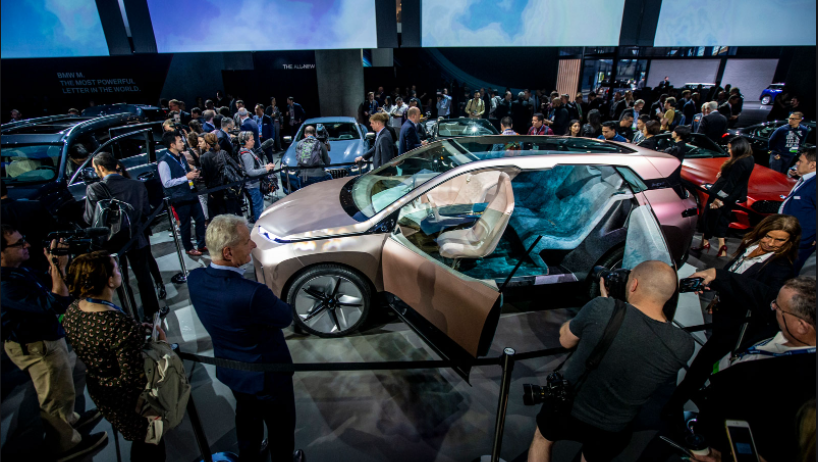 I knew something special was going on in Munich last week at IAA Mobility – the first international auto show to be held outside China since the start of the pandemic – when a senior executive stepped off the stage before his talk to a modest crowd to say to me (sitting in the second row): "What are you doing here?" I don't remember whether it was "What are YOU doing here?" or if it was "What are you doing HERE?" Or maybe it was "What are YOU doing HERE?"
It was a good question, but not for the reason you might think. It was logical for this European executive to be mildly surprised at the presence of an American in the middle of a European auto show in the midst of a pandemic characterized by widespread travel restrictions. It was even more surprising, though, to see ME at any auto show since I am no car enthusiast.
I was not alone. I ran into U.S. executives from Argo, Qualcomm, Intel, Lumotive, Luminar, Volkswagen, NNG, and a host of journalists and industry analysts. So, not so shocking for me to be in attendance.
There is a bizarre irony that auto shows are touted as showing off the latest technologies – giving consumers (for whom they are really intended) a taste of what the future of automotive technology holds. The reality is that entering the cockpit of a vehicle at an auto show is like entering a time machine transporting the individual back 3-4 years to what designers planned and implemented many years ago. (An exception to this are so-called "concept" cars.)
Car makers are hopelessly and routinely behind the times. It took years for car makers to accommodate smartphones and it has taken two decades for them to build in wireless connections.
Auto shows are probably the last place to go to catch a glimpse of what lies along the road ahead in automotive design. This is why IAA Mobility was so unique. Unlike its predecessor IAA (in Frankfurt), IAA Mobility included supplier companies – large and small – on the show floor and in the speeches and panel discussions.
IAA, like NAIAS, like the Geneva Motor Show, or Paris' erstwhile Mondial de L'automobile typically feature moshpit-style press conferences, boilerplate press releases, and sterile in-booth displays. It has historically been nearly impossible at these events to have a substantive conversation regarding technical or regulatory challenges facing the industry or even user experience issues.
Traditional auto shows are all about glitz and glamour and heavy metal. This is why events such as the L.A. Auto Show's AutomobilityLA – coming up this November – and the Future Networked Car event put on by the International Telecommunications Union in connection with the hopefully-soon-to-be-revived Geneva Show are so important. These "side shows" provide a forum to network and discuss the critical transportation issues of the day – while consumers kick the tires on the hypercars (and daily drivers) on the show floor.
The question remains: What was I doing in Munich at a car show? IAA Mobility was a car show that wasn't a car show. That's why I was there as were so many others.
In spite of chip shortages and related factory shutdowns, vehicle launches continue apace. New EVs are arriving nearly every week. The automotive industry is advancing and evolving and consumer demand for vehicles has never been stronger, driving up average retail prices as the reality of a scarce supply settles in.
Car companies are uniquely challenged in returning to the auto show stage as many car makers have yet to re-open their offices. Yet the new models keep coming and there is an industry-wide urge to get the word out to consumers and get the vehicles out and in front of the public.
New features and functions need to be demonstrated and explained. I went on an EV test drive recently and the initial orientation made clear that this new generation of electrified vehicles are about more than just regenerative braking and finding the right charging station.
Drivers are accessing their cars with their smartphones and accessing their infotainment systems with their Gmail credentials. The march of Google/Android-infused cars has only just begun and thus far includes the Polestar 2, Volvo XC-40, Renault Megane E-Tech, and General Motors' Hummer EV. And the battle for the EV pickup market is gaining steam with the arrival of Ford's Lightning F-150 and Rivian's R1T. (Musk's Cybertruck is delayed until late 2022.)
There is also a need to connect and interact with colleagues at auto shows. The first opportunity to do this in the U.S. will arrive at the L.A. Auto Show in November. I'll be there, thanks to AutomobilityLA. I hope to see you there as well.
https://automobilityla.com/register/
Share this post via: