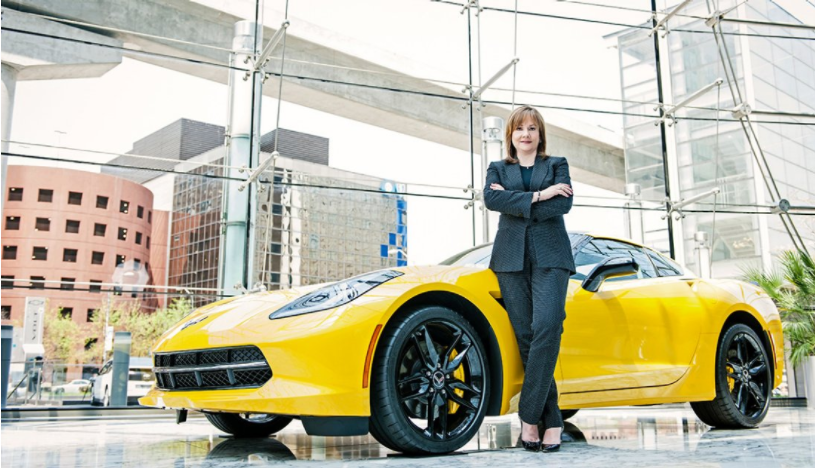 Midway through her seventh year running General Motors it's time to assess the legacy of CEO and Chairperson Mary Barra, the first woman to run an automobile company.  Of the 14 CEOs that have led GM, Barra's term in office has been exceeded by only four of her predecessors:  Alfred Sloan Jr. (May 10, 1923 – June 3, 1946), Roger Smith (January 1, 1981 – July 31, 1990), John "Jack" Smith Jr. (November 2, 1992 – May 31, 2000), and G. Richard Wagoner Jr. (June 1, 2000 – March 30, 2009).
Barra stepped onto the world stage as the industry and GM were being whipsawed by technology shifts including electrification, autonomous driving, connectivity, and mobility.  She arrived in the wake of the revelations of Volkswagen's use of so-called "defeat devices" to pass emissions tests for its diesel vehicles and on the eve of GM's own scandal in the form of failing ignition switches.
Volkswagen would face billions of dollars in fines, customer compensation, and thousands of vehicle buybacks as well as other measures and two of its senior most executives faced arrest and will eventually stand trial. VW's "defeat" software was ultimately found to have been deployed in 11M cars, 500,000 of them in the U.S.
GM's ignition switch failures, which would be implicated in more than 100 fatalities and lead to the recall of 29M cars, resulted in the firing or departure of a couple dozen GM executives and a $900M fine. Both scandals were highlighted by awkward Congressional testimony.
Barra's deft handling of the ignition switch crisis would serve as a defining moment for her and GM.  She learned immediately from her Congressional testimony in the Spring of 2014 that just as GM leadership that preceded her was able to dodge responsibility for mismanagement by filing for bankruptcy and turning to the government for help, she could dodge personal responsibility or even knowledge of the ignition switch failures, an assessment which the now-famous Valukas report supported.
The Valukas report effectively let GM off the hook allowing executives like Barra to feign ignorance while simultaneously seeking to repair or replace switches and keyfobs in millions of cars and compensating the handful of families whose claims were vetted and approved by an independent auditor.  Barra was able to assert a corporate recommitment to building safe vehicles even while working to overcome a broken corporate culture of which she was a product.
The results of the GM ignition switch debacle represent the foundation stone of Barra's legacy: Plausible deniability.  Coined by the CIA in the 1960's – according to Wikipedia – the expression "plausible deniability" describes "the withholding of information from senior officials to protect them from repercussions if illegal or unpopular activities became public knowledge."
Of course, in Barra's case plausible deniability refers to the plausibility of Barra or other senior managers not being aware of the flawed ignition switch either during its development, its deployment, or its use in millions of GM vehicles over nearly two decades.  It is especially noteworthy that Barra pulled off the plausible deniability act in front of Congress in spite of the existence of GM's OnStar connected car technology – which is triggered by violent car crashes and provides GM engineers with valuable diagnostic data.
Where VW sacrificed senior leaders, some of whom accepted responsibility for decisions leading to the diesel scandal and others of whom still face criminal trials, GM avoided the most severe sanctions and suffered minimal public opprobrium.  Thanks to the bankruptcy, Barra was able to play word games about "old GM" and "new GM" despite the fact that she was a physical manifestation of the old GM.
From here, Barra proceeded to carve up GM, slashing its international presence by exiting multiple markets, most notably Europe by selling off Opel – a division that had been in GM's brand portfolio for 100 years – to PSA, now known as Stellantis.  Notably, while GM was selling and exiting, PSA was buying – adding Opel and FCA – thereby vaulting the company into position as the fourth largest auto maker in the world based on vehicle sales.
With the sale of Opel and various other market moves GM's global market share plunged and its rank fell to sixth, behind Hyundai.  Meanwhile, GM took a $500M stake in Lyft, launched its Maven car sharing service, and acquired in Cruise, an autonomous robotaxi startup.
The Lyft stake was intended to set the stage for an app integration with Cruise that failed.  Maven failed and shut down.  Cruise, alone, appears to be making progress albeit with a $250M/quarter burn rate that is likely to be magnified now that the division is manufacturing its own vehicles to support a robotaxi service with a flawed business model.
All of this points to Barra's second key legacy.  The incredible shrinking GM.  GM's vehicle sales have declined steadily for the last four years.  This shrinkage follows steady growth in the years preceding Barra's arrival.
In spite of this apparent decline in vehicle sales, GM's stock price has been on the rise.  Which brings us to Barra's third legacy – runaway CEO compensation.
With $23.6M in compensation in 2020, Barra is richly rewarded predominantly in stock and stock options.  Barra's total compensation includes $13.09M in stock awards and $3.75M in stock options.  So, it is perhaps hardly shocking that the CEO's focus is on GM's stock.
Four years before being named CEO, Barra – as executive vice president, global product development and global purchasing and supply chain – told a Fortune conference that her guidance to product developers at GM was "No more crappy cars."  The directive reflected Barra's odd role as simultaneously of GM and seemingly external to GM.
The title she held at the time of that quote, though, is a jarring reminder that the decision making related to the failed and failing ignition switches was occurring and had occurred on her watch.  In other words, GM was still making crappy cars even as she was speaking those words and since.
Perhaps Barra sees her role as a shareholder advocate – now that she holds GM stock worth as much as $70M or more, depending on whose estimate you rely on.  GM's stock-centric compensation seems to have created a value proposition whereby any decision that juices the stock takes priority over all others which might include safety or customer satisfaction.
It was GM's single-minded pursuit of profit that brought the ignition switch to the market in the first place.  According to some involved in the decision, the choice was between a 57-cent switch and one costing as much as a dollar more.  Multiplied by 29M vehicles, the contribution to the bottom line and performance bonuses was clear – at the time.  In retrospect? – not so much.
In its latest meeting, GM's Board rejected a proposal to tie compensation to greenhouse gas emissions targets.
In the midst of the recovery from the pandemic, during which GM implemented company-wide pay deferrals, Barra got a pay raise.  The final piece of Barra's legacy is this seeming disconnect between Barra and GM employees, dealers, and GM customers.
Barra's "No more crappy cars," while a welcome sentiment for some GM customers, dealers, and engineers, marks her as a critic of the very organization that cultivated and has so richly rewarded her.  Does she feel the pain of her colleagues or is she inflicting it?  She certainly isn't easing that pain.
To review, at the seven year mark, GM Chairperson and CEO Mary Barra's legacy consists of:
Plausible Deniability
Incredible Shrinking GM
Runaway Stock-based Compensation
GM, under Barra, has made a lot of noise around its Ultium-centric electrification strategy.  Of course, every auto maker in the industry has made bold statements regarding EV investments and vehicle launches.  The EV initiatives are counterbalanced by GM's announced intention to almost completely cease making and selling sedans.
GM has some promising initiatives in commercial and delivery vehicles – but nothing that offers a breakthrough in technology or form factor – more of a me-too offering. GM has notably failed to create a Tesla killer, which would presumably arrive with a Cadillac badge.  As the Talking Heads sang: "Still Waiting."
Car makers from Renault to Stellantis to Hyundai, Volvo, Daimler, and Honda are notching technology breakthroughs in vehicle form factors, user experiences, safety, or autonomous operation.  GM has Super Cruise, an elevated stock price, and a heavily compensated CEO. After seven years, GM employees, dealers, and shareholders have to ask if that is enough.
Barra talks a good game regarding zero emissions and zero fatalities – but in the end, she has no skin in the game. What GM dealers, customers, and employees are left with is zero accountability.
Share this post via: