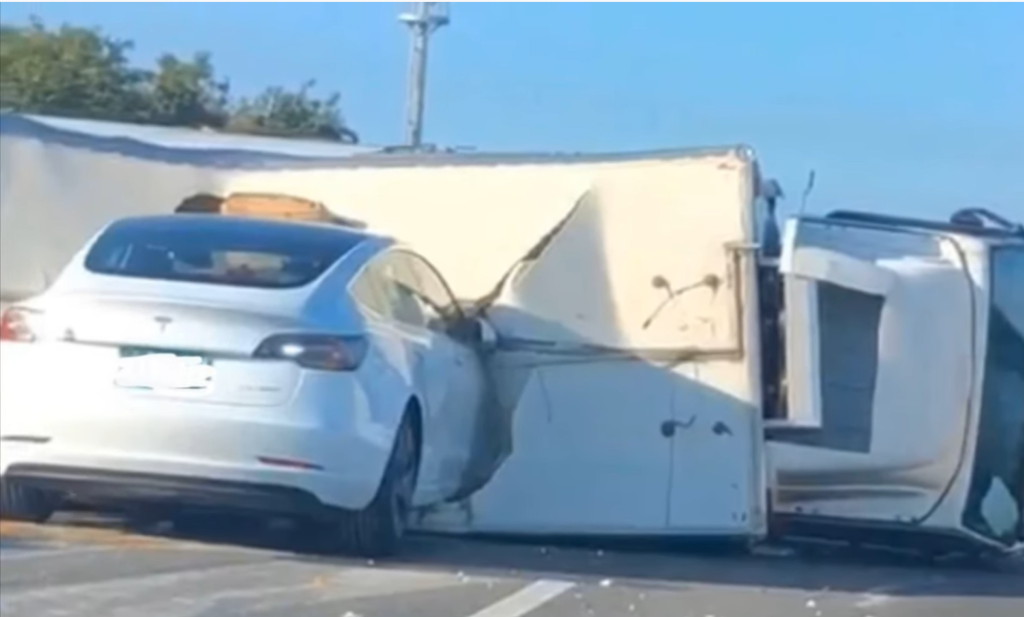 It's happened again. Yesterday, on a highway in Taiwan, a Tesla Model 3 plowed into the trailer of an overturned truck. Accounts of the event suggest the vehicle's Autopilot system was engaged. The failure of the system to perceive the danger ahead and avoid the inevitable collision suggests an "edge case" scenario – wherein the Autopilot system encounters a circumstance that has not previously been encountered or anticipated in its algorithms.
The video is HERE.
The expression "edge case," like collateral damage, is a euphemistic way of describing a potentially life-threatening driving situation. Usually, edge cases are unfamiliar objects in the roadway or familiar events that are difficult for on-board computers to interpret due to environmental interference such as lighting, weather, or occlusion from other vehicles.
The crash in Taiwan is reminiscent of multiple previous Tesla Autopilot-engaged crashes that have included driving under trailers and driving into emergency responder vehicles parked in travel lanes. The crash in Taiwan is notable for several reasons including:
The Tesla Model 3 completely fails to perceive that the lane in which it is driving is completely blocked by the overturned truck in its path.
The Tesla Model 3 completely fails to perceive the truck driver (visible in the video) who has walked forward against the direction of traffic in order to warn oncoming cars away from his overturned vehicle. The truck driver is clearly shown dodging the oncoming Tesla.
It is possible that the shrubbery mounted atop the highway barrier on the left side of the lane has interfered with the Model 3's radar – causing the perception failure.
Bright sunlight, coming from the driver's left, does not appear to be a factor – or should not have been a factor.
Who should be worried?
Tesla owners with Autopilot activated should be concerned. It is not at all clear that this is an easily corrected weakness in Autopilot.
Regulators should be concerned, as this may or may not be a flaw in Autopilot's ability to protect drivers. It may require action.
General Motors, Toyota, Audi, Nissan, et.al. Multiple competing car makers are developing or have already launched their own Autopilot equivalents – such as GM's Super Cruise – offering "supervised" automated driving. As these companies ponder stepping up to un=supervised Level IV operation, they will do well to take into account the performance of Tesla Autopilot in this circumstance.
What can be done?
This latest Tesla crash highlights the importance of vehicle-to-cloud/infrastructure connectivity. The existence of traffic camera video to capture the event in question thereby facilitating forensic assessment of the event implies the ability of traffic monitoring authorities to use existing video to warn drivers of dangerous traffic conditions in real time.
Companies such as Savari Network, Haas Alert, Notraffic, and TrafficLand are all working on leveraging wireless connections and traffic camera and other resources to alert drivers to danger ahead. It is not clear from the video how much time has transpired from the truck crash to the Tesla crash, but there was enough time for the truck driver to exit his vehicle and walk down the road to warn oncoming drivers. That ought to have allowed enough time for traffic monitoring systems or personnel to have sent either an automated or manual alert to all drivers headed toward the event.
Those alerts or warnings could have been delivered via telematics service providers, smartphone apps, or embedded vehicle systems with in-dash navigation. The bottom line, existing cellular and camera-based highway monitoring systems could have been used to help avoid the unfortunate demise of yet another Tesla operating on Autopilot. The technology exists to solve these kinds of problems today.
Share this post via: