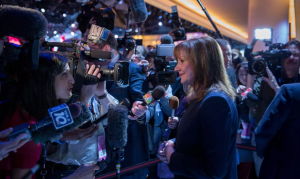 After failing in 2017 and 2018 to put a single woman on-stage to deliver a high profile keynote, the Consumer Technology Association featured four female keynoters in 2019. Until recently, two women were on the docket for the 2020 show in January, but news arrived last week that General Motors' CEO Mary Barra had cancelled her previously announced appearance.
All indications and expectations had been pointing to an announcement from Barra of more details regarding GM's plans for new electric vehicles with the potential of a high profile EV reveal. Alas, GM claimed that the distraction of the United Auto Workers strike negated the General's ability to put an EV prototype together in time.
There are few in the industry that buy that excuse or explanation. Any EV prototype would have been assembled without much assistance from the UAW rank and file. The more likely and credible explanation is that GM got wind of what Ford Motor Company was going to show last Sunday and realized that its own plans were half-baked.
GM executives generally, and Barra in particular, can talk a good game on earnings calls regarding the progress of the company's Cruise Automation autonomous vehicle development or its plans for electric pickup truck production in Hamtramck in 2021. But when it comes to taking the stage at the largest technology event in the world it appears that GM lost its nerve.
There will be no shortage of auto makers touting their tech at the Las Vegas event. But Daimler will now grab the limelight as the sole car maker keynote.
Since her appointment as CEO on January 15, 2014, Barra's signature strategy has been to downside the once-massive GM organization – selling off Opel to PSA, closing plants, and exiting multiple overseas markets. The moves, though severe and maybe even necessary, have been greeted with unmitigated admiration by investors as GM's profits have spiked.
When the UAW walked out, an observer might have been forgiven for thinking that GM had decided that the soundest financial move for the company would be to eliminate vehicle production entirely – in the interest of improving profits. Sadly enough, the reality set in after a more than month-long work stoppage that actually making cars was essential to the company's fiscal well being.
Nobody buys the explanation – from GM – that the UAW is to blame for Barra's keynote cancellation. Just as GM failed to deliver a final negotiated agreement to the UAW in time to forestall the walkout, Barra and GM determined that there was more to be gained from NOT taking the stage than from taking the stage with a half-baked tale to tell.
GM is getting quite adept at not doing things, like not supporting California's effort to preserve its exceptional status regarding emission controls and not launching a comprehensive EV strategy. GM's decision to opt out of CES might even free up the stage for a rival – maybe even Ford, which would welcome the opportunity to talk about the new Mustang Mach-E.
If Mary Barra isn't careful she may well be remembered more for what she didn't do than for what she did while leading GM. Not showing up for CES is simply embarrassing.
Share this post via: