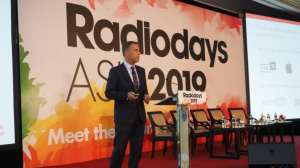 It was hard to escape the notion while attending RadiodaysAsia2019  that the world is experiencing what can only be called "peak radio." Radio has the widest audience reach of any content delivery medium anywhere in the world, with the possible exception of India, according to researchers such as Nielsen Media, Gfk, Rajar, Edison Research and others. And Radio is the most trusted medium, according to research from the European Broadcasting Union.
Digital radio (in the form of HD Radio, DAB and DAB+) is unfurling across Europe, North America and the rest of the world broadening and enriching the trove of content emanating from broadcasters around the world. The shift to digital is further transforming the medium adding visual elements and information services while enhancing the quality of the signals.
This increasingly digital and visual medium is also now searchable and manageable thanks to metadata which is being implemented station by station – while receivers are steadily being updated and upgraded. In fact, the Internet has allowed radio to reach into every nook and cranny of listeners' lives  even as standalone radios have begun to disappear.
Radio Futurologist James Cridland, keynoting the event, noted further that radio creates communities and unifies listeners rather than dividing and inflaming audiences the way social media like Facebook, Twitter, and Youtube have perverted elections in the U.S., Europe, India and elsewhere. And, Cridland added, radio won't violate your privacy.
Radio also won't promote fake news. Researchers Lucile Stengel and Sapna Solanki of the BBC shared the results of a study published late last year on the impact of social media and fake news on elections in India. Suffice it to say, radio was not implicated.  The study can be found here: https://downloads.bbc.co.uk/mediacentre/duty-identity-credibility.pdf
Why, then, since radio appears to be riding a wave of media domination is there the eerie sense of competition closing in on the industry? It so happens that the Internet giveth and the Internet taketh away.
With the boost in audience reach that the Internet has enabled for radio (creating new ways to connect and interact with listeners) has come competition for the ears of listeners from music streaming services, podcasts, and Youtube. The latest rumor is that Facebook is poised to enter the streaming business as well.
The most feared competitive phalanx is FAANG – so-named by Julie Warner, Events Director for Commercial Radio Australia – Facebook, Apple, Amazon, Netflix, and Google. These organizations are targeting the ears, eyeballs, and wallets of radio listeners and putting pressure on broadcasters with billions of dollars in advertising at risk.
Nowhere is the onset of FAANG more notable than in the automobile, where as much as 50% of all radio listening or maybe more is occurring throughout the world. Amazon, Apple, and Google, in particular, are seeking to close the gap that the automobile creates in the otherwise comprehensive view they possess of consumer behavior in the form of search, transactions, and daily interactions.
The car is a browser on wheels operating largely off of the grid from normal search and information resources. The car is a hole in the broader search marketplace – worth $100B to Google. It is a vacuum and FAANG abhors this vacuum.
Car companies are seeking to capitalize on their privileged position as controllers of all that occurs in the car. The radio industry, too, is hoping to preserve its prime real estate perched in the center of the dashboard.
Toward that end Michael Hill, Managing Director of Radioplayer Worldwide UK spoke at RadiodaysAsia about the importance of adopting and deploying digital assets to enable rich in-vehicle digital experiences that are radio centric. In that vein, Radioplayer has introduced a reference design capable of integrating streaming services with terrestrial radio along with helpful visual elements designed to break radio out of the bonds of ancient "radio dial" interfaces into a more non-linear experience.
Companies like Zenon Media and Sheridan Broadcasting are taking radio further offering tools to integrate video content with radio's audio content for both Internet-based delivery and in-vehicle rendering – perhaps in the frontseat? Anything is possible – especially now that Tesla Motors is tipping its intention to introduce Netflix and Youtube in dashboards.
The world is experiencing peak radio, as evidenced by research and insights shared at RadiodaysAsia2019. But preserving this leadership will take innovation and collaboration – particularly with the automotive industry. Unlike previous Radiodays events, RadiodaysAsia was missing a stronger representation of the automotive industry. Auto makers must tune in to the changes sweeping the broadcast industry.
Radio already delivers a location-relevant platform including news, weather, sports, traffic, and advertising with curation that creates an intimate experience for listeners throughout the world. The onus is on car makers to bring that experience to life in the latest digital dashboards. Today's radio is digital, searchable, non-linear, intimate, community-creating, and personal. There's nothing else quite like radio and it's better than ever.
Share this post via: