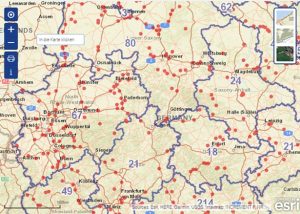 "We don't need 10 Mbit/s, but rather basic bandwidth and guaranteed latency. We need coverage!" thus spoke BMW Senior Vice President of Electronics Christoph Grote at the recent Automobil-Elektronik Kongress in Ludwigsburg, Germany. Grote was making this plea in the context of the onset of 5G technology. For Grote, 5G isn't higher capacity or faster speeds – 5G is a new way of thinking about wireless.
Local wireless carrier and BMW partner, Deutsche Telekom, won an auction in June for 5G spectrum.  The company has been pumping out press releases describing the installation of new base stations throughout Germany.
Simultaneously, DT has chosen to highlight – with a unique Web page – approximately 1,000 locations where it has been working for months or years to receive approvals from local municipalities or land owners to build towers and base stations where gaps exist in its network. The months and years-long delays for approvals raise serious questions regarding the value of newly won spectrum.
Challenges to Network Expansion – https://tinyurl.com/y56l46ye – Deutsche Telekom
More importantly, the delays raise questions regarding the obligation of the Federal government to step in and arbitrate or accelerate these deliberations. What is the value of the spectrum if it can't be tapped?
Wireless carriers, like DT, pay billions of dollars for spectrum and then must spend billions more to deliver on the promise of enhanced wireless technology. Normally, average citizens could care less. Billions of Euros spent on spectrum are far from the daily concerns of the man and woman on the street.
But things are different this time around. This is not "your father's" wireless network. Wireless networks built around 5G are promising entirely new value propositions designed to transform factories and transportation networks in ways that are likely to save thousands of lives and mitigate ills such as congestion, emissions, and the overall inefficiency of the economy.
5G promises to enable self-driving cars, smarter cities and enhancements to efficiency from the factory floor to highways and city streets. But that won't happen with a lot more base stations and micro-cells.
BMW's Grote is not alone in seeking comprehensive wireless coverage – at least encompassing most major roadways. Today's reality falls far short of this expectation or requirement, as evidenced by DT's coverage gaps Website.
DT is not alone. Wireless carriers across the world have Swiss-cheese-like coverage maps riddled with gaps that indeed represent the gap between the promise and the reality of cellular technology in the 5G age.
With better coverage – requiring the deployment of hundreds of base stations and thousands of micro-cells – transportation authorities will be able to consider the elimination of proprietary and often incompatible roadside infrastructure. But to realize this promise carriers require the support of the very organizations that are auctioning off the spectrum in the first place.
If public authorities fail to step in to assist carriers in the deploying of network equipment capable of supporting both commercial applications and safety and public service applications, then perhaps the spectrum should simply be free. How can spectrum be auctioned with no guarantee of access?
To be clear, the vast majority of new connections to existing wireless networks have been coming from connected cars for the past five years. Numerous 5G awards have already been allocated by multiple car makers. Crazily enough, many of these awards involve two or more connectivity devices – to enhance connectivity and target different vehicle-related applications.
The European Union saw fit several years ago to mandate embedded connections in cars. What are those connections worth if the network is not available at the time and location of a vehicle crash?
As the wireless industry and the transportation industries prepare to leverage new capabilities enabled by both LTE and 5G connectivity for saving lives and removing friction from people-moving systems, it is time for more assertive support from Federal authorities. It is irresponsible, fraudulent, and disingenuous to auction off spectrum and require embedded connections (in the EU) without any quality of service guarantee. If Federal authorities across the world won't step in to assist carriers with 5G rollouts, then they should be required to refund their ill-gotten billions. Lives are at stake.
Share this post via: