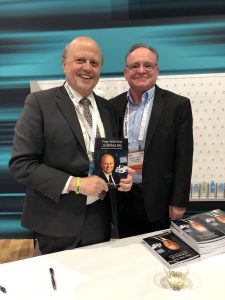 One of the perks of blogging on SemiWiki is the events you get to attend for FREE and the amazing people you get to meet and Wally Rhines is certainly one of those people. You will not find a more intelligent, innovative, and genuinely nice group of people in my experience. Having traveled the world meeting thousands of people I can tell you that I have never been the smartest person in a meeting, not even close. Viva la semiconductor industry.
The nice thing about Wally's keynotes is that not only does he send me slides, he also answers questions in a way that even non semiconductor professionals (my wife) can understand. My beautiful wife and I caught Wally's keynote in the DAC Pavilion and here are the points that stuck out to her:
Acceleration of Semiconductor Revenue Growth. This slide was a little bit of a shock to my wife. For most of my thirty five year career semiconductors has been a steady low single digit growth industry. Certainly it was enough for my wife and I to put four kids through college so no complaints there. The last two years however were 22.2% and 15.5% growth but as Wally explained it was mainly due to high memory pricing. Last year Memory was a record 39% of semiconductor revenue while five years ago it was 23%. Thankfully my wife does not correlate her spending with industry growth.
Integrated Circuits Are Capturing an Increasing Share of Electronic System Product Value. The easiest example is cars. The good news is that the semiconductor content in cars is increasing dramatically but as my wife pointed out that is cause for concern since maintenance prices are also on the rise. She reminded me that we recently replaced a tire sensor on her Toyota Sienna for $300+.
Systems companies are the fastest growing customers (5-Year CAGR +70%). I would say that also applies to TSMC for leading edge process nodes. Mobile companies with SoCs and cloud companies with domain specific processors are great examples. Remember, Apple alone is about 20% of TSMC's leading edge revenue.
Automotive Industry Drives Large Growth in IC Design. According to Wally, and he would know, hundreds of companies are developing electric and autonomous vehicles. When is that bubble going to burst and who is going to get caught in the automotive downturn? As Wally said they all have to buy EDA tools but only a few will actually go into high volume manufacturing so the downstream supply chain is at risk for sure. I'm not sure when my wife and I will buy new cars but when we do they will be EV for and hopefully somewhat autonomous.
Merger & Acquisition Activity Has Decreased. The semiconductor industry had a bubble in 2015 with close to $100B in acquisitions (Altera, Freescale, Broadcom, etc…). 2016 was $65B (ARM, Linear), 2017 $29B, 2018 $26B, and at the time of Wally's presentation 2019 was $9B. During the conference it was announced that Infineon acquired Cypress Semiconductor for $10B so the decline continues but not as steep and who knows what 2H2019 will bring. We have not heard from Hoc Tan (CEO of Broadcom) this year (Broadcom bought CA Technologies for $19B last year). In my opinion semiconductor and EDA M&A will continue at the usual pre-bubble pace. There aren't many EDA companies left to acquire but IP companies are sprouting up everywhere so I would expect much more IP M&A in the very near future (look to Synopsys, Cadence, and Silvaco).
Venture Capital Investment in Fabless Semiconductor Startups was on Steady Decline Until 2017. It really is a relief to see investment come back to semiconductors. It seems the investment community was so focused on Unicorns (Uber, Airbnb, SpaceX, WeWork, Pinterest, etc…) that they forget about the all important semiconductor community. That changed in 2017 when VC for fabless companies more than tripled to $1.5B and more than doubled that in 2018. 2019 is starting out a bit slow at about $1B thus far so we may be slowing down already. China of course is outspending the US (9x in 2017 and 3x in 2018) but from what I have experienced the money is used "less effectively" in China so those numbers look bigger than reality. Never the less China is outspending the rest of the world and that should be of great concern.
Majority of VC Funded Startups are Focused on AI and Machine Learning. Wally made a couple of points here that my wife and I talked about in more detail. Health care is of great concern to us baby boomers and it seems like medical science is not keeping up with the rest of the sciences. AI and ML could greatly advance medicine in all regards but it would require complete participation/collaboration with everyone involved and that will be much more difficult in the US than China. China also has a billion more people than we do so much more data is "readily" available.
Wally had a dozen more AI/ML slides and ended with How long before the Silicon Transistor Runs Out of Gas? but I need to stop here. If you have more questions post them in the comment section and Wally will probably reply.  He is the most engaging man in EDA, absolutely.
Share this post via: