Silvaco is one of the sponsors of the GSA Executive Forum to be held over in VC Land at the Rosewood Sand Hill on September 10th. Note that it starts at 11.45am with a networking lunch.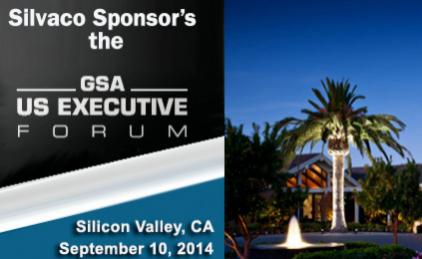 The featured keynote speakers are

Fareed Zakariah

and

Rana Faroohar,

both of CNN. Rana is also Senior Managing Editor of Time.
The first panel session is about

Driving Contextual Technology

. The moderator is Gary Shapiro of CEA. Participants are from Intel, Cisco, Plantronics and SoftKinetic.
The second panel session is about

Powering the Digital Economy

. The moderator is Stephen Gray of CSR (now the official name of what we used to know as Cambridge Silicon Radio). The participants are from Intel-McAfee, Juniper, AT&T, Ericcson and Alcatel-Lucent.
At the end of the day, just before Fareed's keynote and Q&A is the CEO panel. You know the panel has to be good when the moderator is himself a major CEO, Aart de Geus of Synopsys. The panel consists of Sayed Ali, CEO of Cavium; Tzu-Yin Chu, CEO of SMIC; Scott McGregor, CEO of Broadcom; and Steve Mollenkopf, CEO of Qualcomm.
Full details including a link for registration are on the GSA website here.
---
Silvaco's commitment to the China market was given a significant boost last month when the company entered into an agreement with Shanghai Research Institute of Microelectronics of Peking University (SHRIME/PKU) to jointly establish a development laboratory. This development platform will enable a better understanding of the requirements for TCAD and EDA tools by the design community in China. It will enable them to rapidly develop solutions targeted to the specific needs of the local market.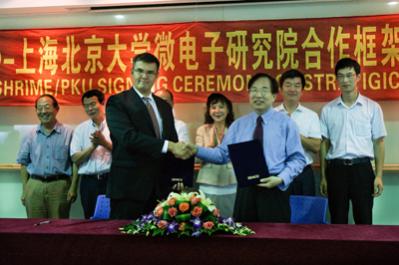 Iliya Pesic of Silvaco gave an overview of the company and the business development situation in China. He highly appreciated the close cooperation between SHRIME/PKU and Silvaco over the past seven years and hoped that, in the future, on the foundation of the jointly established laboratory platform, both sides can get closer to the Shanghai microelectronics industry users, develop and provide more professional and precise technology solutions and services to promote the development of the local industry.
---

Also, last month in Asia, IC Design Education Center (IDEC), located in University of KAIST, and Silvaco Korea announced that IDEC has instituted Silvaco's complete AMS design flow solutions to deliver its VLSI design instruction and chip fabrication services for leading national, public, private universities and colleges within Korea.
They also announced the availability of some Tower/Jazz PDKs at IDEC. Tower/Jazz have been working with IDEC for over 4 years:
TS18PM (Power Management 0.18um)
TS18IS (CMOS image sensor 0.18um)
CA18HD (Analog/RF CMOS 0.18um)
SBC18HA (SiGe 0.18um)
As David Halliday, Silvaco's CEO, said:Silvaco is committed to supporting Korea's excellent higher education system. This partnership ensures that Korean universities have the most advanced tools to train tomorrow's engineers for the challenges they will face when they enter Korea's pioneering semiconductor industry.


More articles by Paul McLellan…
Share this post via: