A Leading Cybersecurity Company
Secure-IC is the rising leader and the only global provider of end-to-end cybersecurity solutions for embedded systems and connected objects.
Founded in 2010, Secure-IC is a Spin-off of Télécom Paris University and benefits directly from 15 years of research results conducted by ones of the best scientists in the embedded cybersecurity field. Leadership, innovation and creative intelligence constitutes the DNA of Secure-IC which displays proudly this legacy in the company's baseline; "The Security Science Company").
With over 10 years in business and growth, a presence and customers across 5 continents, Secure-IC's patented protection technologies are nowadays embedded in hundreds of millions of electronic chips for smartphones, laptops, automobiles, smart meters, Cloud servers and more.
In response to the constant evolution of threats, the company has chosen to focus its development on a permanent innovation strategy carried out within The Security Science Factory; internal research & development department with state-of-the-art security analysis laboratories.
Secure-IC is considered a leading cybersecurity company and a pioneer in the field of embedded cybersecurity and values its expertise through more than 250 scientific publications, approx. 50 international patent families and multiple editions of security standards.
Key Figures
The quality management system of our company is certified ISO 9001 for its sites in France.
Secure-IC's Expertise
Based on a unique approach called PESC for Protect, Evaluate, Service & Certify, completed by Supply, Deploy and Manage, Secure-IC has developed a complete range of security protection and evaluation solutions and services to support its customers throughout the life cycle of their product, from design to certification, from Chip to Cloud.
Our CEO's message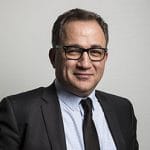 "The security of the objects or the devices is key. Even more, security will become one of the most important assets of the digital world."
Share this post via: