Intro
John and Ralph from Magma gave me an update on QuickCap at DAC on Monday afternoon in their demo suite.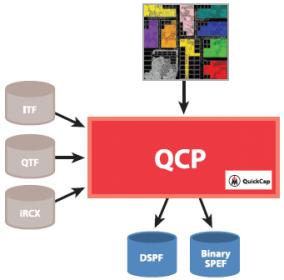 Notes
John Schritz – Sr AE
Ralph Iverson, Ph. D. (wrote QuickCap)
John Schritz
– Digital Signoff, extraction
– QCP: 2.5D RC for full ASIC designs
– QuickCAP NX: 3D field solver
– QCP:
Demo – 1.5 million instance design, 1.59 million nets, fully P&R, three libraries
– QCP: Gate Level (Star RC competitor)
– QuickCapNX: 3D field solver (Raphael competitor)
– QCP TX: Transistor Level (RC XT competitor)
– QCP
o 10X faster than Star RC
o 20X faster with multi-corner extraction
o Accuracy: +-2% of QuickCap NX
o TSMC qualified at 28nm
o Inputs: LEF, DEF, GDS II
o Scaling: can add multiple corners using only 20% run time, can be distributed across more boxes
o Capacity: 50M instance designs, memory efficiency
o Accuracy (vs Star RC)
o Example: TSMC 40nm, 38K nets
o 1 corner at 5 hrs, 12 corners at 8.4 hours (27X faster than Star RC), using 3.3GHZ CPU, 148GB and 12 CPUs
o One license per four cores (after that add a multi-core to add up to 32 cores)
o 16 Synopsys licenses for a runtime of 60 minutes, vs 2 licenses in 34 minutes
o ½ the run time, ¾ the HW, 1/8 the licenses (compared to Synopsys with 80% market share)
o 3D on demand (add QuickCap NX), name the nets you want best accuracy on
– Tekton – a STA tool
o Reads SPEFS
o Fast STA in minutes
o Concurrent MM/MC
o Accurate with SPICE integration
– Old flow
o Implement, output a GDS II
o Extract, output SPEF
o STA
– New Flow
o Implement
o QCP and Tekton
– QuickCap NX: Industry Golden 3D Field Solver
o Same run time independent on
o Three methods:
 Finite Element (Slowest)
 Boundary Integral (Slow, what Mentor 3D XACT uses)
 QuickCap (Fastest)
o Field-solver accuracy (within 1% of Silicon)
o Good for library characterization, custom, analog
o Flow Inputs: ITF or iRCS from foundary, GDS II layout
o Industry standard solver at IDMs, Foundries
o Edge effects
o Qualified by TSMC
– QCP TX – transistor level extraction
o Millions of transistor capacity
o To be released in 6 months
o For: Custom design, memory, AMS
o CCI – Calibre Connectivity Interface, stress parameters, well proximity
– QCP Demo
o 18 million nets extracted per hour on 8 threads
Summary
Star RC (Synopsys) has plenty of competition from Magma, Mentor and Cadence for IC extraction. I also learned more about 3D Field Solvers on Tuesday at the Pavilion Panel session.
Share this post via: