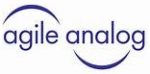 Website Agile Analog
What we need from you:
Agile software development – delivering into the complex ecosystem we are addressing is only possible with high levels of test automation and trust across teams
Architectural skills – our codebase is large and we object-orientation, pattern-based and functional approaches to understand and manage it
Communication skills – within your team and across to other teams, externally to stakeholders, in person and through documentation. It is essential we can bring others in to deliver and advocate for our work
"Can do" attitude – we operate across technical domains with large external stakeholders. Varied technical challenges and priorities are all part of the fun in an ambitious company like Agile Analog
Python – our primary codebase is in Python and we need people with the skills to dive in
Even better if you have:
Any experience in dev-ops, machine learning, data engineering, API design, compiled languages or electronic engineering will all come in handy, but you'll get plenty of opportunities for exposure and learning on the job.
Technologies
To give you a flavour of what we are using at the moment:
Devops: AWS, Gitlab, puppet, terraform
Software: Python, pytest, json-rpc, containers (+ numpy, scipy, matplotlib and other numerical libraries to help Analog Engineers)
Analog Engineers: Perforce (for analog designs not software), Virtuoso, Spectre, Jupyter Notebooks, numpy, scipy, matplotlib
Benefits
As well as the opportunity to really play a pivotal part in our success, we offer:
A friendly, supportive and inclusive working environment
Flexible work hours to fit around your personal commitments
We consider individual requirements to work remotely with home set up assistance provided
Professional development and professional society membership
25 days' annual leave with the option to purchase additional days
Company pension scheme (with a salary sacrifice option)
Private health insurance (including optical and dental cover)
Life Assurance
Cycle-to-work scheme
Employee Assistance Programme – free wellbeing and health services
If the above role matches your experience, skills and motivations then we would love to hear from you.
Share this post via:
---