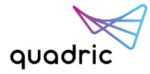 Description
Quadric has created an innovative general purpose neural processing unit (GPNPU) architecture. Quadric's co-optimized software and hardware is targeted to run neural network (NN) inference workloads in a wide variety of edge and endpoint devices, ranging from battery operated smart-sensor systems to high-performance automotive or autonomous vehicle systems. Unlike other NPUs or neural network accelerators in the industry today that can only accelerate a portion of a machine learning graph, the Quadric GPNPU executes both NN graph code and conventional C++ DSP and control code.
If making an impact and having a seat at the table is important to you, this is the opportunity for you. Join our small, rapidly-growing team at Quadric to develop supercomputer technology designed for the Edge. In this position, you will be a core member of our team, and will have an opportunity to grow in the company of expert technologists who also happen to be good people you'll want to spend time with.
What We Value:
Integrity, Humility, Happiness
What We Expect:
Initiative, Collaboration, Completion
Role:
As a leader of our platform software engineering team, you will manage development of SDK front end APIs, and their use in NN libraries and hardware verification tests. You will collaborate with other teams to co-optimize across the hardware-software stack. As a key member of the product leadership team, you will contribute to planning and implementation of product roadmaps.
Responsibilities:
Own and deliver Quadric SDK per customer requirements.
Create development plans based on resource and schedule constraints
Drive implementation to ensure execution to plan
Keep broader team informed about execution progress
Deploy processes for SW development and validation that enable quality deliverables.
Contribute to the development of cutting edge deep neural networks, computer vision and DSP algorithms using Quadric's technology
Collaborate with Scheduler, Compiler and Hardware teams to build best-in-class quadric ecosystem
Requirements
MS or Ph.D. in Electrical or Computer Science/Engineering with a minimum of ten years of experience in the industry
Demonstrated experience in successfully leading teams to deliver production SDKs
Proficiency in C++ >= 11
Background in NN frameworks such as Tensorflow, Caffe, etc.
Knowledge of both classical Computer Vision and Neural Network algorithms
Knowledge of end-to-end toolchain, including compilers, linkers & debuggers
Experience with programming in openCV and/or OpenCL/CUDA highly desirable
Benefits
Provide competitive salaries and meaningful equity
Provide a politics free community for the brilliant minds who want to make an immediate impact
Provide an opportunity for you to build long term career relationships
Foster an environment that allows for lasting personal relationships alongside professional one
Share this post via:
---