Senior FPGA Design Engineer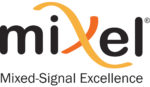 About the Job
Develop a thorough understanding of system-level design​
Hardware verification of the digital module using cutting-edge FPGA
Develop RTL code of system-level layers integrating Mixel MIPI IPs.​
RTL Synthesis/FPGAP&R of the digital part of Mixed-Signal IPs.​
Design and implement hardware verification activities through simulation environments and lab tests.
Working with the validation team on the testing/characterization and prototyping of Mixel IPs.
Support integrating Mixel solutions into customers' platforms.
Job Requirements
Bachelor's degree in Electronics Engineer Master's Degree is a plus
3-6 Years of experience in Digital Design/Verification
Strong knowledge of Verilog RTL design/simulation
Strong knowledge of FPGA design flows including RTL Synthesis, Place and Route, and Timing Sign-off.
Familiarity with FPGAkits and FPGA hardware interfaces.
Knowledge of gate-level verification techniques ​
Desirable Qualifications and Experience:
Familiarity with System Verilog, RTL/gate verification techniques is a plus
Familiarity with testing equipment and validation platforms is a plus
shell scripting/programming languages.
Unix/Linux operating systems.
Apply for job
To view the job application please visit mixel.com.
Share this post via:
---