IC Design Automation Engineer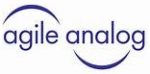 Website Agile Analog
As Analog IC Design Automation Engineer, you will have strong experience with the full analog design environment including process design kits (PDKs), EDA software environments and utilizing the Linux environment. You will also be skilled with scripting in such languages as Skill and/or Python or other languages. As an excellent communicator and working as a key technical expert in analog design automation, you will work collaboratively and proactively with colleagues across a range of disciplines, including software development and layout implementation, to develop the tools and infrastructure to automate the creation and verification of analog IP.
With an interest and enthusiasm to work on software and algorithms related to the physical world of semiconductors, there are many opportunities for you to apply your creativity and skills in automating IP design, enhance the productivity of designers and help change the industry.
What you will be doing
Managing and automating the on-boarding activities of PDKs
Managing and automating EDA environments and our internal tool integration
Managing license server(s) and ensuring continuity in tool availability
Supporting analog design engineers with their design automation queries and issues
Interfacing and understanding a design environment need and helping software engineers scope and develop methods of improving the design process
Helping to ensure the customer delivery process is conducive to an extremely high standard
Capture and provide feedback on design practice improvements
Documentation for best practices that provide clear guidelines for users to remain productive and informed
Debugging issues with design environments and front-line analog design support
Developing interfaces for designers as well as industry standard EDA tools, design rules, design kits and configuration files
Working constructively and collaboratively across the company as part of cross-functional software and IP development teams
Requirements
What we need from you:
A systematic approach to improving design efficiency and ensuring design quality safety
Proven industry experience in analog design automation for EDA tools from companies such as Cadence, Synopsys and Mentor Graphics
Proven industy experience with PDKs from multiple foundries such as TSMC, Global Foundries including environment setups, PDK configuration and model quality checks
Strong experience in behavioural circuit modelling
A rigorous approach to design verification, review and documentation
An understanding of the importance of good physical implementation, together with knowledge of parasitic degradation mechanisms
A can-do attitude with an enthusiastic team spirit
Good communication skills in English
Expert knowledge of Cadence and/or design tools and environment
Even better if you have:
FinFet and other deep-sub-micron CMOS process knowledge
Macro-level experience, including integration, physical verification and tape-out
Experience in analog design
Programming experience in Skill/Ocean, Python, C++ etc.
Team leadership experience
Benefits
What we offer in return:
As well as the opportunity to really contribute to getting things done we also offer a comprehensive salary and benefits package including:
A friendly, supportive and inclusive working environment
Flexible work hours to fit around your personal commitments
We consider individual requirements to work remotely with home set up assistance provided
Professional development and professional society membership
Company share options
25 days' annual leave with the option to purchase additional days
Company pension scheme (with a salary sacrifice option)
Private health insurance (including optical and dental cover)
Life Assurance
Cycle-to-work scheme
Employee Assistance Programme – free wellbeing and health services
If the above role matches your experience, skills and motivations then we would love to hear from you.
Share this post via:
---