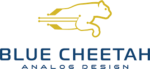 Blue Cheetah Analog Design
Blue Cheetah Analog Design Inc. is a semiconductor technology start-up headquartered in Sunnyvale, California. Our mission is to generate state-of-the-art in package die-to-die semiconductor IP solutions for the rapidly growing chiplet ecosystem. We accomplish this by providing high performance chiplet interface semiconductor IP to our global customers allowing them to reshape their product roadmaps to a more agile and cost effective chiplet based approach. Join our team to help usher in the chiplet era of semiconductor-based products.
We provide a professional benefits package including medical, dental, vision, 401K plan with company match as well as generous holiday & vacation leave. Join a team where your impact to the collective success will be clear and the big company politics do not exist.
High-level Job Description:
Use your silicon test experience to perform validation and qualification of our D2D silicon testchips
Develop/Evolve the hardware infrastructure for silicon validation and demo board platforms
Support customer silicon bring up and product qualification
Must Have Requirements:
BS, MS in electrical engineering (MSEE preferred)
Strong Electrical Engineering fundamentals & coursework focused on digital & analog circuit design
3+ years of hands-on electrical test & characterization of silicon testchips in a lab using Keysight and Tektronix equipment
Ability to work independently on debug of complex tests and interact with the design engineering teams to drive resolution
Experience scripting and developing test automation in languages such as Python, Perl, and Labview
Knowledge of fundamental datacomm circuits such as Amplifiers, Phase Locked Loops, and Equalizers
Capable of independently running tests such as Tx Output jitter measurements, Receiver JTOL, and common validation tests
Thorough knowledge of oscilloscopes and BERTS
Familiarity with concepts of Jitter, Noise, & other non-idealities in circuits
Excellent verbal and communication skills
Excellent organizational skills to own assigned tasks and track/report progress regularly
Preferred Qualifications:
Experience characterizing high speed IO, and PHYs supporting protocols such as DDR, Ethernet, PCIe, USB
Develop Firmware required for silicon validation and customer platforms.
PCB and package design experience
Fluent with industry standard signal and power integrity tools
Generate and maintain IBIS model generation for D2D products
Experience with Verilog, VHDL, or other hardware description languages
Equal Opportunity:
Qualified applicants will receive consideration for employment without regard to, and will not be discriminated against based on race, sex, religion, national origin, sexual orientation, gender identity, disability, or protected veteran status.
Pay and Benefits
The base pay range for this role is between $150,000 and $210,000. Your base pay will depend on your skills, qualifications, and experience.
Share this post via:
---