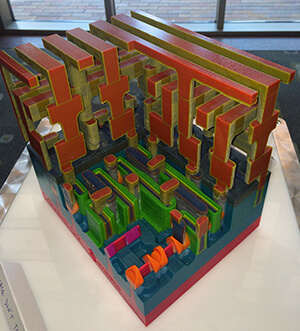 This year the 55th annual Design Automation Conference is in San Francisco and the Silicon and Technology Art Show, one of my favorite DAC events, is back! Favorite because it's something my beautiful wife and I can share. She is very artistic and has an eye for colors and I actually know what the art is so we make a good team. I am a judge again this year (with the help of my wife) but we need submissions to fill out the categories and that is where you come in. If you see the beauty in your work please share it at #55DAC! This is last year's winner "14nm FinFET Technology by Coventor".
DAC Silicon/Technology Art Show
At DAC, we want to showcase the beauty of our work for the rest of the world to see. That's why we are hosting the Silicon/Technology Art Show for the second time at DAC this year, and we want you to participate by submitting your digital images.
Submission Deadline April 15, 2018
Examples of what we are looking for include but not limited to:
Die photoshots of silicon designs. These are the end product of hard EDA and design work, and often the result is breathtaking.
Design floorplans and placements, especially if they are illustrated in such a way to show interest.
3D wiring or clock tree visualizations.
Lithographic images.
Thermal maps, congestion maps, interesting logic structures, or just about anything you can think of related to EDA and Semiconductor.
Submitted work can be either hardware design images or software design images.
We cannot accept movies, but you may submit a sequence of images (e.g., 6) that can be framed to show how an algorithm works.
This is your chance to have the work you (and or your company) produces to be recognized.
Each piece submitted will be printed on canvas and displayed at the Art Show starting on Monday, June 25, 2018 at Moscone Center West. Judges will have an opportunity to review the displayed pieces and winners for each category will be announced Monday night at the Art Show reception.
Pieces will be judged in several categories:
Best visualization
Most inspiring
Most insightful
Most artistic
Grand Prize – Best piece out of all categories
Winners in each category will receive a trophy for recognition and will also be on the cover of IEEE Design & Test magazine. Click the links below to see past covers.
IEEE Design & Test – January/February 2017 Cover
IEEE Design & Test – November/December 2016 Cover
DAC will handle the printing and coordinate the displays. All of those who submit artwork that is used in the art show are welcome to take the final piece home with them.
This is my 34th DAC and while I enjoy having it close to home I am really looking forward to next year's venue which is Las Vegas. My second DAC was in Las Vegas in 1985 and it was the first DAC my wife attended. I remember her being a little shocked at how wild the parties were but we were newlyweds and had a great time. The EDA industry has matured now and the parties are much more sedate, but then so are my wife and I. It should be full of reminiscing and fun, absolutely!
Share this post via: