CES (formerly the Consumer Electronics Show) returned to Las Vegas, Nevada last week. In 2021, CES was remote due to the COVID-19 pandemic. On April 28, 2021, the Consumer Technology Association (CTA), the sponsor of CES, announced CES 2022 would be held in Las Vegas. On the date of the announcement new COVID cases in the U.S. were less than 60,000 per day. On the day CES 2022 opened, January 5, 2022, new COVID cases in the U.S. were over 700,000 per day as the new omicron variant spread rapidly. Nevertheless, the show went on with COVID protocols including proof of vaccination, wearing masks indoors, social distancing, and optional on-site testing.
CTA stated CES 2022 live attendance was over 45,000 people, about a quarter of the over 175,000 attendees at the last live event, CES 2020. Over 2300 companies exhibited at CES 2022, about half the 4500 companies at CES 2020. We at Semiconductor Intelligence elected to attend CES 2022 virtually.
In conjunction with CES 2022, CTA released its forecast for U.S. consumer electronics in 2022. Total U.S. consumer electronics are projected at $293 billion, up 1.8% from 2021. Smartphones and computing are the two largest segments at about $75 billion. Video, Smart Home and Automotive are each in the $23B to $25B range.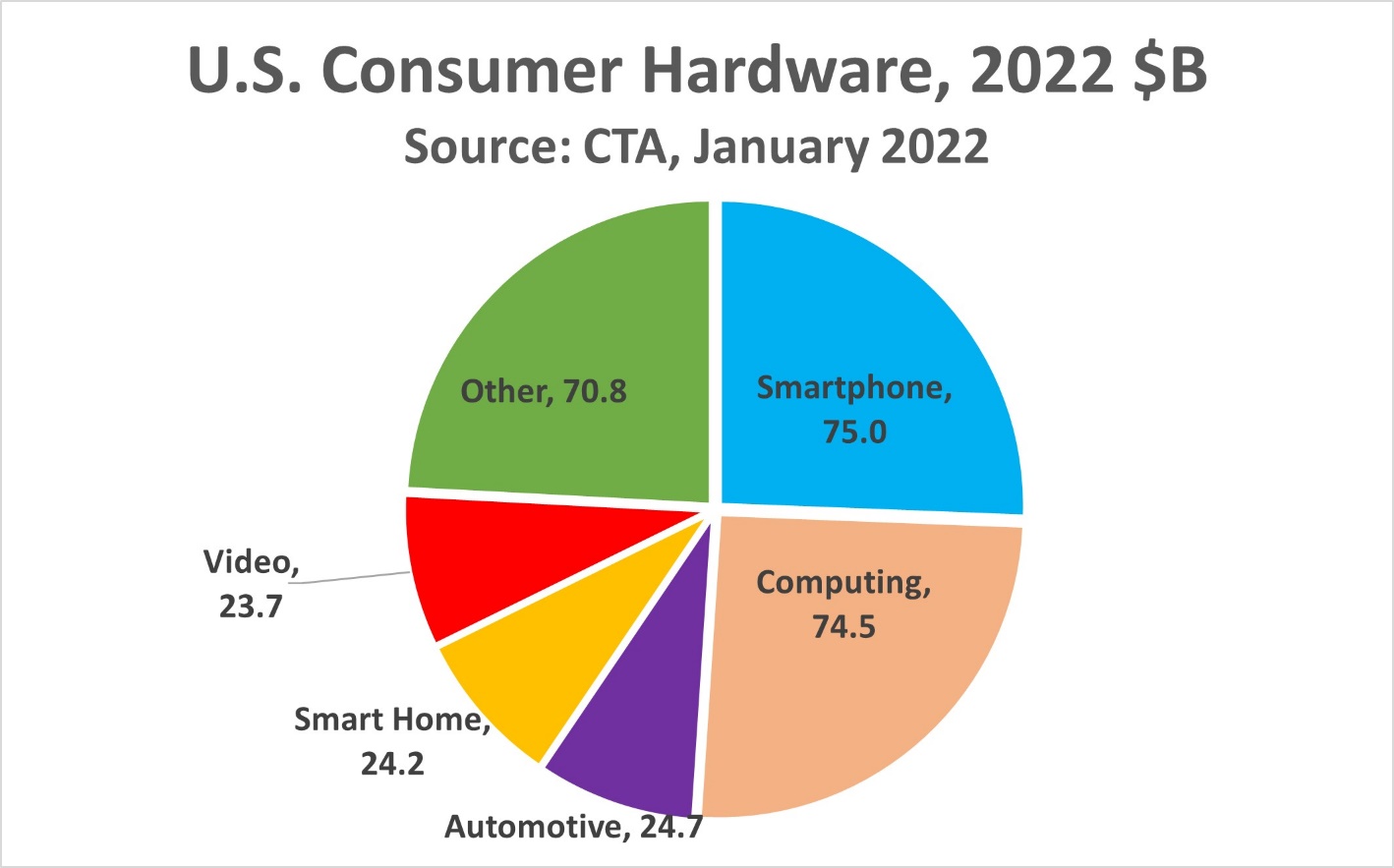 Most categories of consumer electronics are expected to grow in the low-to mid-single-digit range in 2022. However, three emerging categories with high grow rates are virtual reality eyewear, connected exercise equipment and electric bikes.
AT CES 2022, keynote presentations were given by Samsung Electronics, General Motors, and Abbott. Interestingly only one of the three keynotes was from an electronics company.
Samsung Electronics' keynote was led by Jong-Hee (JH) Han, Vice Chairman & CEO. The emphasis was not on products but on demonstrating commitment to the environment through a more eco-conscious product life cycle. Samsung plans to have zero standby power usage in its TVs and smartphones by 2025. Older smartphones will be repurposed for IoT applications. Samsung TVs will have solar powered remote controls to reduce battery waste.
Samsung did introduce some new products in its keynote. The Freestyle portable projector can be controlled with voice commands or wirelessly with a smartphone. It can project up to 100 inch images and includes a smart speaker. The Samsung Gaming Hub will have access to video games directly from a Samsung smart TV. The Odyssey Ark is a 55-inch gaming projector which is curved and can be aligned either horizontally or vertically. Samsung also created the home connectivity alliance (HCA) with other appliance makers to increase interoperability between products, ensure safety & data security, and increase energy efficiency.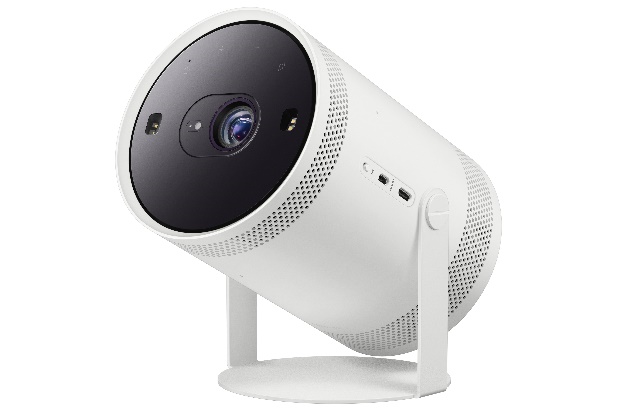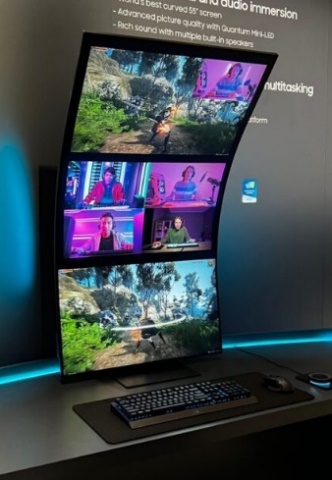 General Motor's keynote address was led by chair and CEO Mary Barra. She stated GM is transforming from an automaker to a platform innovator through electrification, software-enabled services, and autonomous driving. GM will have 30 electric vehicle (EV) models by 2025 and all new vehicle models will be electric by 2035.

Abott's keynote was led by president and CEO Robert B. Ford. The keynote focused on electronic implants to improve health and health monitoring. Abbott's Freestyle Libre glucose monitoring system uses a small sensor on the back of arm and data on a smartphone app. Its Heartmate 3 heart pump is implanted as a blood pump for people with advanced heart failure. Abbott's neuromodulation devices alter nerve activity through electrical impulses to treat movement disorders such as Parkinson's disease. Abbott introduced Lingo, a line of bio-wearable devices to track glucose, ketones, lactate and alcohol in order to improve diets and athletic performance.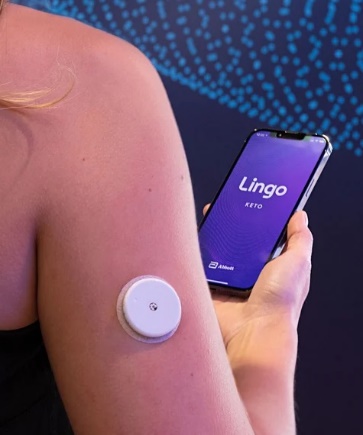 Pepcom's Digital Experience at CES 2022 introduced many innovative products as shown below.
Labrador Systems demonstrated its Labrador Retriever personal robot which can help move large loads or deliver trays. It is controlled through voice commands or a smartphone app.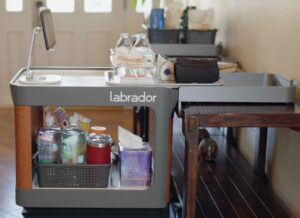 In a sign of our times, the MaskFone includes built in earphones and a microphone to enable users to talk on their smartphones in public without removing their masks.
Altis introduced what it claims is the world's first artificial intelligence (AI) personal trainer. The device consists of a soundbar-sized console which uses a computer vision neural network and an exercise science deep learning model to personally instruct the user.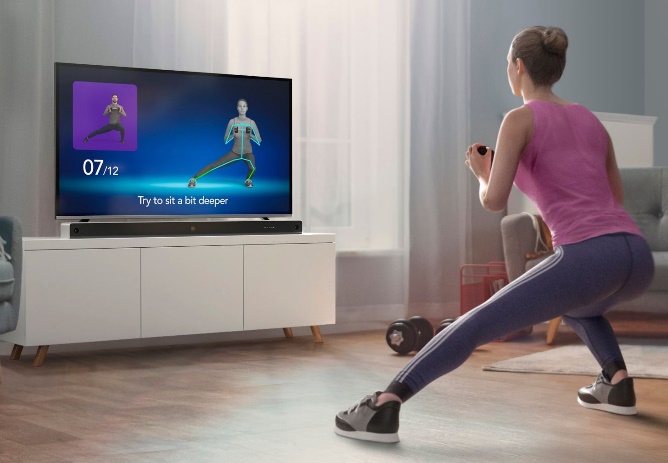 Vuzix Shield smart glasses are safety classes which include video projectors, stereo sound, and noise-cancelling microphones. The Vuzix Shield glasses connect to smartphones and other devices using Wi-Fi and Bluetooth.
Hopefully CES 2023 can return to the scope of previous CES shows. Seeing in-person demonstrations of new consumer electronics is far preferable to watching videos. A live CES enables people to see, touch and even use many new devices and to talk directly to representatives of the companies. CES also brings worldwide media attention to the electronics industry.
Share this post via: