Reading the title you guessed it right, Mentor Graphics has three new board members today from the slate offered by billionaire activist Carl Icahn:
José Maria Alapont, chief executive of the auto parts maker Federal-Mogul
Gary Meyers, a director of the chip maker Exar
David Schechter, an executive at Mr. Icahn's investment firm
After Wally Rhines made the announcement of the three new board members, the audience broke into applause and new board member David Schechter said, "Thank you again, thank you Mentor employees. I look forward to working with you."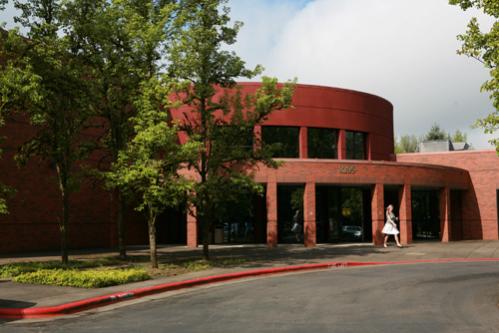 The Commons at Mentor, Wilsonville
The acrimony in the press over the past month between Mentor and Mr. Icahn has now given way to a new world order within Mentor Graphics as three board members have been replaced by outsiders.
My hope is that Mentor continues to focus on providing innovative EDA tools to meet the challenges for IC, PCB and Systems Designers.
The Meeting Details
Arriving 30 minutes early at Mentor Graphics this morning I parked and approached the building for the annual share holders meeting. At the door was tight security and a check-in process to identify me as Press. I sat next to Mike Rogoway, Business Writer at the Oregonian, we've both been following this hostile drama with Mentor for the past year. We tried in vain to connect with Clear wireless but it simply wasn't working, so we couldn't tweet out the highlights.
Ry Schwark, PR Director told me the Press rules: No photography, No video, No questions.
The buzz in the room before the meeting is, "Will Carl Icahn show up?" Most people think that he won't show and instead will send others in his place.
Bryan Derrik, VP of Corporate Marketing is making the rounds and chatting with co-workers and shareholders.
Don Nail, a Mentor shareholder for 15 years is ready for change and has voted for the Icahn change.
It's 9:11AM and Wally Rhines of Mentor just showed up so we are soon to get started this morning. A hush has entered the room. All the Mentor executives and board members occupy the front row.
30th annual meeting is opened by Wally Rhines. Questions will be allowed, and cards will be handed out for attendees to use during Q and A.
Directors are introduced to a deadly quiet audience.
Notably executives are introduced by Wally, still a quiet audience.
Dean Freed takes over from Wally Rhines to announce the rules for the meeting. Last call to change your mind on voting by ballot in person. Reading from a script, the minutes are skipped from last year, list of board candidates read.
IBS Associates is the official company to count all votes today.
Dean mentions the board members from Carl Icahn, and Mr. Schechter is in attendance today.
Six items for vote are rattled off.
Wally Rhines takes over from Dean and reports a summary of recent Mentor accomplishments. FY2011 Results, revenue of $915M, up 14% from FY2010 the fastest growth rate in public EDA companies. Non-GAAP EPS of $0.70, up 49%. Bookings up 30% for the year.
Review of "What is EDA?" Software for IC, PCB and Systems design.
EDA Product Segments show 60 distinct software categories for EDA (courtesy of Gary Smith EDA).
Largest EDA Market Share by segments (SNPS, CDN, MENT) shows about a 40% to 66% market share to the #1 supplier across each category.
Mentor Revenue: Integrated System Design PCB is 25%, Scalable Verification (Simulation, Emulation) is 25%, IC Design to Silicon (Calibre, IC, Olympus P&R) is 30%, New and Emerging (transportation, embedded, DFT) is 15%.
80% of Mentor revenue is in products where they are #1 or #2 in market share.
PCB is a #1 market for Mentor, and they have been growing market share to 40% total.
Mentor Strategies: Extend, Detect Discontinuity (Calibre vs Dracula),
Emulation – Functional simulation is too slow, so emulation will enable verification of the largest new designs (Veloce – about 5X faster than competitors). Market share double in FY 2011.
New Markets – Transportation (auto and aerospace) and embedded software. Products: CHS – wire harness, System Vision – mechatronic, Volcano – network design.
8 out of last 9 quarters Mentor has exceeded analyst expectations.
Fiscal 2012 revenue estimates at $1B, a 9% growth.
Dean Freed – any more ballot votes? At 9:40AM the polls are closed.
Waiting for a final share holder to hand-write his ballot, the room starts a small murmur and whispering. Wally and Dean look on, then Wally cracks a joke, "Lot of suspense, this could be a swing vote."
The preliminary vote says that 5 board members stay, and that 3 new members are elected (per Icahn's). The room erupts into applause.
Wally pledges cooperation with Icahn's 3 board members.
Wally opens up for questions and answers.
David Schecter, new board member, "Thank you again., thank you Mentor employees. I look forward to working with you."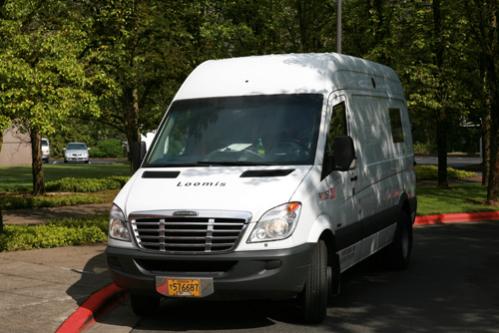 The Votes being taken away by armored truck
Shareholder Questions:
Jim Romero – What about acquisitions to grow?
Wally – Yes, primarily our growth is internal. Plus, we do acquisitions, typically small in size. Flomerics is an acquisition example.
No more questions or comments.
David Schechter (Newest Mentor board member)
Q: Was this a surprise?
A: David – No, we expected this result. We look forward to working with the other Mentor board members to return the greatest value to share holders.
Q: Any other comments?
A: David – I'll have Mr. Icahn reply to you.
Mentor Founder
After the meeting I chatted with Mentor Founder Tom Bruggere (now Chairman/CEO at 13therapeutics) and Mike Bosworth (former CEO of Context, acquired by Mentor).
Q: What did you think of the vote today?
A: It is what it is.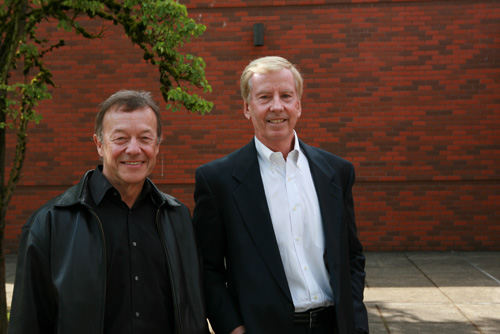 Mike Bosworth, Tom Bruggere
I first met Mr. Bruggere in the 90's when Mentor Graphics acquired Silicon Compiler Systems.
All of the founders of Mentor have long since left the company, although many are still interested in the outcome of today's vote for a change in board members.
*Note: to read/write comments you must log in.
Share this post via: