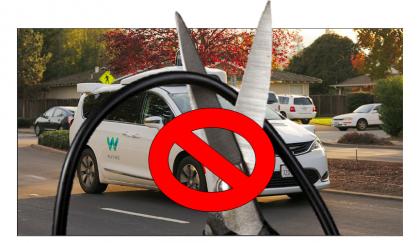 The automotive industry is a world of contradictions. Nowhere is this more evident than in the realm of connected cars. Car makers remain utterly conflicted over connecting cars 21 years after General Motors got the ball rolling with the introduction of OnStar.

Even GM had to famously be goaded into connecting its cars by then executive vice president and general counsel, Harry Pearce, who touched off what became known as Project Beacon by rhetorically asking a collection of GM executives: "Now, how many out of a hundred OnStar-equipped cars that crash will need to call for help before we'd be more wrong for holding back a potentially lifesaving technology like this than we would be for putting it in?"
February 2019 finds the industry on the precipice of a world where the embedded wireless connection in the car will not only be able to summon assistance in the event of a crash a la OnStar, but will soon be able to help the car and driver avoid a crash altogether. It is for this reason that forecasters like my employer Strategy Analytics foresee an acceleration in the adoption of automotive wireless technology.
This proposition is especially relevant on the eve of Mobile World Congress in Barcelona – where multiple car companies will exhibit and connected and autonomous cars will be demonstrated. Yet, many automotive engineers continue to aver that wireless connectivity is non-essential for the operation of autonomous vehicles.
It is easy to see the source of this misguided perspective given that autonomous vehicle tech leaders such as Waymo, Tesla Motors, Nvidia and Intel/Mobileye all tend to downplay the role of connectivity. These companies need look no further than GM's Cruise Automation to see a semi-autonomous vehicle aggressively leveraging wireless technology
General Motors integrates wireless connectivity in both the Cruise Automation platform and its Super Cruise advanced cruise control system. The Cruise Automation car comes with simultaneous connectivity to four wireless carriers. The Super Cruise system, currently only available in select Cadillacs, supports only one carrier.
The significance is that both systems make use of connectivity to enhance contextual awareness and vehicle positioning. Today, these two implementations are something of a belt-and-suspenders approach to automating driving. Soon, wireless connectivity for autonomous vehicles will be required.
This is why the resistance to wireless connectivity for autonomous operation at companies like Volkswagen is so mystifying. A budding recognition is sweeping the automotive industry that the onset of cellular C-V2X technology in advance of the rollout of 5G is radically changing the notion of connecting cars.
The industry has rapidly shifted from OnStar-like automatic crash notification (in the event of a collision) to a focus on on-board Wi-Fi connections to the integration of digital assistants and, finally, wireless enabled and enhanced autonomous operation. If there is any remaining doubt at large auto makers – such as VW – that connectivity is key to autonomy one need only consider the future requirement for remote vehicle control.
Finland's regulators, for example, have stated that autonomous vehicles must have human drivers, but those drivers need not be in the vehicles. Finland is not alone. Regulators across the world will swiftly grasp that remote control is an essential element of autonomous operation (in the event of system failure or malicious intrusion) and 4G/5G-style connectivity will be essential to deliver this solution.
Remote control of autonomous cars will require 4G/5G connectivity and 4G/5G connections will help enable autonomy. The low latency, mesh networking, edge computing and vehicle-to-vehicle communication characteristics of 5G will accelerate autonomous vehicle development.
Car companies as a whole are far from "cutting the cord." Car companies are adding redundancy to their wireless connections. Dual SIM Dual Access (DSDA) and three- and four-SIM vehicles will arrive in the market by the end of 2019.
Cars will increasingly be connected, whether they operate autonomously or semi-autonomously. Remote control or tele-operation will dictate that car makers have an improved sense of the reliability of the wireless connection to their vehicles. Companies like Phantom Auto, Designated Driver and Ottopia have already emerged to meet this requirement.
Quality of Service requirements for connected cars, autonomous or otherwise, is radically changing the thinking of automotive engineers. In many ways, though, the thought process remains the same.
As OnStar's first president, Chet Huber, noted in his book "Detour:" "…his (Harry Pearce's) standard was clear. We would need to do everything we knew how to do to make it as reliable as best-in-class technology and strong operating discipline made possible." In other words, car makers across the world have come to recognize that a single SIM may not do the trick.
Connecting cars isn't about automatic crash notification or Wi-Fi or digital assistants. Connected cars of the future will leverage their connectivity to avoid crashes and save lives and that will require a reliable connection.
Roger C. Lanctot is Director, Automotive Connected Mobility in the Global Automotive Practice at Strategy Analytics. Roger will be chairing the 5GAA event Wednesday, Feb. 27, at Mobile World Congress in Barcelona and participating in the Future Networked Car Workshop, March 7, at the Geneva Motor Show – https://www.itu.int/en/fnc/2019. More details about Strategy Analytics can be found here: https://www.strategyanalytics.com/access-services/automotive#.
Share this post via: