Florida is poised to surpass California and Arizona as the leader in autonomous driving development thanks to an aggressive legislative agenda that began in 2012 and direct engagement with autonomous car developers. The state has good reasons for fostering automated driving given that it is the second largest state in the U.S. with the third highest number of highway fatalities.
These Florida realities and others were brought to my attention by a member of the Florida Chamber of Commerce who I met earlier this year. The Chamber of Commerce is at the heart of the "Autonomous Florida" effort.
There are many motivations for stimulating autonomous vehicle development in a state where the driving environment is heavily influenced by the behavior of aging drivers and tourists. By many measures Florida is the number one tourist destination in the U.S. and Florida is a leader in highway fatalities involving senior citizens.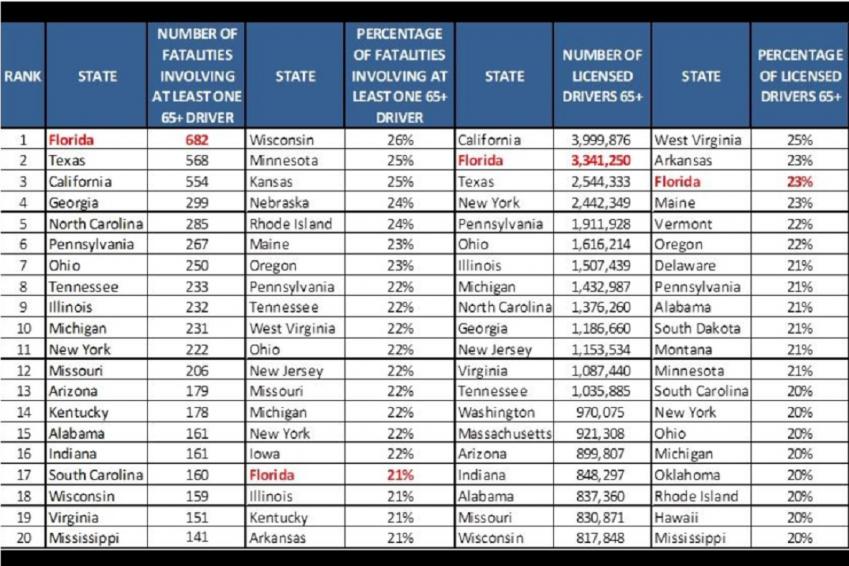 SOURCE: TRIP Transportation Research
In spite of all this momentum and motivation, The Florida Chamber of Commerce, which has been a leader in the autonomous driving effort, held a Webinar recently that focused on potential job losses and other negative economic impacts from autonomous driving. The Webinar also highlighted varying levels of ambivalence toward the technology from different demographic segments.
The Webinar embodied all the worst boogieman concerns that autonomous driving technology inspires including fear of the vehicles themselves and fear of near-catastrophic job losses from their deployment. The gloomy Webinar contrasts mightily with the otherwise autonomous tech booster-ism of the Florida Chamber.
In fact, Florida is poised to add multiple new autonomous vehicle partners including Cruise Automation and Waymo in coming months, vaulting the state into contention with California and Arizona for leadership in the segment. Florida has done much to lay the ground work including a focus on funding infrastructure investments and setting up multiple smart city and sustainable community initiatives.
The onset of Florida's leadership is notable as it becomes the third fair weather state – fourth if you include Nevada – to embrace autonomous vehicle tech. Florida is also following the lead of Arizona in clearing away regulations to open up its roads to driverless, steering wheel-less, and brake-and-accelerator-pedal-less automated vehicles.
This is important in the context of countries around the world that are attempting a top-down approach to simultaneously fostering and regulating autonomous vehicles. The message from Florida (and Arizona and Virginia and a growing roster of U.S. states) is: Less is more.
Regulators and legislators are more likely to get things wrong or narrow development options by intervening too aggressively. The onset of autonomy does indeed have implications for infrastructure, employment, productivity and consumer behavior. But regulators and legislators are unlikely to "guess right" when it comes to specifying how technologies are deployed or which technologies are acceptable.
Safety and security are key issues and standards-setting organizations are best equipped to address these concerns. But just as we are exploring allowing drivers to take their hands off the steering wheel, it is probably best that regulators and legislators keep their hands off the technology.
Legislation before the U.S. Congress intended to regulate autonomous vehicle deployments and override state authority is currently stalled, and rightly so. The implementation of autonomous vehicle technology will mean different things in different regions and, thus far, there is no single clear path to autonomy.
California has implemented an array of licensing and data collection obligations. Florida and Arizona, in contrast, do not. Only time will tell which path forward is most attractive, acceptable or swiftest – to say nothing of safest.
States are closer to the action and better able to respond than the Federal government. The National Highway Traffic Safety Administration in the U.S. Department of Transportation has thus far demonstrated it is adequately up to the task of providing basic regulatory support within existing rules. The Society of Automotive Engineers has made its standards-setting contribution and is working closely with the Florida Chamber on autonomous vehicle testing and development.
A study from Germany-based research firm Progenium conferred autonomous vehicle development leadership upon the U.K. based on 23 factors as part of an Autonomous Driving Index. U.K. panelists at a recent London mobility event agreed with those findings in the context of the U.K.'s top-down oversight of autonomous vehicle development.
As for me, I prefer what, to Europeans, must look like a highly chaotic autonomous vehicle development environment ruled, for now, by individual states with some light Federal regulatory oversight. Autonomous driving is a local phenomenon ruled by varying local driving regulations and demographic and meteorological conditions.
Even individual states can get things wrong – particularly when rules become too intrusive. My favorite absurd rule is California's special licensing for "drivers" of autonomous vehicles. Wait. What? It makes no sense to me.
Florida is on the right path with the right idea. But Florida needs to set aside the confusing messaging around lost jobs and fear of autonomous cars. Autonomous vehicles will create employment, stimulate the economy and change the way people think about transportation generally and driving in particular – and all of that is for the greater good.
Share this post via: